From meeting with Bud Peterson to spending time with students and listening to final presentations, including Denning Technology & Management (T&M) Program, TI:GER, and Full-time MBA strategy capstone, Mr. Ernest Scheller, Jr., namesake of Scheller College of Business, spent a day on campus this Spring. When asked which one characteristic is important for business students to understand, he immediately responded, "Integrity. Be honest with customers, be honest with suppliers, and be honest with employees, and you'll sleep well at night."
Thank you, Mr. Scheller, for your wise words, energizing visit, and continued dedication to the Scheller College of Business.
Tech Tower with President Bud Peterson
There's no better place to start a visit at Georgia Tech than Tech Tower. Mr. Scheller and President Bud Peterson reflected on the growth that the Institute and Scheller College of Business have accomplished thanks to Mr. and Mrs. Scheller's generosity.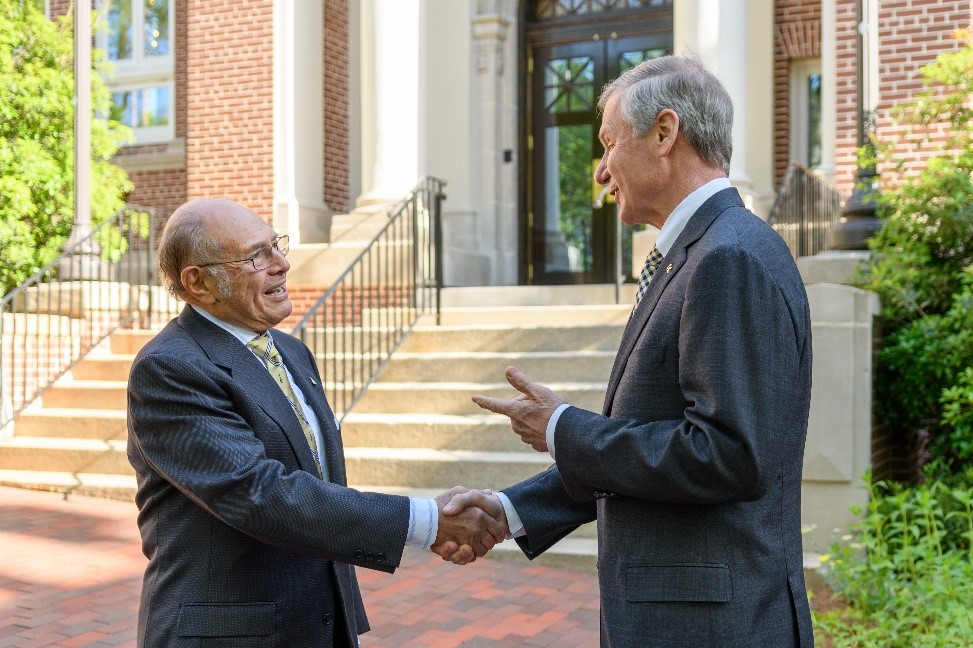 Honors Day 2018
While already one of the most joyous occasions of the year at the College, Honors Day 2018 was even more special by the attendance of Mr. Scheller. Dean Maryam Alavi and Mr. Scheller conferred a college-wide award in his name to Kevin Stacia, Corporate Relations Manager in the Jones MBA Career Center, in recognition of his service excellence. The tenth-annual luncheon recognized the accomplishments of students, faculty, and staff as well as the generosity of Scheller College benefactors.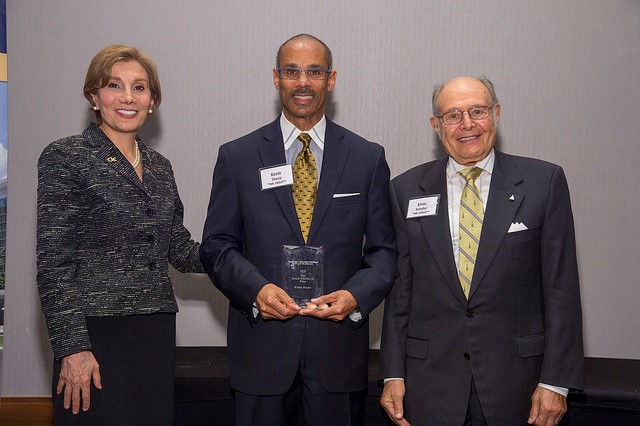 Prototype in Action with Undergraduate Students
Mr. Scheller then made his way to his namesake College to meet a T&M Program team, which included Rohan Avalani, Nicholas Dillard, Alex Grady, Alexander Pegues, and Sarah Selim.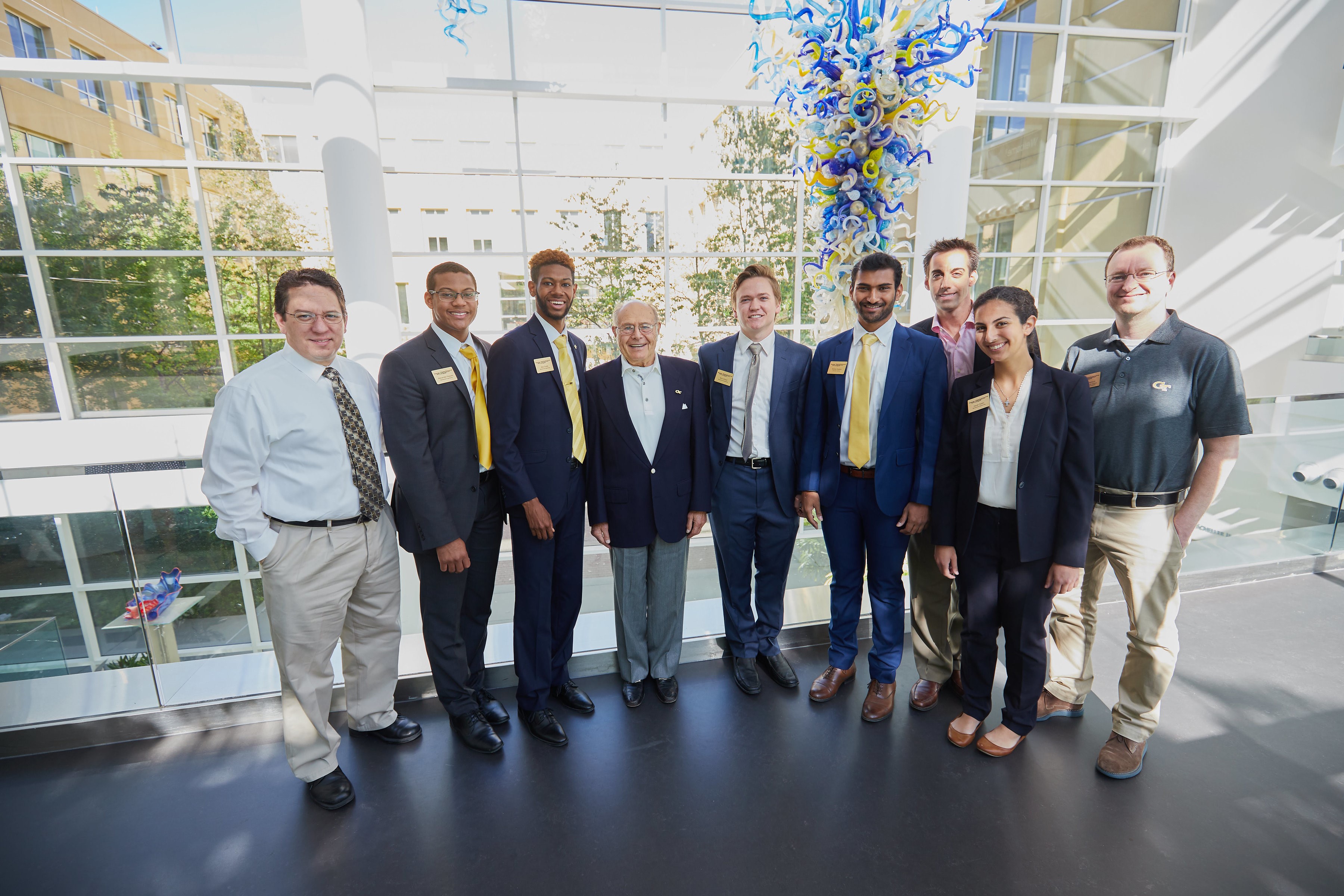 In support of client Caterpillar, the team built a full-scale prototype of a portable photovoltaic cell system designed for remote locations in jungles, deserts, and islands. Their prototype can be installed without tools or heavy equipment for short-term use in locations that do not have a power grid.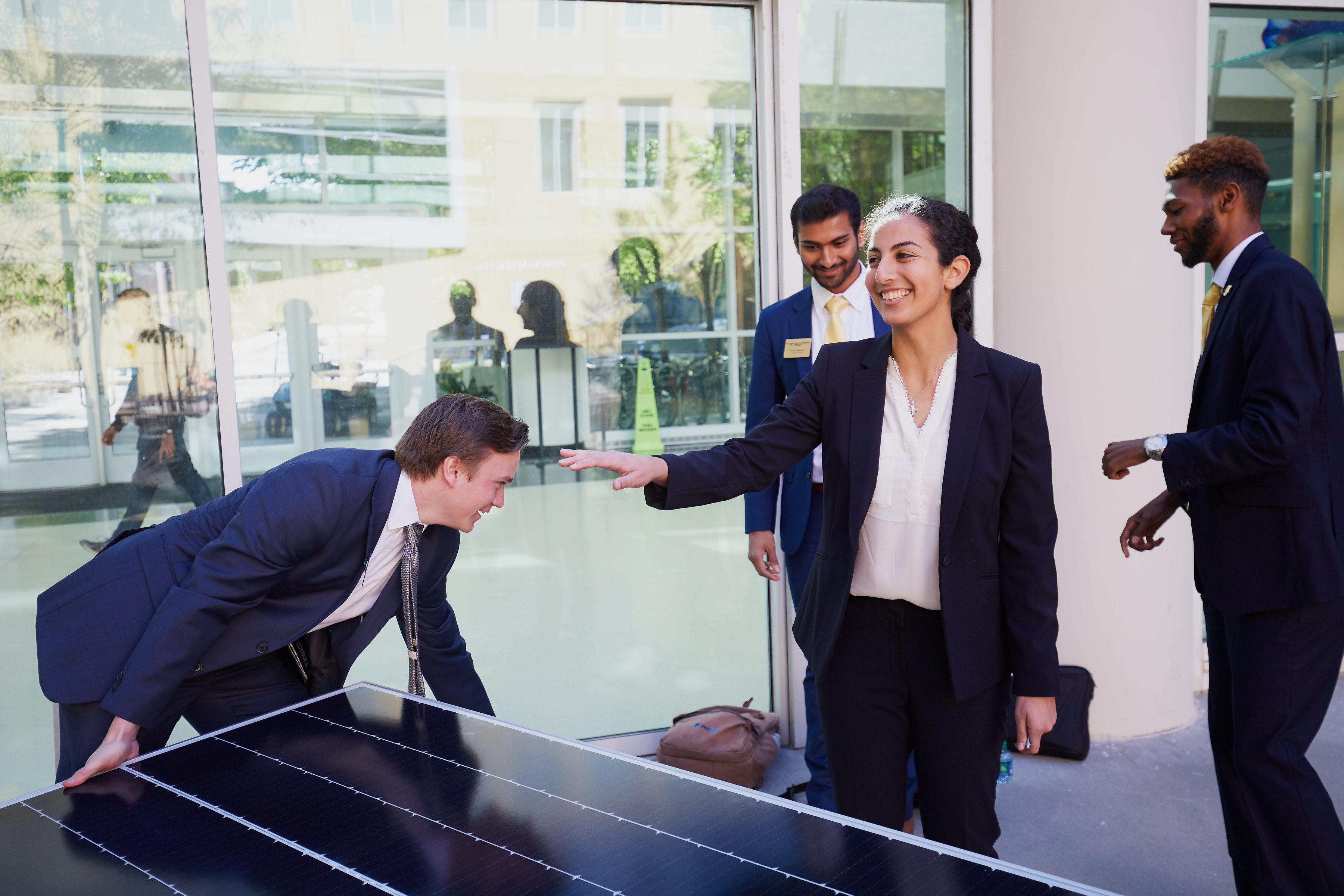 Professor D.J. Wu, Ernest Scheller, Jr. Chair in Innovation, Entrepreneurship, and Commercialization
Professor D.J. Wu, newly appointed Ernest Scheller, Jr. Chair in Innovation, Entrepreneurship, and Commercialization, spent time getting to know Mr. Scheller. Professor Wu will continue his research on digital innovation, commercialization, transformation and disruption.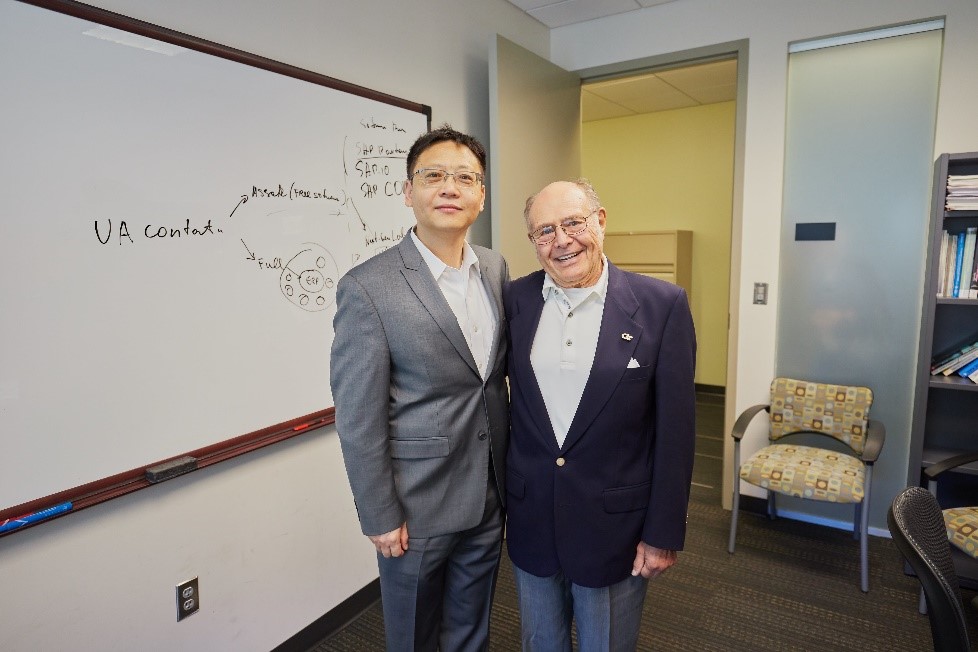 Winning TI:GER Teams Lunula and Oculus Prime
Mr. Scheller then met with TI:GER teams Lunula Health and Oculus Prime, fresh from their wins at the Rice Business Plan Competition.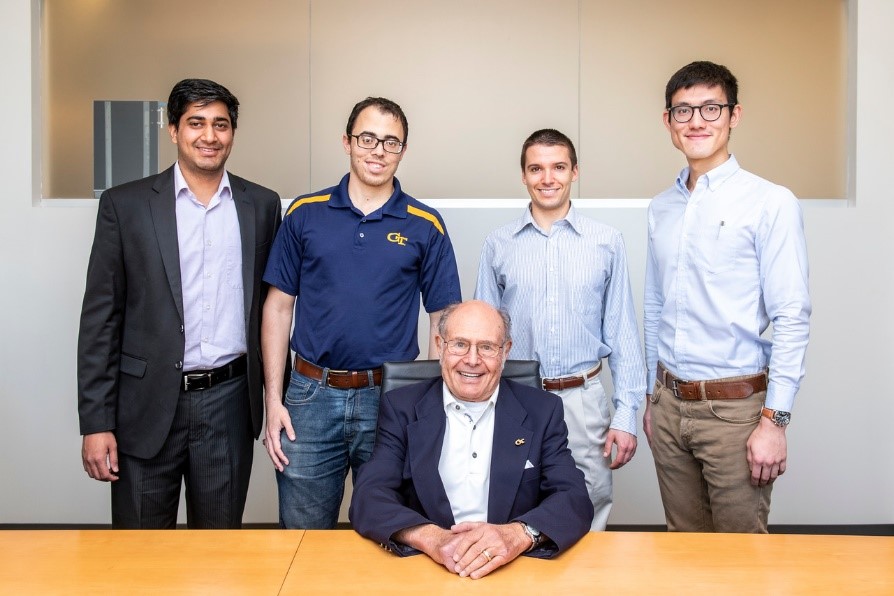 Team Lunula Health, led by Georgia Tech Ph.D. Robert Mannino and Georgia Tech Scheller College MBA Prateek Mittal, wowed judges with their demonstration of a new proprietary smart phone app for monitoring chronic anemia, a health crisis suffered by billions worldwide. Lunula was awarded the Cisco Global Problem Solver Prize of $100,000 in recognition of their breakthrough achievements, the largest such prize ever awarded to a TI:GER team.
Georgia Tech Ph.D./MBA student Brandon Gerberich and Georgia Tech MBA student Wayne Liu represented team Oculus Prime in the competition. In addition to their prize money, Oculus Prime received special recognition by key angel and venture capital investors while also making important contacts with senior NIH Small Business Innovation Research funding administrators. These funding connections will be important as Oculus moves forward with animal trials and ultimately human trials of their innovative and proprietary treatment for glaucoma.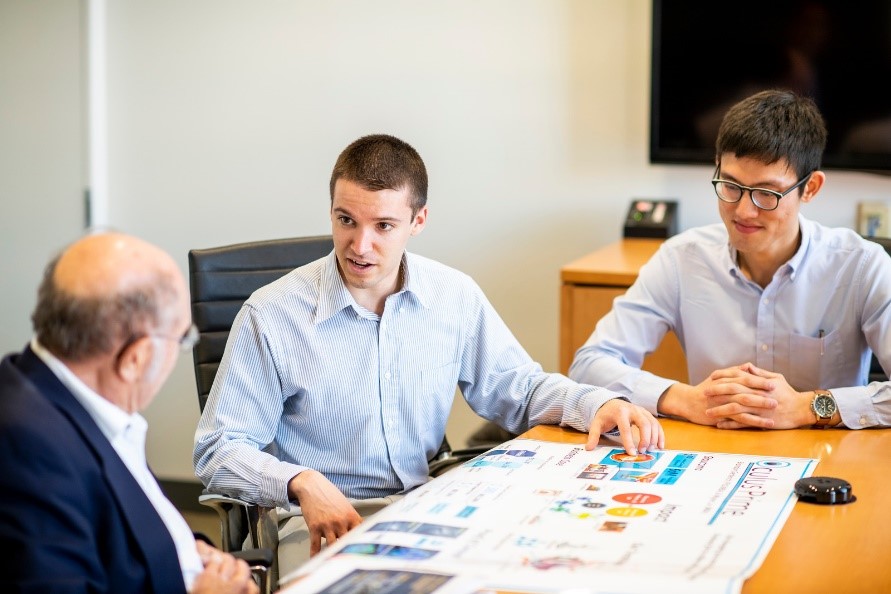 Strategy Capstone Projects with NCR and Invista
To end his visit, Mr. Scheller joined first-year MBA students for one of their final projects in Professor Frank Rothaermel's class. At the end of their first academic year, Full-time MBA students are charged with integrating what they have learned so far into a Strategy Capstone project. In partnership with corporate clients, they tackle a business problem using analytical and strategic methods and present recommendations to the client and their peers.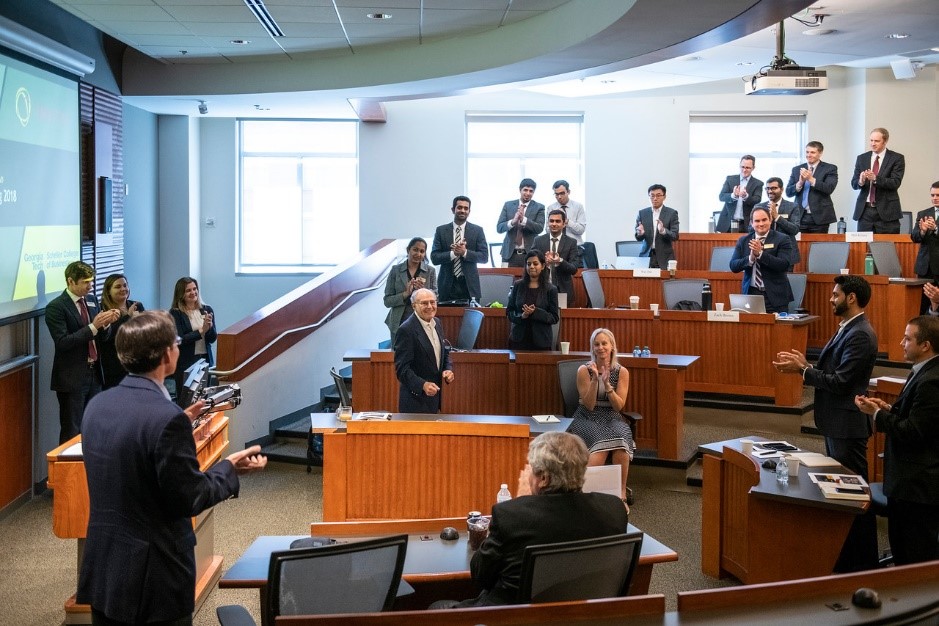 Amy Evans (EMBA 2017) served as a client contact for this year's NCR team. As both a recent Executive MBA graduate and NCR's Global University Relations Leader, Amy's Scheller College and professional experience made her a valuable resource for the strategy team.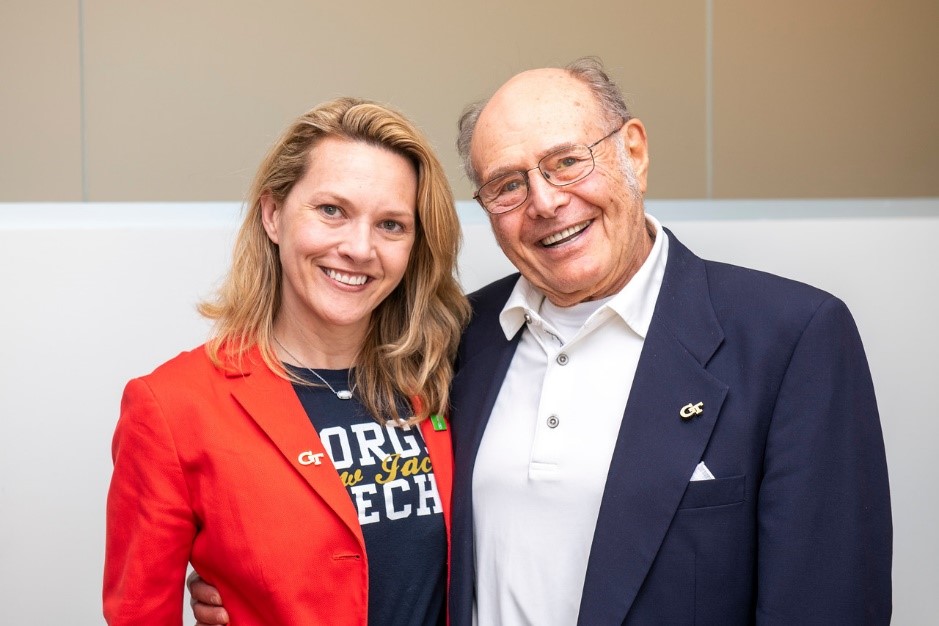 Mr. Scheller observed the INVISTA presentation with Scheller College team members Steven Murchison, Max Abramson, Lyndy Axon, Mike Behrens, and Hallie Ford and Invista client Pranay Harsh (CS 2005). The team made recommendations for how to better market Invista's CORDURA line of durable textiles through both B2B and B2C channels.