It's all about the experience. Tap into the vast resources of a world-class university located in the heart of Atlanta's high-tech business community.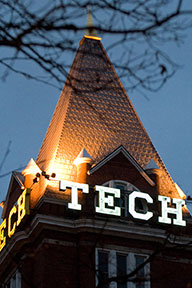 An entrepreneurial spirit pervades the campus as students and faculty from around the world collaborate to transfer knowledge and cutting-edge research from the classroom to the marketplace. There are numerous opportunities to gain real-world experience and develop your leadership ability.
Beyond the classroom, there are numerous outlets to network and grow, including student organizations, clubs, and initiatives both on campus and in the greater Atlanta community.
Heart of it all
Georgia Tech Scheller College of Business is the cornerstone of Technology Square, a state-of-the-art, multi-building complex in thriving Midtown Atlanta – just steps away from exciting startups and leading corporations where students find great internships, co-op jobs, and careers. Just a few of the College's neighbors include the Advanced Technology Development Center, AT&T Mobility, Bank of America, The Coca-Cola Company, and Turner Broadcasting System.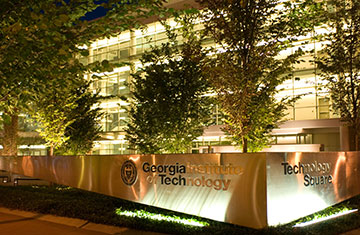 Day or night, Technology Square is an exciting place to be. This bustling area also includes popular restaurant and retail establishments.

Being part of the Scheller College is not just about coursework. Our students become truly engaged in the program and gather frequently to socialize and network. This friendly and encouraging environment enables students, faculty and career advisors to get to know each other more personally, building connections that last a lifetime. Diversity is always celebrated at Scheller College, and our community members offer a wide variety of personal, professional and cultural backgrounds.