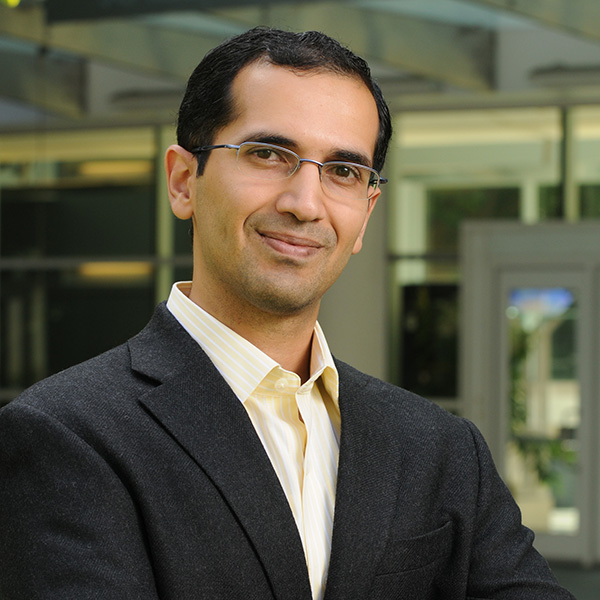 The Ray C. Anderson Center for Sustainable Business ("Center") invites you to the next talk in the Business, Environment, and Society Speaker Series. Adithya Pattabhiramaiah, assistant professor of marketing in the Scheller College of Business, will present "Opportunities from Intervention: How Public Policy Can Help the Nation Eat Healthier." Pattabhiramaiah will share research from published work and work-in-progress on the impact of public policy on our nation's health. The event is open to the public.
Findings in Pattabhiramaiah's co-authored article, "The Minimum Wage and Consumer Nutrition" (published in the Journal of Marketing Research in September), suggest that higher minimum wages may not only help households afford more calories but also encourage some households to purchase more healthy calories. The authors also find an increased openness among minimum wage households to purchasing new grocery items, which offers retailers with a nutrition-friendly brand image an opportunity to nudge consumers toward purchasing more healthy foods.
Pattabhiramaiah's current work in progress focuses on the influence of school dietary health policies on shopping behaviors. Public policy advocates want society to eat healthier. As a result, at the federal level, nutrition policy now mandates that food served at school cafeterias be healthier. While directives about what to eat (or not) have had little positive impact on public health (turns out, people don't like to be told what to eat!), an experiment is now underway to try to inculcate healthy eating habits in children. Pattabhiramaiah's current research focuses on the impact of the mandates on the families' shopping behaviors.
Questions that will be addressed include:
Does raising the minimum wage impact households' grocery baskets?
How can marketing work synergistically with public policy to nudge society to eat healthier?
Are mandates for healthy food served in school cafeterias effective in improving the nutritional health of Americans?
How do children who eat healthy meals in school cafeterias affect the dietary choices made by their families?
Speaker Bio:
Dr. Adithya (Adi) Pattabhiramaiah joined the Scheller College as an Assistant Professor of Marketing in August 2014 after receiving his Ph.D. in Business Administration from the University of Michigan in Ann Arbor. His primary research interests lie in the areas of media monetization, digital/social media marketing, sustainability and public policy. His research has been published or is forthcoming in Marketing Science, Management Science, the Journal of Marketing, the Journal of Marketing Research and Marketing Letters. Adithya has taught courses titled "Marketing Research: Analytics" and "Pricing Strategy and Analytics" at the Scheller College. He has previously taught Marketing at the University of Michigan's Ross School of Business.
Adithya's research has received various forms of recognition, including being a finalist for the '2019 Paul Root Award' and a winner of the '2013 MSI Alden G. Clayton Dissertation Competition Award'. He serves as a member of the Editorial Review Board at the Journal of Marketing Research. Prior to joining the academic world, he worked in product development / management for SAP Labs and Perot Systems, after receiving his Bachelor's degree in Engineering from the National Institute of Technology at Surathkal in India.
Stay Connected:

Subscribe to email updates from the Ray C. Anderson Center for Sustainable Business

About the Ray C. Anderson Center for Sustainable Business:
The Ray C. Anderson Center for Sustainable Business was founded in 2013 to act as a catalyst and connector, bringing together students, research faculty, companies, and entrepreneurs to create an environment where business-driven solutions to sustainability challenges can take shape and thrive. In all, Scheller provides students unparalleled breadth in environmental sustainability, ethics, corporate social responsibility, social entrepreneurship, and values-based leadership.