From September 28 to October 2, the Just Energy Summit gave individuals working against environmental injustices the opportunity to gather virtually to discuss equity as it relates to clean energy and climate action. The biennial Summit is a signature event of the Partnership for Southern Equity (PSE), a nonprofit that advances policies and institutional actions that promote racial equity and shared prosperity.
One panel, "Drawdown Georgia—Future Carbon Solutions and Their Equity Implications," featured Michael Oxman, managing director of the Ray C. Anderson Center for Sustainable Business ("Center"); Marilyn Brown, professor in the School of Public Policy and principal investigator for the project; and Garry Harris, president/CEO of Sustainability Solutions Group. Drawdown Georgia, an initiative that aims to identify a set of solutions to help Georgia achieve the point at which greenhouse gas concentrations begin to steadily decline, is funded by the Ray C. Anderson Foundation and supported by scholars, researchers, and scientists from Georgia Tech, Emory University, Georgia State University, and University of Georgia.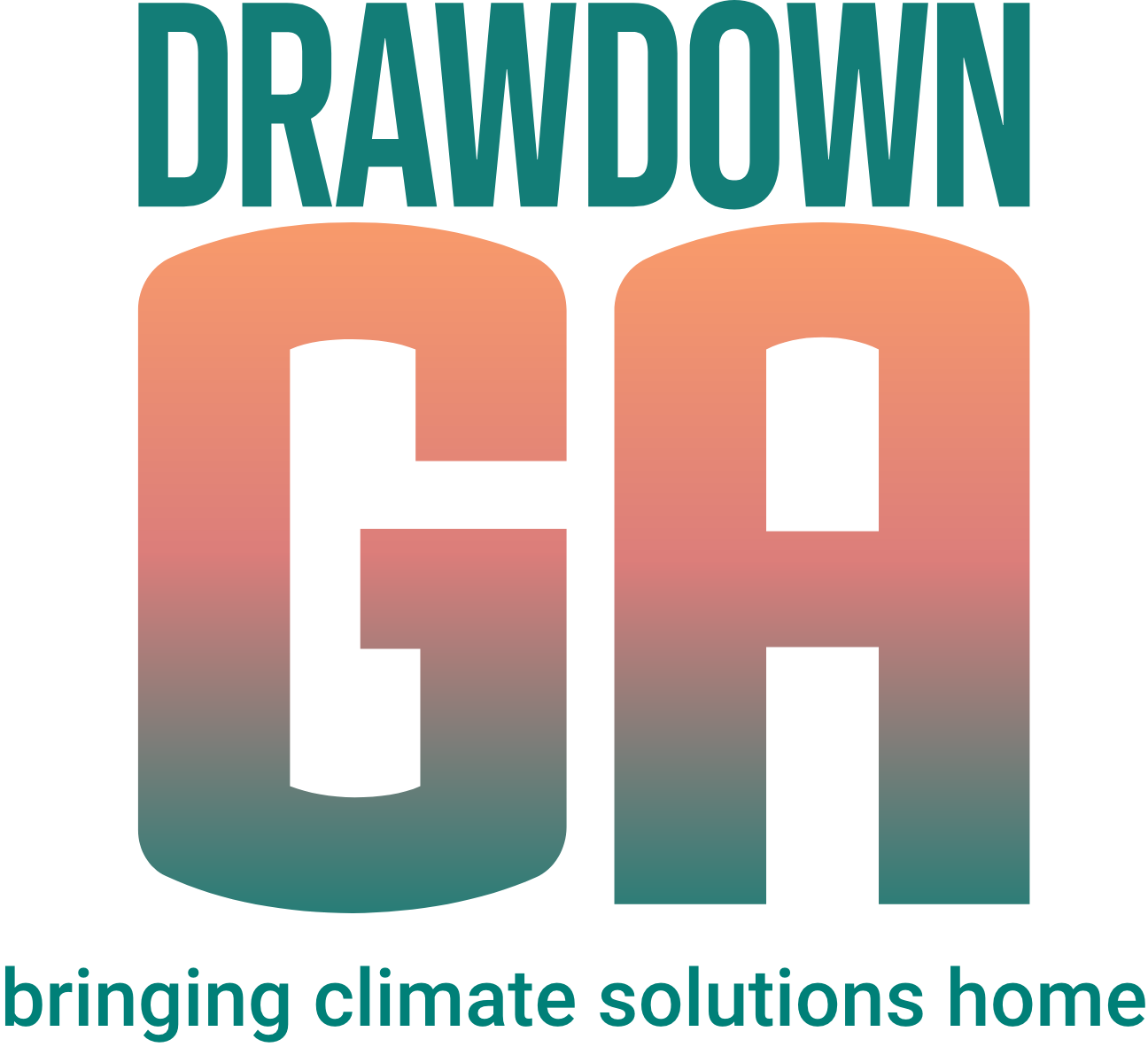 The Center has been a key contributor to Drawdown Georgia, with Oxman and Center Faculty Director Beril Toktay serving on the core leadership team as well the "beyond carbon" working group. "Beyond carbon" refers to positive and negative impacts related to carbon mitigation solutions. The working group evaluates impacts of solutions in four cross-cutting categories: public health, economic development and jobs, equity, and other (non-carbon) environmental issues. Oxman said, "Any large-scale, low-carbon transition has to address issues of equity in order for solutions to succeed. We need to make sure that under-resourced people and communities are at the table and realize the benefits from solutions."
The Drawdown Georgia panelists discussed the inspiration for and current progress in the project. The project is coming to the conclusion of Phase 1, which has involved taking the menu of 100 possible solutions from Paul Hawken's Project Drawdown and whittling them down to 20 high-impact solutions for Georgia. The speakers provided examples of carbon solutions in five sectors (electricity, transportation, food & agriculture, buildings & materials, and land sinks) and did a deep dive into two solutions (rooftop solar and retrofitting buildings) that included a summary of selected equity impacts and opportunities.
The issue of equity is closely aligned with the vision of the Center: to build more sustainable businesses and communities. It is also a key dimension of one of the Center's four strategic themes, Social Performance & Human Rights (the others are Carbon-Conscious Business, Circular Economy, and Sustainability Innovation & ESG Leadership).
The 2020 Just Energy Summit is yet another addition to the growing list of ways in which the Center has partnered with PSE. The Center has previously sponsored and participated in the conference, and Oxman serves on the PSE's Just Business Roundtable steering committee, which contributes to an initiative to address racial disparities in Atlanta. PSE was also a partner and stakeholder in the Center's research project, "Low-Income Energy Burdens in the Southeast: Solutions through Community, Business, and Policy Engagement." Additionally, PSE has been a valued contributor on the Drawdown Georgia project by providing input and feedback on the inclusion of equity considerations in solution research.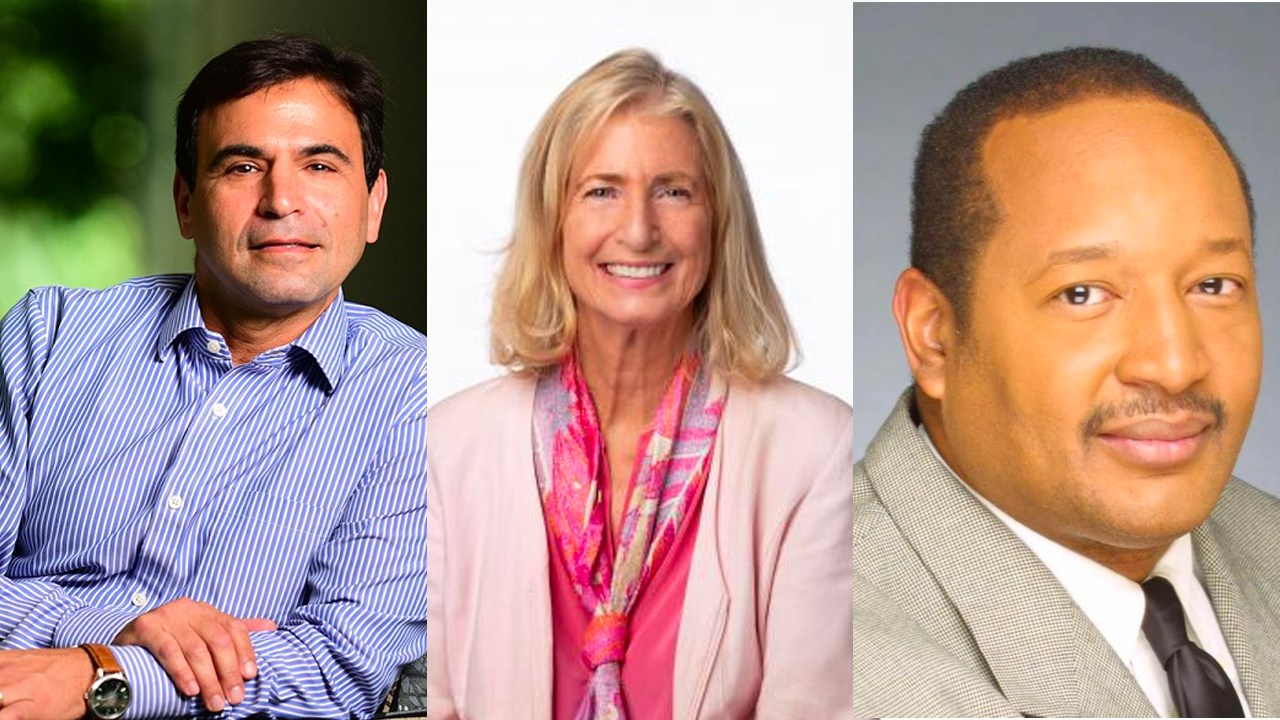 At the Just Energy Summit, (L to R) Michael Oxman, Marilyn Brown, and Garry Harris discussed how equity is woven into the Drawdown Georgia initiative.
The Center was pleased to provide scholarships that allowed 20 individuals to attend the conference. One recipient, Zoie Moore, a senior at Agnes Scott College, said, "This Summit reminded me that there are many people and activists out there working for the greater good of the Earth. That is why I wanted to attend: I wanted to be surrounded by a community that is passionate about the environment, justice, and a better future for all." Moore, who is the education and outreach coordinator for Metro Atlanta Youth Energy Corps as well as a Scheller College Undergraduate Sustainability Ambassador, was the third-place winner in the 2020 Carbon Reduction Challenge.
In Brown's closing remarks, she told attendees, "We're trying to provide a fresh voice in climate—to create a movement that is more inclusive and more diverse. We think the timing is right for this blueprint to take hold not only in Georgia but elsewhere."
The speakers touched on some of the Project's next steps. Garry Harris, for instance, discussed an RCE Greater Atlanta proposal focused on equity dimensions of solution access and workforce/business diversity related to selected Drawdown Georgia solutions. The panelists also highlighted that all are welcome to take part in Drawdown Georgia Launch Week from October 17-23. The week kicked off with a virtual opening night gala (with a keynote address from PSE Founder Nathaniel Smith). Other activities—including virtual dinners, webinars, and crowdsolving—are intended to help stakeholders connect and share ideas about how Georgia can accelerate progress towards net zero greenhouse gas emissions.

Written by Jennifer Holley Lux