The Ray C. Anderson Center for Sustainable Business ("Center") launched the Business, Environment, and Society Speaker Series in 2016 to develop and strengthen the network of sustainability-minded students, faculty, staff, practitioners, and community members. Hosting the series is just one way in which the Center serves as a connector and catalyst across diverse stakeholders in an effort to create more sustainable communities. Through informative talks, lively Q&As, and illuminating interviews, the series opens the lines of communication between current and future changemakers.
Several times each semester, speakers present on topics connected to research in and the practice of sustainable business. To date, the Center has hosted 42 faculty, authors, nonprofit leaders, and corporate practitioners from EY, IHG, the Partnership for Southern Equity, PG&E, Rubicon Global, The Coca-Cola Company, and more. Visiting presenters generously share their time and deep sustainability expertise across a diverse range of sectors. The series also features Scheller College of Business faculty who share insights from their cutting-edge research. Visit the Center's events page for more information.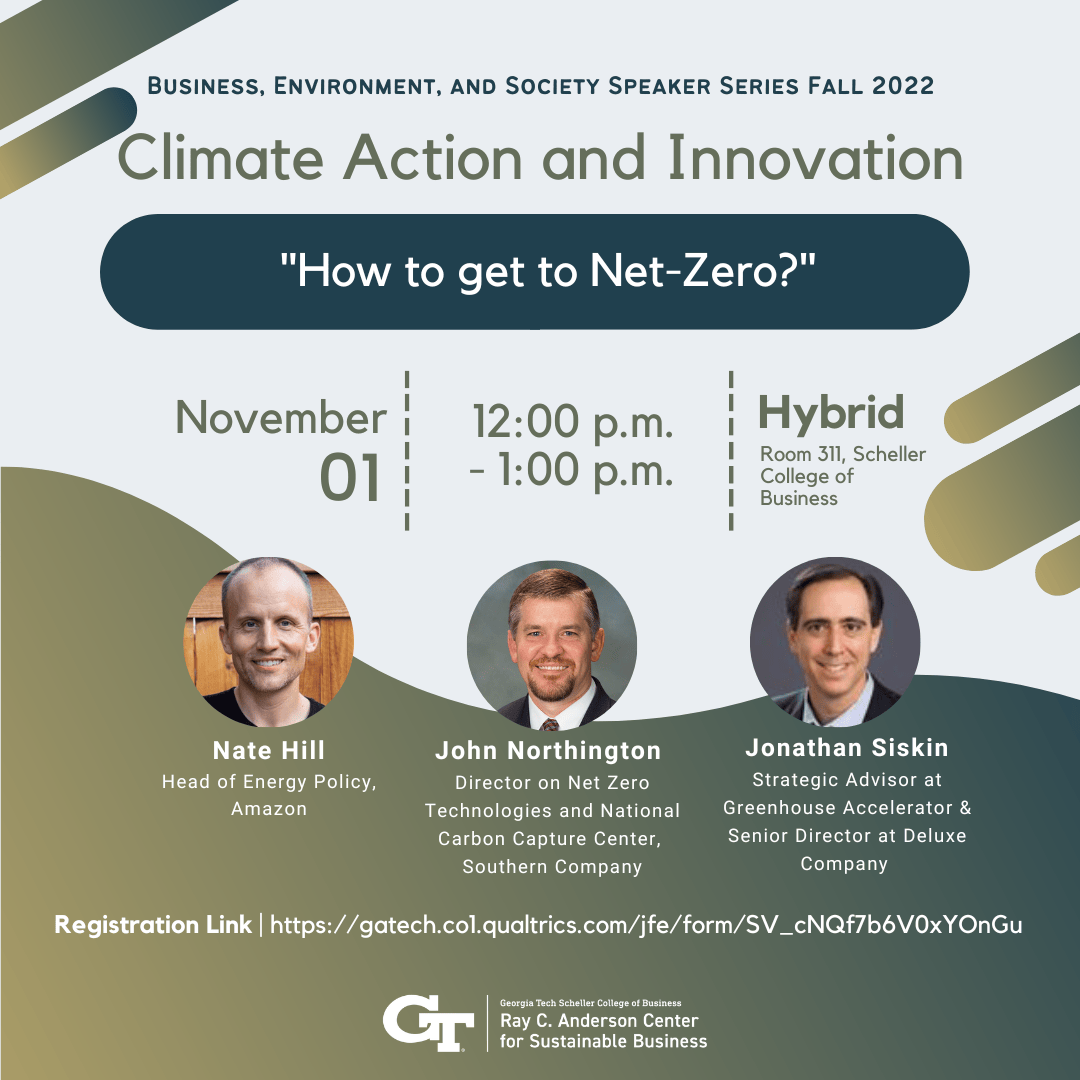 The Fall 2022 series theme was "Climate Action and Innovation." The Center welcomed three experts for a November 1 talk, "How to Get to Net Zero." Panelists included Nate Hill (head of energy policy at Amazon), John Northington (director of net-zero technologies and the National Carbon Capture Center at Southern Company), and Jonathan Siskin (strategic advisor at Greenhouse Accelerator and senior director at Deluxe Company). Michael Oxman, managing director of the Center, served as moderator.
Jenna Sitta, a second-year environmental engineering major and 2022-23 Scheller College Undergraduate Sustainability Ambassador, said she was impressed by the three industry leaders and their companies' commitment to sustainability. She reflected, "I thought they placed an important emphasis on the meaning of net zero, what it takes to get there, and the culture needed to take those steps. Nate Hill showcased Amazon's Climate Pledge, which expressed its long-term commitment to net zero by 2040. It was really inspiring to see that 375+ companies decided to join them on this pledge after just one year. This proves that corporate initiative is so important as we continue to take steps towards a more sustainable planet."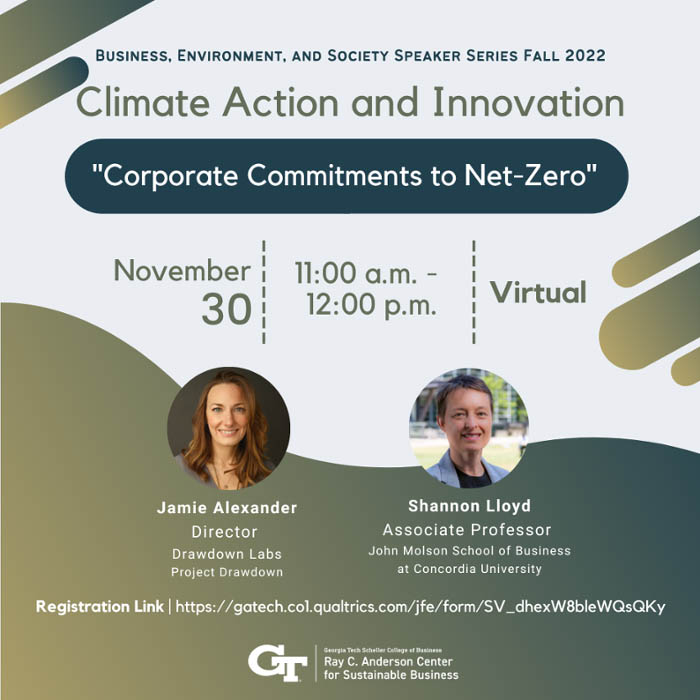 At a November 30 talk, "Corporate Commitments to Net Zero," speakers included Jamie Alexander (director of Drawdown Labs at Project Drawdown) and Shannon Lloyd (associate professor in the John Molson School of Business at Concordia University). David Eady, senior industry engagement manager at the Center, moderated the discussion.
Jonathan Siskin commented, "It was incredibly helpful to hear Jamie and Shannon's insights on the paths corporations are taking to reach net zero. It will be critical to utilize every leverage point possible to drive speed and scale to achieve what is needed. However, this is going to be such a challenge, and it was great to hear their thoughts on innovative approaches. This type of thought leadership needs to be at the front and center of the broader discussion."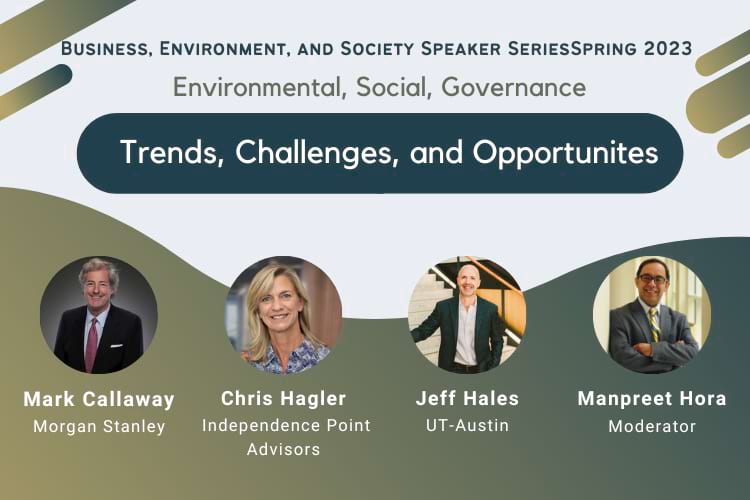 Please join the Center for the first talk in the Spring 2023 Business, Environment, and Society Speaker Series on February 22. The talk will focus on Environmental, Social, Governance (ESG) trends and opportunities. Click here to register and learn more about the speakers.
Written by Jennifer Holley Lux