Business, Environment and Society Speaker Series: How to get to Net Zero?
Details
Location
Scheller College of Business
311
800 West Peachtree St. NW
Atlanta, Georgia 30308
United States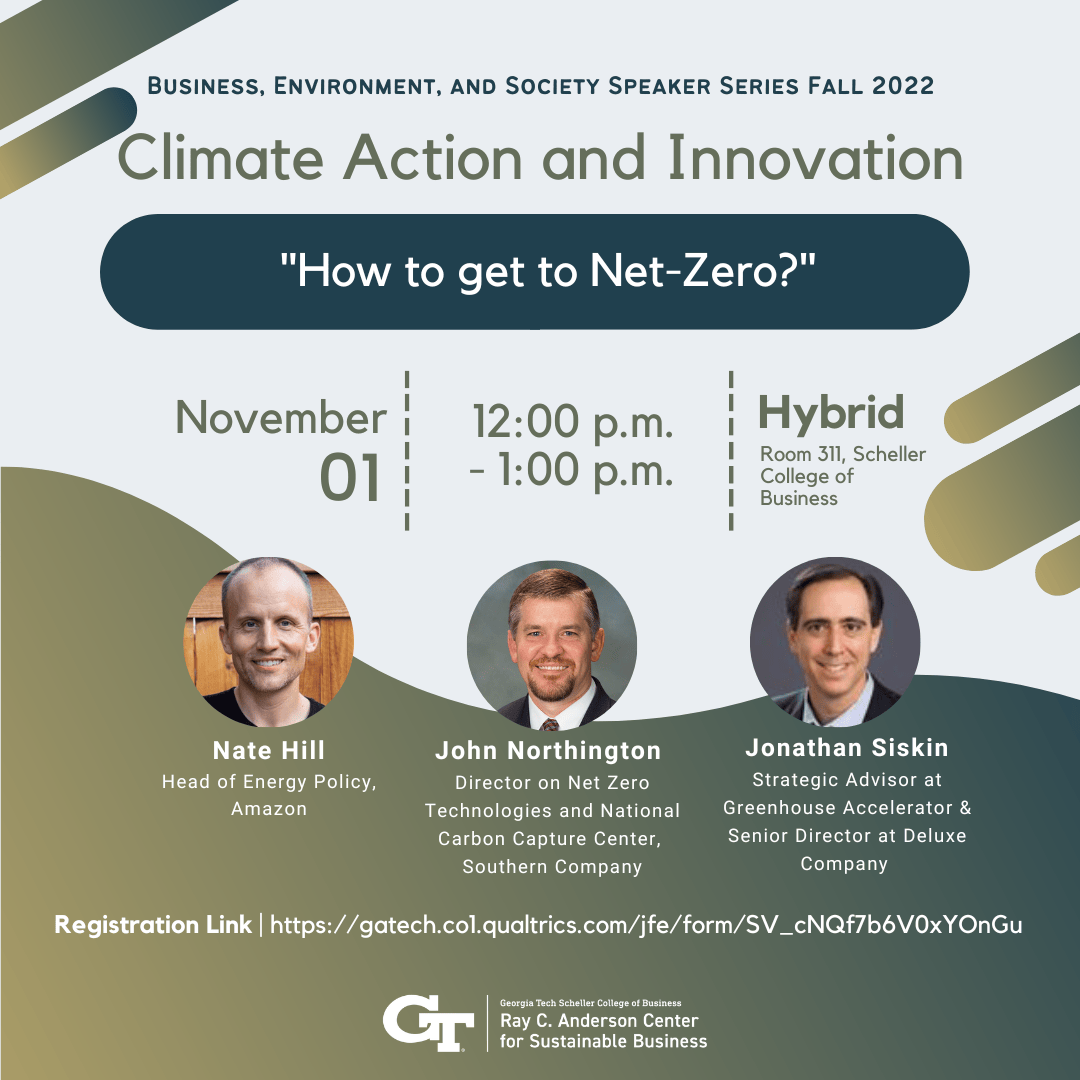 Join us!
The Ray C. Anderson Center for Sustainable Business invites you to join us for our panel, "How to get to Net Zero?" shining a light on innovation in companies, in the Business, Environment, and Society Speaker Series. The conversation will center on how some company's innovation goals are moving the needle on climate action and how it parallels with the company's net zero goals.
Speakers:
Jonathan Siskin, Strategic Advisor, Greenhouse Accelerator and Senior Director Strategy & Business Development, Deluxe Corporation
Jonathan is an executive in the ClimateTech, FinTech and Data sectors with over 20 years of experience in Strategy & Business Transformation at such companies as Deloitte Consulting, Home Depot, Equifax, and Deluxe. He is an active leader and Board member of several organizations in Georgia (Greenhouse Accelerator, TAG, Atlanta ClimateTech Meetup, Conexx, Drawdown GA Business Compact) with a focus on driving Sustainability. He seeks to expand the ecosystem in Georgia that can be a catalyst for ClimateTech start-ups and emerging companies to work toward the shared goal of a sustainable, renewable future.
Nate Hill, Head of Energy Policy, North America, Amazon
Nate leads energy policy at the local, state, and federal levels in North America in support of Amazon's Climate Pledge commitment to meet the goals of the Paris Agreement 10 years early. Nate focuses on gaining access to cost competitive renewable energy, net zero buildings, and deploying electric vehicles and infrastructure. Prior to Amazon, Nate led regulatory initiatives at Puget Sound Energy, an investor-owned utility, and worked in the U.S. Senate as an energy policy advisor. Nate has a master's degree in Environmental Policy from the London School of Economics.
John Northington, Director on Net Zero Technologies and National Carbon Capture Center, Southern Company
John Northington is director of net-zero technologies for Southern Company research and development. He is responsible for Southern Company's current, emerging and future research programs in carbon capture, carbon storage, carbon utilization, direct air capture, steam methane reforming with carbon capture, biomass energy production with carbon capture and natural systems, as well as sustainability.
During his early career, Northington worked as a process engineer for ExxonMobil Corporation. In 2006, he accepted a position as a process engineer for the Power Systems Development Facility, a DOE-sponsored advanced coal power generation research facility, which was the predecessor for the National Carbon Capture Center. After serving in several technical and management roles, he was appointed assistant director of the facility in 2013 and assumed his current role in 2017.
Northington holds a bachelor's degree in chemical engineering from the University of Alabama. He has authored and presented a number of papers addressing progress in carbon capture and gasification.
Moderator:
Michael Oxman, Managing Director, Ray C. Anderson Center for Sustainable Business
The event is open to the public and will be hosted on the zoom platform.