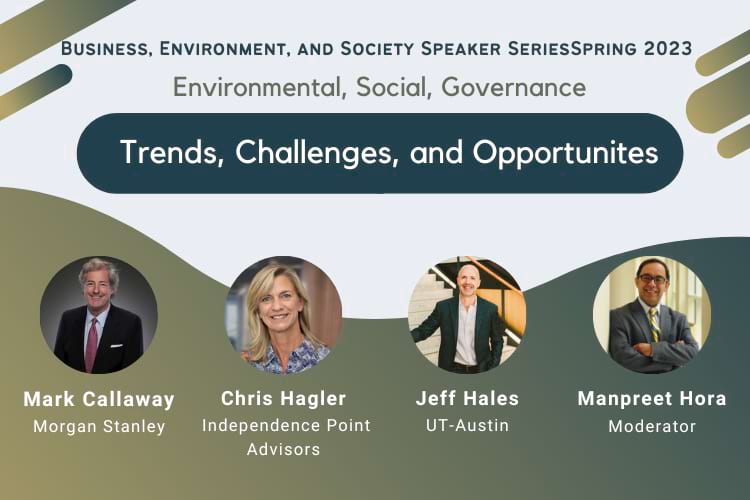 Business, Environment, and Society Speaker Series: Environment, Social, Governance (ESG) - "Trends, Challenges, and Opportunities"
Details
Areas
General
Sustainability
The Ray C. Anderson Center for Sustainable Business invites you to join us for our panel, "Environmental, Social, Governance (ESG): Trends, Challenges, and Opportunities" which will examine how the ESG Framework is creating innovation in companies and how it is being captured in their bottom line in the Business, Environment, and Society Speaker Series.
Speakers:
Mark Callaway

 

(Senior Vice President, Investing with Impact Director, Senior Portfolio Manager, Financial Advisor at Morgan Stanley)

 

- Comprehensive investment planning has been Mark's focus throughout his 30+ year career. Mark heads the processes in helping clients set investment objectives, develop asset allocation strategy, establishes ongoing monitoring and review standards. Mark started in the financial services industry after finishing his BA degree in Political Science. He went on to receive his MBA from LaGrange College and was later an adjunct professor for two years teaching Investment Analysis and Portfolio Management. Mark has served his community in a number of capacities including The University of Georgia board of trustees, various committees at Georgia Institute of Technology and LaGrange College. He received a minor in Theater which took him to New York University and London Academy of Music and Dramatic Arts to study. He has served as a board member for both the Alliance Theater as well as the Atlanta Ballet Company. Mark has five children (Fuller, Mary Hollis, Hayes, Gabriella and Anderson) and resides with his wife, Ansley, in Atlanta. 
Chris Hagler (Partner, Head of ESG, Independence Point Advisors) - Chris is a motivated business leader who brings more than 20 years of strategy and business experience to her work. By integrating environmental, social and governance aspects across client organizations, she assists companies in setting strategy and improving processes more easily to optimize results.  Prior to joining Independence Point Advisors, Chris was the Managing Director, Climate Change and Sustainability Services at EY. Chris is an ISSP certified and SASB FSA Level II certified sustainability professional. She holds a Master of Science in Management from Georgia Institute of Technology and a Bachelor of Business Administration from the University of Toledo. Chris is an avid runner and mother of two.

Jeff Hales (Professor, UT-Austin) - Jeffrey Hales teaches at the University of Texas at Austin, where he holds the Bake Chair in Global Sustainability Leadership, is the Charles T. Zlatkovich Centennial Professor of Accounting, and serves as the Executive Director of the Global Sustainability Leadership Institute. He is a graduate of the accounting program at Brigham Young University and received his Ph.D. from Cornell University. His research interests center on accounting standard setting and regulation, individual decision making, and behavioral finance, using techniques from applied game theory, experimental economics, and psychology. His research has appeared in multiple top tier accounting and finance journals. He has served in editorial capacities at several journals, including editorial terms at Contemporary Accounting Research and Accounting Horizons. Since July 2022, he has served on the International Sustainability Standards Board. From 2012 to 2022, he served in various leadership capacities at the Sustainability Accounting Standards Board (SASB), including as Chair of the SASB Standards Board. 
Moderator:
Manpreet Hora -

 

Associate Professor at The Georgia Institute of Technology
The event is open to the public and will be hosted on the zoom platform.