Military men and women epitomize discipline, leadership, and sacrifice. Veterans Day is an opportunity to honor them and the myriad ways they serve their country. For David Pham, his military service has given a lot in return. It gave him direction and purpose at critical junctures in his life, junctures that eventually intersected with the Georgia Tech Scheller College of Business.  
 
On Veterans Day, the act of remembering honors the sacrifices that were made by so many. Knowing the story behind a soldier's service and sacrifice is one way of accomplishing this. Pham shies away from any commercialization of the holiday. Instead, he focuses on the human faces behind it—his brothers and sisters in arms. "There are people behind this work," he said. "Each person has a story. Take a second to hear their story."  
Celebrating a Rich Military Family History  

David Pham is only in his mid 30s, but he already sees his life coming full circle. His story began with the fall of Saigon in 1975 decades before his birth. His mother was a 22-year-old refugee, smuggled away to freedom on a boat in the night, her life paid for with an ounce of gold. She was eventually sponsored by a humanitarian aid organization and came to the United States where she had two children. First a daughter, and then a son. 
 
She was a single mother when they started a new life in Savannah, Georgia where Pham grew up learning Southern values and the dedication and physicality of high school football and wrestling. He found male role models and a tough mentality and grit he knew, someday, he would use in the military. "Growing up, I had a very interesting perspective of the military," he said. "It was almost like I was surrounded by it. At family reunions I would hear stories from the war. I knew my family came from this rich history of fighting alongside Americans in Vietnam and then the Americans leaving. I had this interesting perspective."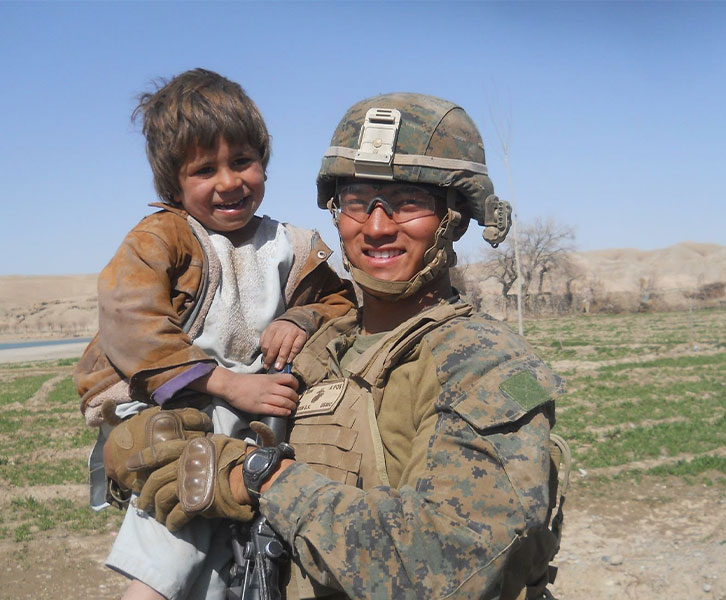 The Marine Corps made it possible for Pham to attend Georgia Tech. During his undergraduate, Pham embraced Naval ROTC life. He smiled at classmates who dragged themselves into their 9 a.m. management classes in pajamas while he arrived freshly showered after waking up at 5 a.m. to run the infamous Pi Mile and Freshman Hill. Scheller gave him a foundation of management skills so he knew how to organize resources—skills he would put into action in the military. 
 
The Marine Corps, especially his time spent in Afghanistan as Second Lieutenant commanding 45 men, taught him leadership. In the heat of combat, negotiating with Afghan village elders or interacting with his native interpreters and their children, he learned that "not all managers are leaders. But all leaders have to be good managers."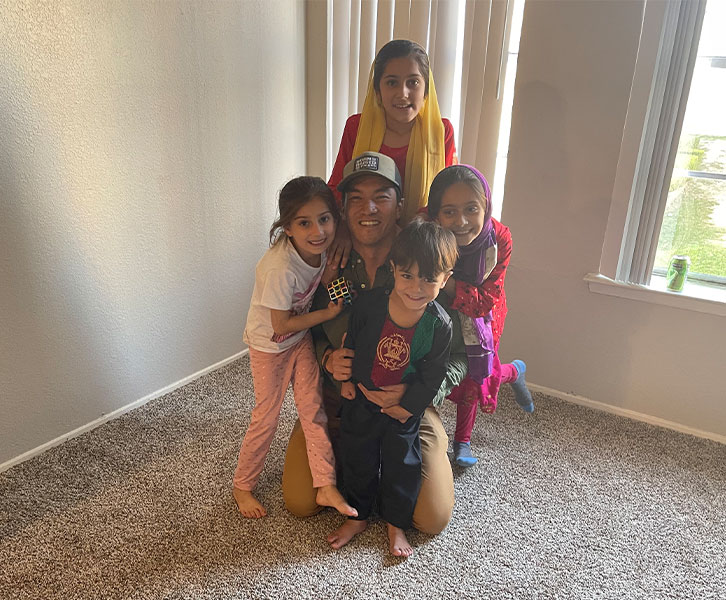 When Afghanistan fell in August 2021, Pham knew he had to take action to help the Afghan people who had helped him 10 years before. His thoughts turned to his loyal interpreter. Through his fundraising efforts and military connections, Pham was able to bring several Afghan families to safety in the United States. These refugee families now have comfortable homes and cars to drive, and their children are enrolled in school.  
 
While Pham worked from home to orchestrate his Afghan friends' escape, he couldn't help but reflect on his mother's experience fleeing Vietnam so many years before. "My mom used to tell us growing up about these Americans that helped her when she got here and how she wished she could thank them. We were never able to find them." Pham was able to fulfill, what he sees, as a cycle of service. "That," Pham said with gratitude, "is a cool story." 
Get Involved in the Scheller Veterans Community 

Learn more about Georgia Tech Scheller's military-friendly MBA programs.

Honor the veterans in our community at a virtual MBA panel celebrating veterans on Friday, November 11, 2022. The panel is made up of MBA students in the Full-time and Evening MBA Programs and will be moderated by the President of the MBA Veterans Club.
Register for the Panel Discussion
Listen in to the Intersection Podcast "Transitioning from the Military to a Scheller MBA"
In honor of Veterans Day, we invite Scheller students, faculty, and staff who are veterans, active duty, or reservist military members to a brief reception on Thursday, November 10, 4:30 to 5:30 pm, the reception area adjacent to classroom 300.