Marketing is concerned with decisions that relate to a firm's customers, competitors, and network of partners including channel members and promotion agencies. It focuses on how customers make choices and how companies design products, services, and programs to satisfy customer needs.
Given the breadth of marketing decisions, marketing scholars study a variety of marketing issues ranging from marketing strategy to product development, consumer decision making, and customer satisfaction. The field of marketing is interdisciplinary, drawing theories and methods from disciplines such as economics, psychology, sociology, and statistics, among others.
What is the Focus of a Marketing Ph.D.?
The Ph.D. program in marketing is designed to provide students with the skills necessary for a successful academic research and teaching career. We train students to identify and define interesting and important marketing phenomena and develop the necessary methodological tools to investigate these insights with original research.
Why a Marketing Ph.D. at Georgia Tech?
Since interaction with faculty mentors is an essential component of doctoral training, students in our program generally initiate research projects with one or more faculty members. Faculty and students are involved in joint research cutting across a wide spectrum of issues at the core of marketing, as well as multidisciplinary topics that interface with other functional areas such as management, economics, and psychology.

The culture at Georgia Tech encourages multidisciplinary collaboration across areas within the Scheller College of Business and across Colleges within the Institute. In addition, the Ph.D. program is designed to expose students early on to the methods and contributions of all three research areas in marketing — consumer behavior, modeling, and strategy.

While our program's emphasis is on preparing students for academic research, our Ph.D. students also learn to teach and have the opportunity to strengthen their teaching skills by leveraging the resources of the Center for the Enhancement of Teaching and Learning (CETL). The Center runs a number of specialized programs for junior faculty and graduate teaching assistants designed to develop teaching skills.
Marketing Specializations
Marketing Ph.D. students are not required to enter the program with a pre-established area of specialization. During the first year, they will be guided to select an area to specialize in. 
As part of this training, students take a common set of "breadth" courses as well as "depth" courses tailored to their specific interests. In addition, students learn by working with faculty members on joint research, conducting a series of original research projects, and assisting in the teaching of marketing courses.
Consumer Behavior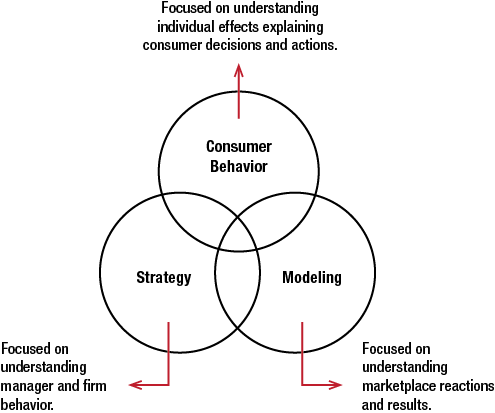 Consumer behavior focuses on the study of consumer-level behaviors by conducting laboratory and/or field experiments, among others, to understand consumers' decisions, actions, and responses and to explain why those behaviors are taking place. This line of research tends to emphasize the cognitive psychology of consumer decisions, though alternative perspectives such as sociology and social psychology can also be adopted. 
Marketing Modeling
Marketing modeling focuses on the study of a variety of marketplace phenomena related to marketing decisions including market entry, competitive reactions, pricing, and innovation, among many others. The focus tends to be on advancing the field's knowledge related to the understanding of market-level responses or methodological techniques. It attracts students with an interest in the application of higher-level econometrics, probability, and statistics to marketing questions.
Marketing Strategy
Marketing strategy focuses on the study of firm and manager behavior, across a broad range of marketing topics including sales force management, innovation management, competitive strategy, and marketing communications.  It studies the evolution and effect of managerial decisions and marketing capabilities, processes, and orientations on firm behavior and performance. Strategy researchers use surveys, archival data, qualitative studies, or large-scale third-party data to study related phenomena.