Scheller graduates are ready for a competitive job market. The career services we provide are second to none, and recruiters consistently recognize us as the right destination to find top talent.
Our career services staff develops relationships with hundreds of employers to ensure students have access to internships, co-ops and full-time jobs with top companies. Our students are consistently recruited by top companies such as Deloitte, Accenture, Ernst & Young, IBM and Bank of America, among many others.
Undergraduate Careers
In the Bachelor of Science in Business Administration program, our students gain the knowledge and critical thinking skills needed to thrive in today's technology-driven global economy. Intensive career preparation starts freshman year.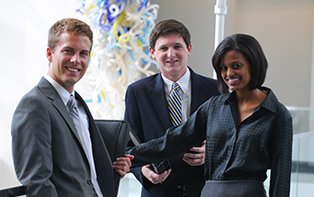 Each student receives at least 15 hours of career coaching through the career development course required for our degree and has access to one-on-one career counseling. Our career staff helps students secure at least two internships or complete the three-semester co-op program to increase their marketability for full-time positions.
Our advisors help each student create an impressive portfolio of experiences to show employers they are competitive for top jobs. Students diversify their portfolios by completing concentrations, minors, certificates, research and study abroad – all within a four-year plan. The program's aggressive approach to career development leads to impressive placement statistics.
Undergraduate stats and rankings
Choosing Scheller was the best decision I have ever made. The education will serve as a foundation for my business knowledge. The professional networking, student organizations, and career opportunities have equipped me with the confidence and skills to succeed in the international business world.
MBA Careers
Our MBAs continuously achieve some of the highest job placement figures in the country.  MBA students are assigned a career advisor in the Jones MBA Career Center the summer before they begin and work with them throughout the entire program.  Our advisors have years of professional experience and understand industry dynamics. Evening and Executive MBA students have access to these same services upon request.

We provide a portfolio of services and tools to help MBA students develop a career plan and sharpen their job search skills, including:
Career Development Workshops
MBA Business Buzz
Resume Books
Career Leader
Optimal Interview System
Practice Interviews
MBA Conferences and Career Fairs



The Jones MBA Career Center was one of the best aspects of the program. I participated in career workshops, on-campus and off-campus recruiting, and coaching. It was a lot of work but I ended up with a number of amazing offers.