Beginning in 2017, students from Georgia Tech and other colleges and universities have competed in a summer-long competition known as the Carbon Reduction Challenge ("Challenge"). Over ten weeks, as students work over the summer as interns or in co-op positions, they research and design projects that have the potential to reduce carbon dioxide emissions while saving money for their employers. As sustainability ambassadors, Challenge participants have the opportunity to pitch projects to managers and key decision-makers at their organizations. Some projects have been adopted and implemented by the organizations, resulting in millions of pounds of avoided CO2 emissions and hundreds of thousands of dollars in avoided energy costs for partnering organizations.
The Ray C. Anderson Center for Sustainable Business ("Center") and the Global Change Program, the Challenge cosponsors, in collaboration with the Georgia Climate Project, are currently planning for the Summer 2021 Challenge. The focus this year will be on discovering how lessons learned from Covid-19 can be applied to the reimagining of office spaces in an effort to reduce our carbon footprint. The online application is available now through May 7, 2021.
A Scheller Alumni Lifelong Learning event, held on October 26, 2020, highlighted the Challenge. Former winners of the Challenge and their intern coaches at their places of employment shared their experiences and advice for those interested in moving the needle on sustainability in the workplace. Panelists at the virtual event included: William Courrèges-Clercq (BSBA '18), a member of the 2017 first-place team from SunTrust and current business solution manager at The Coca-Cola Company; Amy Hook, intern coach for the 2017 SunTrust team and current chief social impact officer at Novogradac & Company LLP; Casey Erb (BS EnvE '20), 2018 first-place winner for his project at Chick-Fil-A and current field engineer at Mortenson; and Stephanie Armistead, Chick-fil-A's sustainability lead who served as Erb's intern coach. The panel was moderated by Steven Murchison (MBA '19), who is currently assistant vice president of Transformation Services at Genpact.
Interested in learning more about the Challenge? We invite you to read on to discover key takeaways from the conversation last fall. You can also watch the recording of the event.
Want to reduce carbon? Start by looking for low-hanging fruit.
Courrèges-Clercq's team selected employee transportation for business as their project focus and operated similarly to a consultation team. Courrèges-Clercq said one of his biggest lessons from the Challenge was "to look for the smallest adjustment with the biggest impact." The team focused on reducing domestic staff air travel and using more fuel-efficient rental cars. In regard to the latter recommendation, the team researched the impact of the company changing the default for a rental car selection from intermediate to economy class. Over a five-year period, this simple change could result in a reduction of 100,000 pounds of CO2 and savings of $40,000.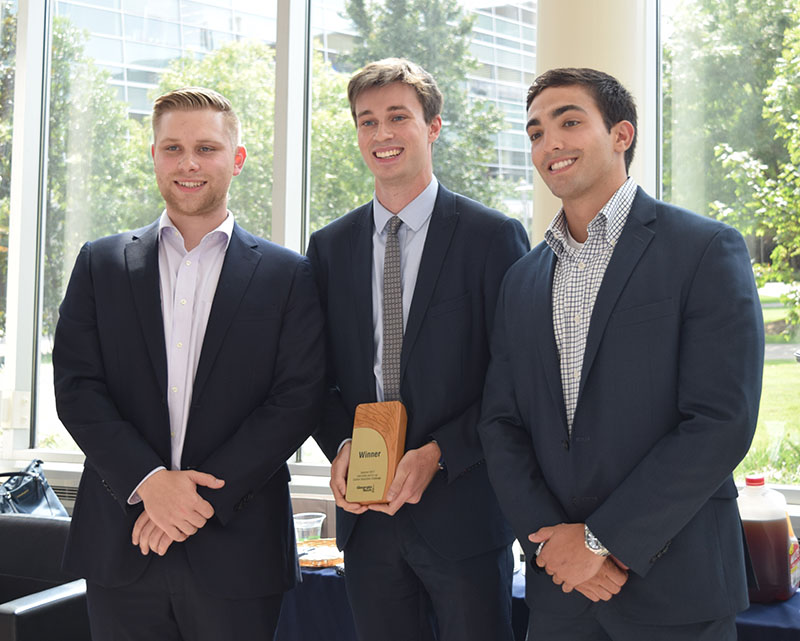 The SunTrust team took home first place in the 2017 Carbon Reduction Challenge. Team members included (l-r) Alex Ketchum, Will Courrèges-Clercq, and Sam Rubin. (Not pictured: Nicholas Rogstad, Anjani Agrawal, and Mario Wijaya.)
Carbon and the bottom line matter—and so do people.
While keeping upcoming constructions of new Chick-fil-A restaurants in mind, Armistead and Erb selected projects that would have an impact on building decisions moving forward. The first cosmetic change was to retrofit metal halide bulbs in parking lot lights with LEDs. The Chick-fil-A team's next initiative—to install dishwashing machines in restaurants—not only made a great case for sustainability but also eliminated the time-consuming task of washing dishes by hand. This implemented proposal helped to enhance the employee experience across 500 restaurants by the end of summer of 2018.
Sustainability advocates can't go the distance alone.
Courrèges-Clercq underscored the importance of networking across multiple organizations and within the company itself in order to be successful with sustainability work. He said, "There are a lot of people to convince. You need to make sure that you mobilize everybody in those departments behind your initiatives."
Both mentors provided perspective on the importance of creating "aha!" moments for their colleagues who may be new to the idea of sustainable innovations. While watching her team of interns present to a room of C-suite representatives, Hook witnessed how people across an organization could come together to accomplish a common, sustainable goal. Armistead encouraged sharing economic data with other departments to create impact. However, she cautioned students not to forget about a company's competing priorities that can have an impact on its decision to support sustainability initiatives. She stated that a strong sustainability proposal should include information about return on investment.
Sustainability ambassadors gain valuable career skills.
"The Challenge teaches you how to make a high impact on a really tight schedule," said Courrèges-Clercq. His ability to mobilize solutions quickly in his current position, he reflected, could be attributed to his Challenge experience. For Erb, who also graduated from the Steven A. Denning Technology & Management (T&M) Program, the Challenge taught him how to find the expert who knows the solution to the problem you are solving.
The Challenge helps to build resilient organizations.
Hook said, "Understanding how sustainability connects to all the different areas within an organization is essential." She hopes that businesses and corporations are able to realize this, especially in light of the pandemic. She believes there is growth potential in knowing the opportunities and risks related to resilience and business continuity. She also thinks that in the upcoming years, we will see an increased emphasis on human capital management topics such as employee health and well-being.
Armistead offered the perspective from Chick-fil-A. "Resource availability," she said, "gives us the opportunity to play a larger role in a community more than just [making] the great chicken sandwich." Chick-fil-A and Armistead recognize the chain's impact on a community. While maintaining its nearly 2,500 restaurants (each of which employs 75 to 225 team members), the company is looking for ways to provide continued relief for its employees and surrounding communities—now and in the future.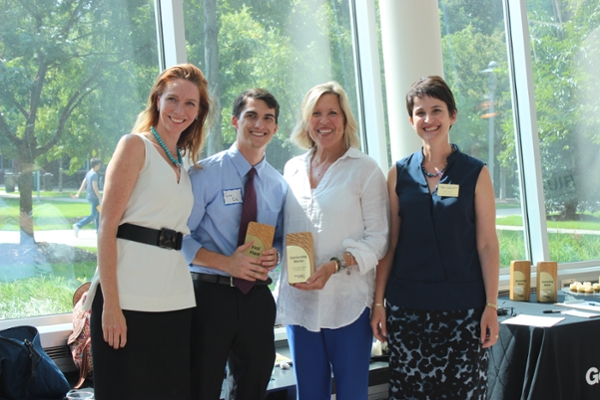 Chick-fil-A intern Casey Erb received the first place award in the 2018 Carbon Reduction Challenge: (l-r) Prof. Kim Cobb, Casey Erb, Stephanie Armistead, and Prof. Beril Toktay.
Technology and innovation go hand in hand with sustainability.
"I firmly believe that nothing drives innovation like sustainability," said Armistead. "We're always looking for a way to do it better, faster, and with a bigger return." She talked about Chick-fil-A's New Ventures and Innovation team (or, as she likes to call it, the "internal Shark Tank") that helps the company find innovative business solutions.
Start small, connect with others, and build momentum.
"My suggestion is to start small, do something concrete, and get some momentum going," Erb said. "It doesn't matter how simple it is. Through the process of putting something together, you're going to find like-minded people who are willing to go the extra mile to make sure there's a recycling bin or make sure that the lights are off." Courrèges-Clercq added that "the key point is you must get started in order to transform your company into a green powerhouse." Hook encouraged students who want to start a new project within an organization to "make a connection with a sustainability person or team with the intention to collaborate with them."
Keep the big picture in mind.
Armistead ended with a thought-provoking question: "What do you want to be known for, and what do you want your business to be known for?" She mentioned using sustainability frameworks such as the UN Sustainable Development Goals (SDGs) to help guide and shape our passions.
Do you want to join the Challenge and explore your passion for sustainability? Complete your online application today! Contact the organizers at carbonreduction@gatech.edu for more information.
Written by Brandi Thompson