A team of four Scheller College of Business MBA students won first place ($5000) in the annual Race and Case competition in Denver, Colorado. The unique event, hosted by the University of Denver's Daniels College of Business from February 28-29, 2020, combined a premier business ethics-based case competition with an alpine ski challenge.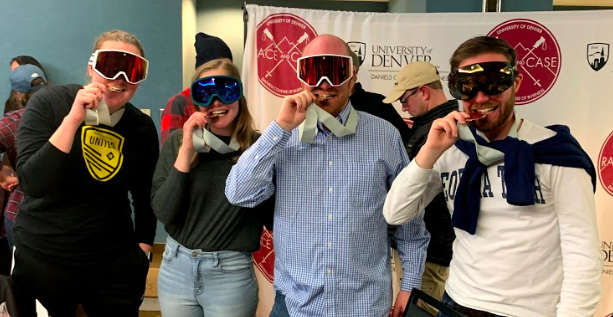 The Scheller College MBA team celebrates its big win.
The Scheller College team consisted of Clotilde Bignard, Yann de Luca, Henry McGill (team captain), and Anna Smoak, all of whom are second-year students in the Full-time MBA Program, except for Bignard, a first-year student who will be graduating with her exchange school in France this year. They competed against teams from across the country such as University of Florida (second place winner) and University of Pittsburgh (third place winner).
The case portion of the competition, which focused on a business case with an ethical dilemma, occurred on the first day and made up 90% of the overall score. Teams were given the challenge of building a business plan that could benefit underserved skilled laborers (e.g., handymen). The specific task was to help the case study character, "Steve," a recent U.S. Army retiree, build a $1M revenue business. The Scheller College team accomplished the task by developing a business model for a handyman and construction services company.
Bignard said, "I really enjoyed working on the case that focused on finding an alternative path for success for a veteran who wasn't interested in college. As grad students, we often aren't confronted with that perspective. It was enriching to propose business recommendations that could help veterans and skilled laborers achieve their goals without a college degree."
Smoak said that after the winners were announced, a representative from HomeAdvisor (the ClimateCAP sponsor) met with the Scheller College team to share what she liked about their presentation. Smoak remarked, "She was impressed with our thoroughness and the way we utilized data and analytics to support our proposal. I feel as if those strengths really speak to the quality education we're receiving from Georgia Tech."
The alpine ski/snowboarding event took place in the Rocky Mountains the day after the case competition. This portion, held at Winter Park Resort in Winter Park, Colorado, made up 10% of the overall score."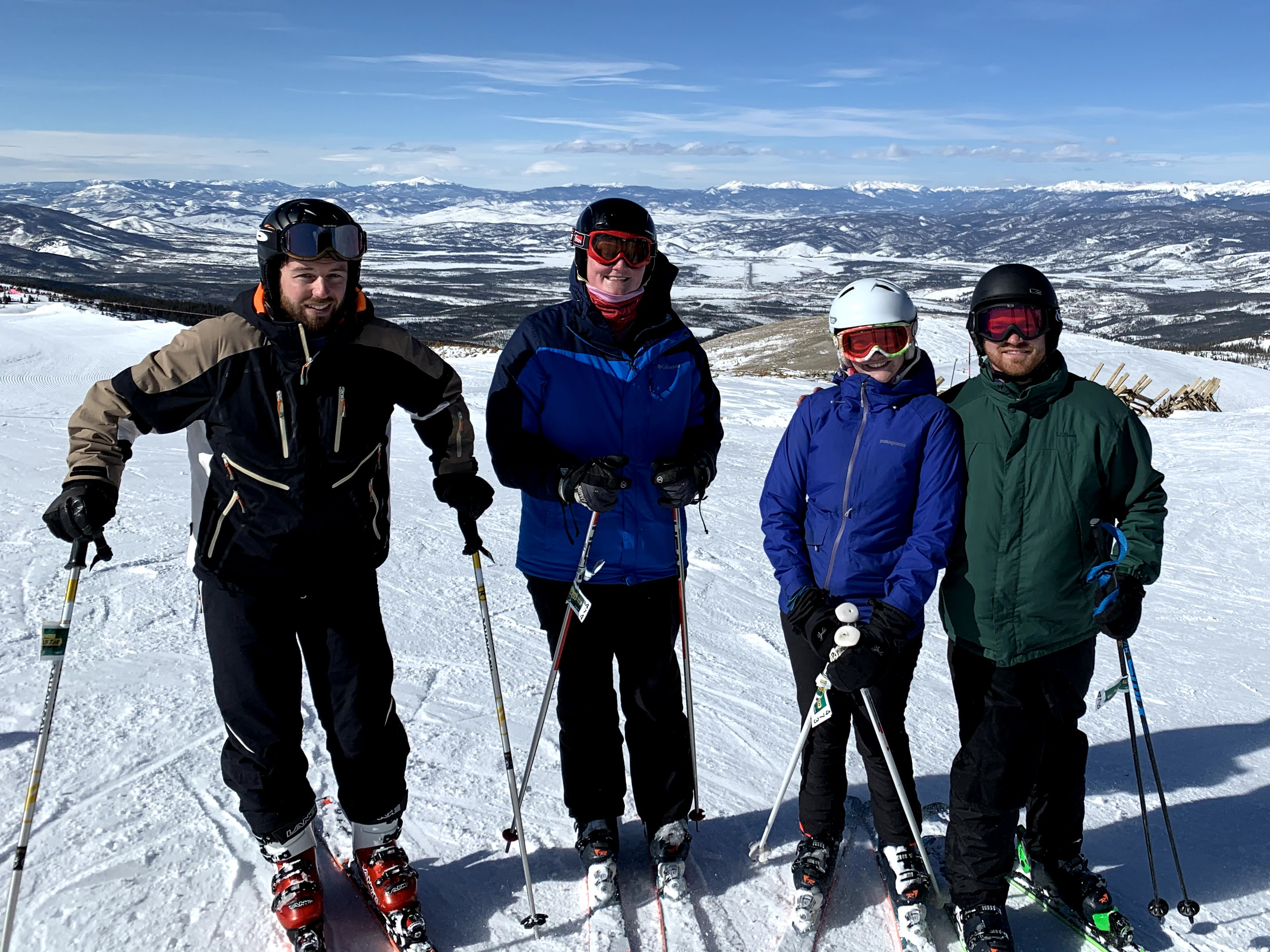 Scheller College MBA students hit the slopes at the Winter Park Resort in Colorado.
De Luca reflected, "Growing up in the French Alps, I started skiing at two years old and competed for over ten years; however, I had to stop competing to focus on my studies. When I heard about the Race and Case competition, I saw an excellent opportunity to mix my passions for skiing and problem-solving. I was impressed by the concept: a sustainability case competition matched with a ski race in one of the most scenic places on earth."
Participation in the event challenged the team to discover resources and tools for people who have not necessarily received the benefits that they themselves have as college graduates and MBA students. McGill said, "Our goal was to underline a path for Steve—or anyone interested in the field of skilled laborers. We had to look into different aspects of setting up a business, and I expect those takeaways will be useful when I hopefully start my own business someday."
The team was sponsored by the Net Impact at Scheller College of Business - MBA chapter, with support from the Ray C. Anderson Center for Sustainable Business, the Cecil B. Day Program for Business Ethics, and the MBA Graduate Programs Office.
Written by Jennifer Holley Lux