Since 2017, students from Georgia Tech and other colleges and universities in the state have competed in the Carbon Reduction Challenge ("Challenge"), a program that supports summer interns and co-op participants in becoming sustainability ambassadors in their workplaces. On top of their regular duties across diverse roles, participants volunteer to research and pitch carbon- and cost-saving measures for their employers. Thanks to the students' hard work, dedication, and compelling proposals, the first three years of the Challenge have identified projects with the potential to deliver over 30 million pounds of avoided CO2 emissions and large savings for partner organizations due to avoided energy costs.
This summer, the Challenge was restructured around Covid-19, with participants developing projects on behaviors and operations that have changed at their organizations during the pandemic. They quantified the carbon reductions and cost savings of those changes and provided recommendations for how their organizations can support effective low-carbon work behaviors when the pandemic eases. Beyond that, the main principles of the Challenge remained the same: Participants immersed themselves in learning more about climate, identified behaviors that have changed at their workplaces, learned how to quantify carbon dioxide and cost savings, and pitched carbon reduction proposals to management in an effort to enlist their support.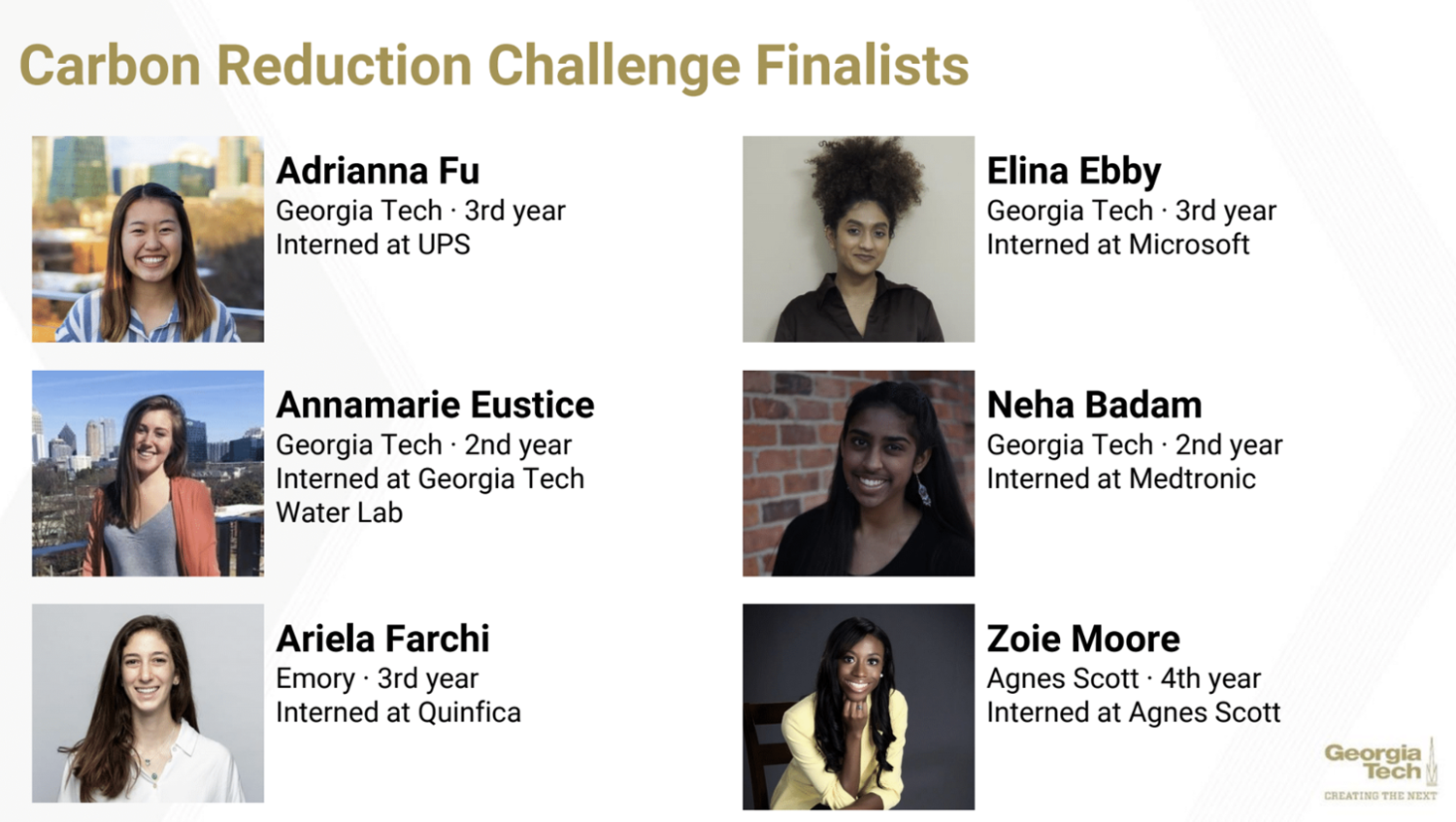 Twelve separate projects were completed by participating students who were employed by the following partnering organizations: Agnes Scott College, Atlanta Green Theatre Alliance, Dropbox, Georgia Tech Research Institute, Georgia Tech Water Lab, HubSpot, Medtronic, Microsoft, Mortenson Construction, Park Pride, Quinfica, and UPS. Six finalists were invited to present videos about their projects in a public online expo, which was attended virtually by over 50 people. (The recording of the expo is available here.) In her introduction to the event on August 14, Challenge Co-director Kim Cobb, professor in the School of Earth and Atmospheric Sciences, said the expo was "the culmination of a summer of extremely hard work by a number of very dedicated and passionate students." Challenge Co-director Beril Toktay, professor in the Scheller College of Business, remarked, "Covid has been a disruptive event, but Challenge students were on the lookout for the silver lining: What is it that we can learn and take forward post-disruption that would be a positive change?"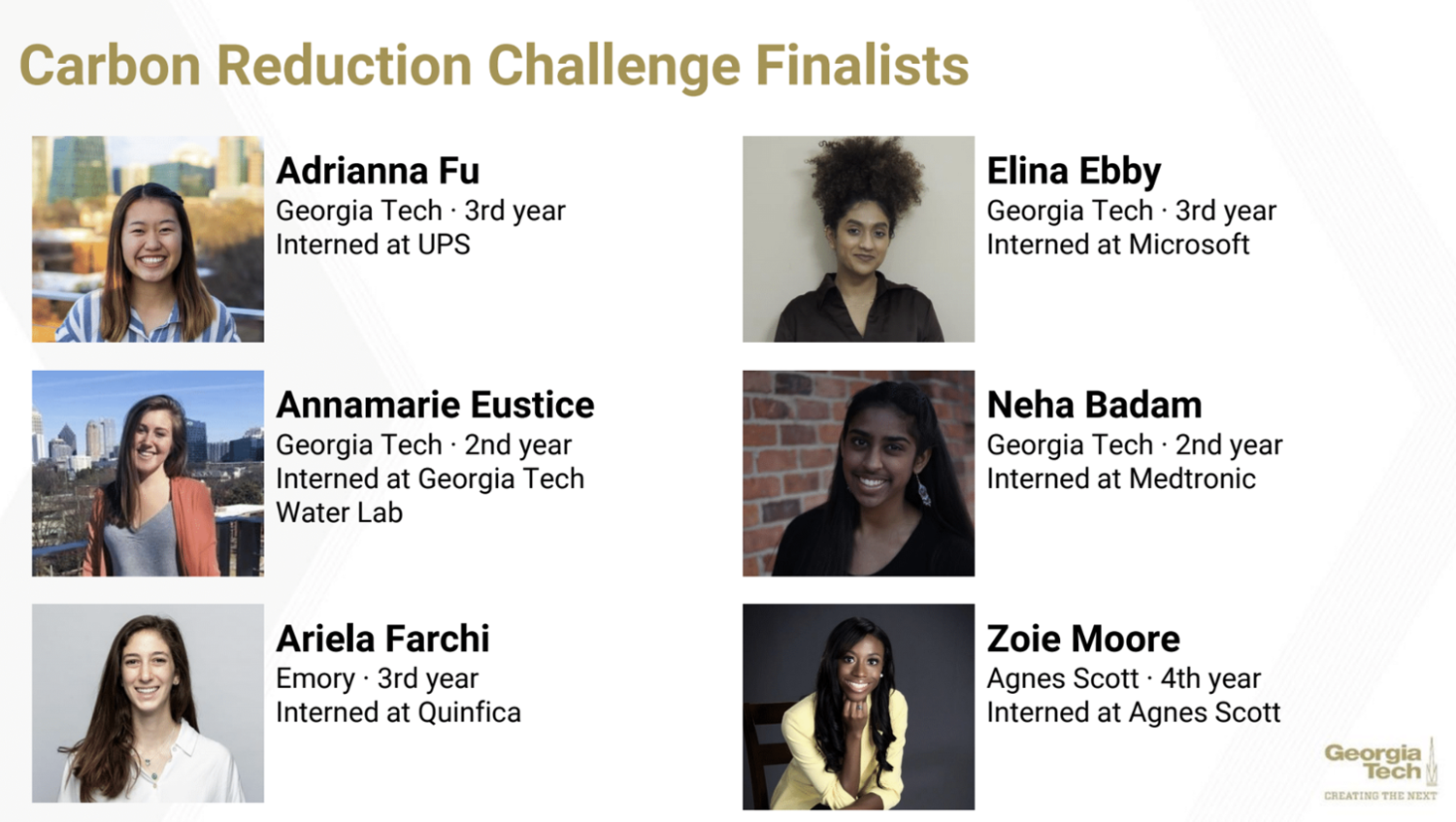 Finalists' projects focused on benefits of work-at-home practices, virtual conferences, cool roofs, and more. To help their employers see a fuller picture of the potential impacts of their proposals, students also identified co-benefits and potential roadblocks.
The judges reviewed a set of deliverables, which were submitted over the entire summer, based on a number of criteria, including the rigor of the calculations, documentation, professionalism displayed by the team members and project leads, stakeholder engagement, and likelihood of project implementation. Projects were judged by Cobb and Toktay, along with two external judges, Rahul Saxena (associate director for CREATE-X Launch) and Steve Murchison (MBA '19), a longtime affiliate of the Ray C. Anderson Center for Sustainable Business.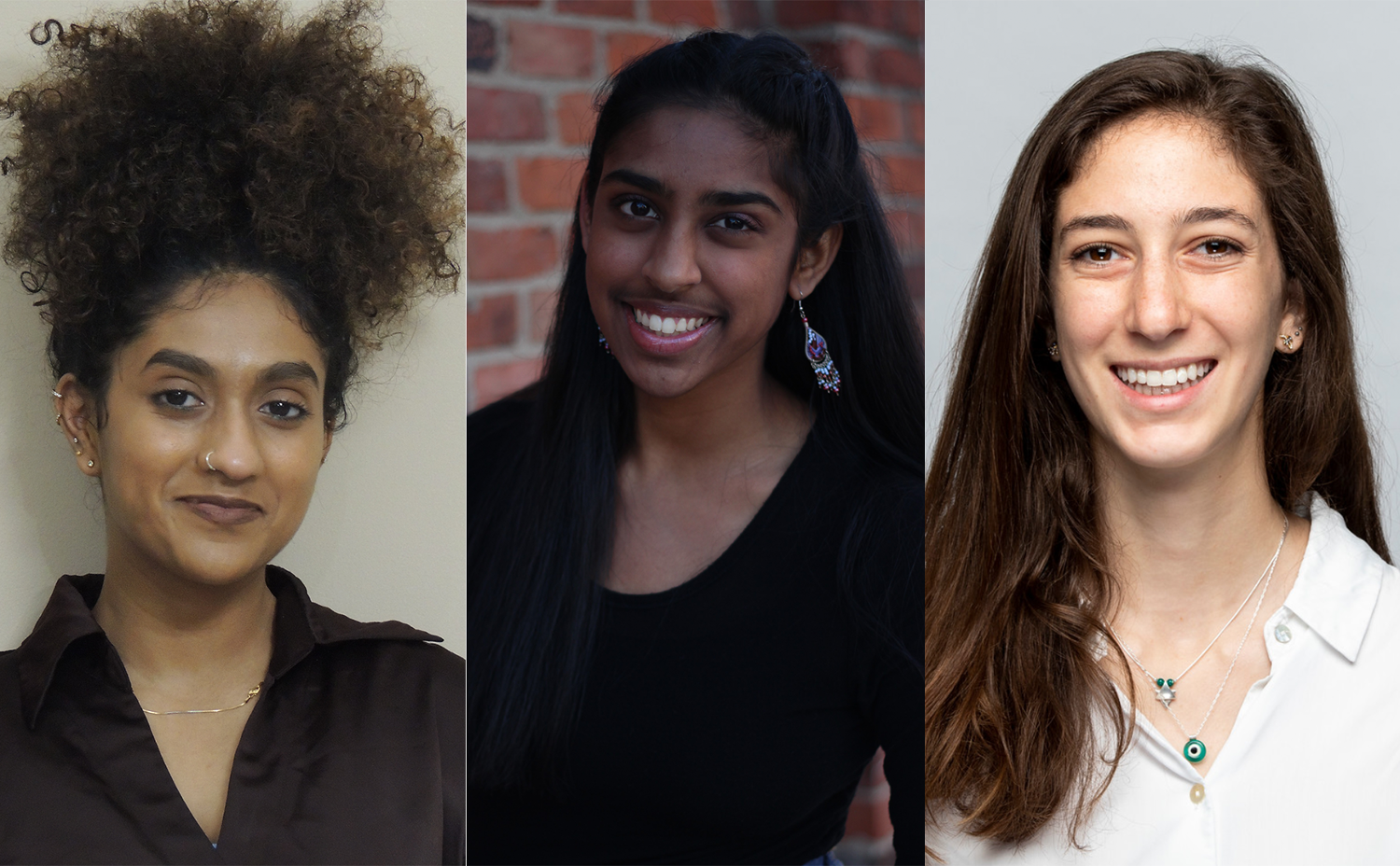 Left to right: Awards in the 2020 Carbon Reduction Challenge went to Elina Ebby (first place), Neha Badam (second place), and Ariela Farchi (third place).
First prize ($2,000) was awarded to Elina Ebby who was an Explore Intern at Microsoft, working in both program managerial and developer roles. In her project for Microsoft, she addressed post-Covid work-at-home policies and the utilization of carbon reduction software that she developed this summer. Although Ebby's internship was completely remote due to Covid-19, she valued the opportunity to have virtual meetings with colleagues across the organization—not only in her department (OneDrive SharePoint) but also in Azure and Corporate, External, and Legal Affairs. Her proposal, which includes a flexible, hybrid approach that balances remote and in-person work, is currently being reviewed by Microsoft executives, and the project has the potential for significant long-term impact. Ebby, who this fall began her third year as a computer science major at Georgia Tech, said that one of her main takeaways from the project was realizing that she has the power to make a positive impact—even in a company as large as Microsoft.
Second prize ($1,000) was awarded to Neha Badam for her project at Medtronic. This summer, she was a quality engineering intern for the company's Ear, Nose, and Throat division under the Restorative Therapies Group. Badam has just started her third year as a biomedical engineering major at Georgia Tech. Her project focused on shifting a majority of the employees at the company's Jacksonville location to a partial work-from-home model. In her report, she made note of the many co-benefits that are valued by employees, such as flexible schedules and less time spent commuting. Decreased air pollution from traffic would also improve the quality of life for those who suffer from asthma and respiratory illnesses. A co-benefit such as this is particularly relevant for Medtronic being that it is a healthcare company.
Third prize ($500) was awarded to Ariela Farchi for her efforts in creating long-term solutions at the pharmaceutical company Quinfica, where she worked as a sustainability management intern. Her proposal was two-pronged. First, she researched the feasibility of installing cool roofs on the company's warehouse in order to reduce HVAC usage while still meeting pharmaceutical safety requirements. Second, she made a proposal for the sales team to continue engaging in virtual meetings with clients, which would reduce vehicle carbon emissions and optimize time otherwise spent in traffic. This fall, Farchi began her fourth year at Emory University as a business major with concentrations in consulting and environmental/sustainability management.
Honorable mentions were awarded to Adrianna Fu (UPS), Annamarie Eustice (Georgia Tech Water Lab), and Zoie Moore (Agnes Scott College).
If implemented, students' carbon reduction projects could potentially save over 58 million pounds of CO2, with most of the CO2 savings coming from emissions avoided by employees working from home instead of commuting. An estimated $9 million in cost savings could be realized not only by companies through adjusted business operations but also by employees who could spend less on fuel by working remotely.

Carbon Reduction Challenge Co-directors Beril Toktay (left) and Kim Cobb (right) introduce finalists at the online expo.
In closing the event, Toktay applauded the engagement and growth mindset of all the participants. She called the experience of mentoring student leaders "one of the most satisfying parts of being an educator." Cobb reflected, "There are so many people who really do want to make a difference, who really do care, but don't have access to the data. They don't really know where to go or what to do. And that's where the Challenge excels: in identifying some of that lowest hanging fruit." The Challenge shows the difference one individual can make with buy-in from a partnering company. Cobb said, "There are champions who are waiting to be the wind in your sails—to help you achieve some of your most ambitious goals."
The Carbon Reduction Challenge is co-directed by College of Sciences Professor and Georgia Tech Global Change Program Director Kim Cobb and Scheller College of Business Professor and Ray C. Anderson Center for Sustainable Business Faculty Director Beril Toktay. Lalith Polepeddi and Kjersti Lukens provide programmatic oversight. The program was launched with funding from the Ray C. Anderson Foundation's NextGen Committee. Cash prizes for the winners are made possible by a gift from the Sheth Family Foundation.


By Jennifer Holley Lux