The Ray C. Anderson Center for Sustainable Business ("Center") and the Scheller College of Business have selected Brigit Joyce as the 2021 recipient of the Vivian Nora Lukens Memorial Scholarship. The scholarship was established to support undergraduate students who are pursuing the Certificate in Sustainable Business ("Certificate").
Brigit is currently a fourth-year undergraduate business administration major with a marketing concentration. The Covington, Georgia, native and graduate of Eastside High School is also pursuing a minor in industrial design in addition to the Certificate.
Her interest in deepening her understanding of sustainable business began when she was enrolled in a Fall 2020 special topics course on sustainable marketing, taught by Ph.D. Candidate Yuly Hong, whom Brigit called a "wonderful instructor." Brigit loved the course—even though it was taught remotely and asynchronously due to the pandemic. She said, "It showed me that there are so many more aspects to sustainability than just being 'eco friendly.' I now understand that it also incorporates social aspects." Among the sustainable business concepts to which Brigit was introduced is the "triple bottom line," which means that a company commits not only to profit but also to people and the planet.
This semester (Spring 2021), Brigit has been enrolled in Business Decisions for Sustainability and Shared Value, taught by Center-affiliated faculty member Ravi Subramanian. The coursework included case studies of companies that give paid time to employees for their volunteer work. This benefit (both for employees and society) resonated with Brigit, who plans to have a career in corporate brand management and marketing. Even though she may not be working in a sustainability-focused business role initially, she said, "I want to seek out a company that shares and reflects my values when it comes to sustainability."
Service to those in need is something that is close to Brigit's heart. For several years, through her sorority, Kappa Alpha Theta, she has worked with the National Court Appointed Special Advocate (CASA) / Guardian ad Litem (GAL) Association for Children, a network of national, state, and local organizations that support children in the foster care system who are victims of abuse or neglect. She first got involved as a volunteer on the fundraising side. Next, she completed training to become a CASA herself, and she has just been assigned her first case. "It's an important role to be a consistent adult for a child who may experience neglect, abuse, and constant change," she said.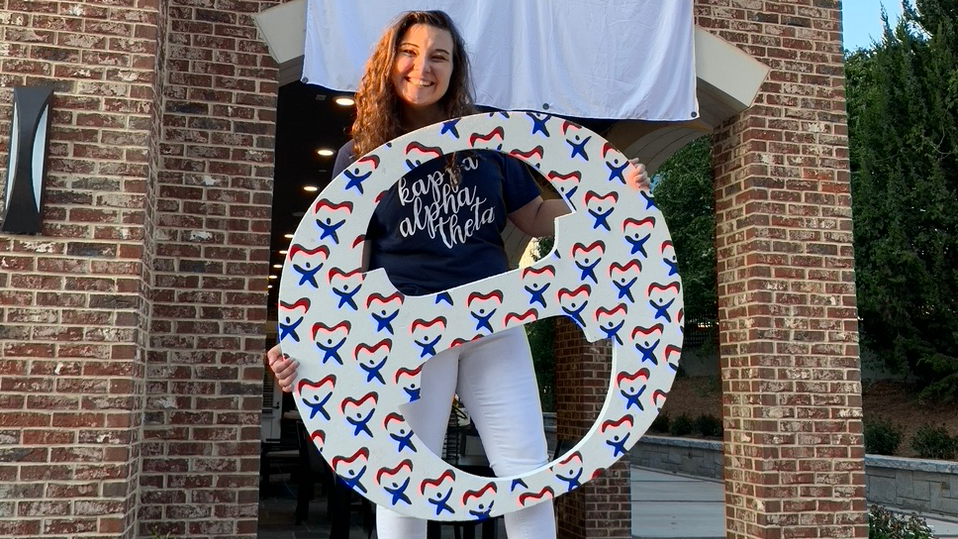 Brigit Joyce's sorority, Kappa Alpha Theta, has been a proud partner of CASA/GAL for three decades.
Brigit elected to remain at Georgia Tech for an additional semester at Georgia Tech (even though she could have graduated in May 2021) in order to take more courses and to obtain the Certificate. She is looking forward to returning to campus in the fall to take the Sustainable Business Consulting Practicum (co-taught by Center Managing Director Michael Oxman and Center-affiliated faculty member Bob Lax), which will give her hands-on experience in helping companies address sustainability challenges.
Brigit, who will be interning in the Baby Division of Newell Brands this summer, reflected, "I think big companies and corporations can help to create a sustainable culture through products people use in everyday life—for instance, through sustainable materials and packaging." She continued, "From a marketing perspective, I hope I can help to spread the message that sustainability is worthwhile. Pursuing the Certificate will help me communicate the case for sustainability and its long-term benefits to consumers, other stakeholders, and shareholders."
Written by Jennifer Holley Lux