This interview is the next installment in our series of profiles on sustainability leaders among Georgia Tech alumni. Michael Oxman, managing director of the Ray C. Anderson Center for Sustainable Business ("Center"), speaks with John Wells (IM '84), longtime president and CEO of Interface Americas, where he worked alongside Founder and Chairman Ray C. Anderson (IE '56, Honorary Ph.D. '11) in building a company that became an exemplar of "doing well by doing good." John shares his career trajectory, memories of working at Interface at a time of incredible change, and best practices for embedding sustainability in a company. John currently leads the CEO and Leadership Practice as a Partner at The Goodwin Group.
Michael Oxman: Thanks so much for taking the time to talk to us. Would you tell us a little bit about your life prior to coming to Georgia Tech and how you came to study here?
John Wells: My dad was a doctor with a passion for working in small towns. In the early '50s, he and my mom moved from Atlanta to Dalton, Georgia, which is where I grew up. As you might know, Dalton is the unofficial "Carpet Capital of the World." I got interested in the industry as I began to look at colleges. I ended up going to Georgia Tech as a co-op student working in the carpet industry with Shaw Industries Group, Inc. beginning at the age of 18. After I graduated from the College of Management [now Scheller College of Business], I went full time with Shaw, where I stayed for ten years. In early '94, I went to Interface.
MO: Interface in '94...that was quite a time of change within the company!
JW: It certainly was. I joined Interface early that year. The company wasn't doing very well, and I was part of a small group that came to do a turnaround on the core business. Later that year, [Founder and Chairman] Ray C. Anderson had his famous epiphany about this thing called "sustainability." I'm not even sure if I had ever heard the word before. When Ray first introduced the concept, I thought, What's he talking about? In my early 30s, my belief was "whoever sold the most carpet wins." "Sustainability" was not in the vernacular of our industry. Frankly, in the early '90s, it wasn't really in the vernacular of any company. It certainly wasn't in the mission of any company.
MO: I'm trying to imagine being a fly on the wall. You had just arrived at Interface and were tasked with doing a turnaround, and just a few months later, Ray wanted to change the direction of the company. What were you thinking?
JW: I thought Ray was an older guy who was trying to secure his legacy. Initially, I thought his new ideas were a distraction from the core of the business.

MO: What transformed you from an early skeptic into someone who embraced sustainability?
JW: I began to see a real transformation at Interface—and this was way before this idea of a purpose-driven culture was in vogue. It really touched me that people began to see their jobs as more than "making a great product" or "taking care of the customer." It gave a higher level of meaning to their work, and I think that was probably just as important—perhaps more important—than the technical breakthroughs the company had in those 20 or so years.
MO: What are some of Interface's sustainability achievements that make you feel most proud?
JW: Interface historically used 100% petrochemically intensive materials and nonrenewable energy to drive its operations. Upon my leaving, Interface had transformed its materials and supply chain. Now, products come from completely recycled and bio-based materials that include a very high percentage of post-consumer content. Over 70% of the carbon intensity of an Interface carpet tile occurs in the material supply chain, so transforming the supply chain required unique partnerships. As a part of this effort, we created the first "carpet take back" process that helped feed this closed-loop material stream while giving our customers a responsible way to dispose of their product. Also, in 2016, Interface Americas' energy use was fully transformed from fossil fuel energy sources to renewable sources. Additionally, we completely eliminated the use of water from the manufacturing process. (Historically, a large amount of water was used to produce carpet). Lastly, I am very proud of the influence Interface had on the construction and interior industry, serving as an example for other product and service companies. Interface continues to advance Ray's vision and mission with its products and processes through its Climate Take Back strategy. Above all, I am most proud of the tremendously devoted people I worked with at Interface. They made Ray's vision come to life!
MO: How did your perception of Ray change over time?
JW: I was so fortunate to work for Ray for all those years. He branded me in ways that I continue to discover. I love the fact that he was 60 years old when he reimagined the company and its purpose. Guess what—I'm going to be 60 years old in two months. Any time I start feeling like I've got to drift off, I imagine Ray saying, "Don't do that!" I was proud to be a leader at Interface for a long time, and I think we did some remarkable things there. But what touched me the most was Ray's belief, which came to be my own: that business is the institution that has the best chance to create a better world. Interface was a better company as a result of this mission and vision. We had lower cost, better products, and better quality. On top of that, we had a very highly engaged culture and people. Being part of that was fantastic.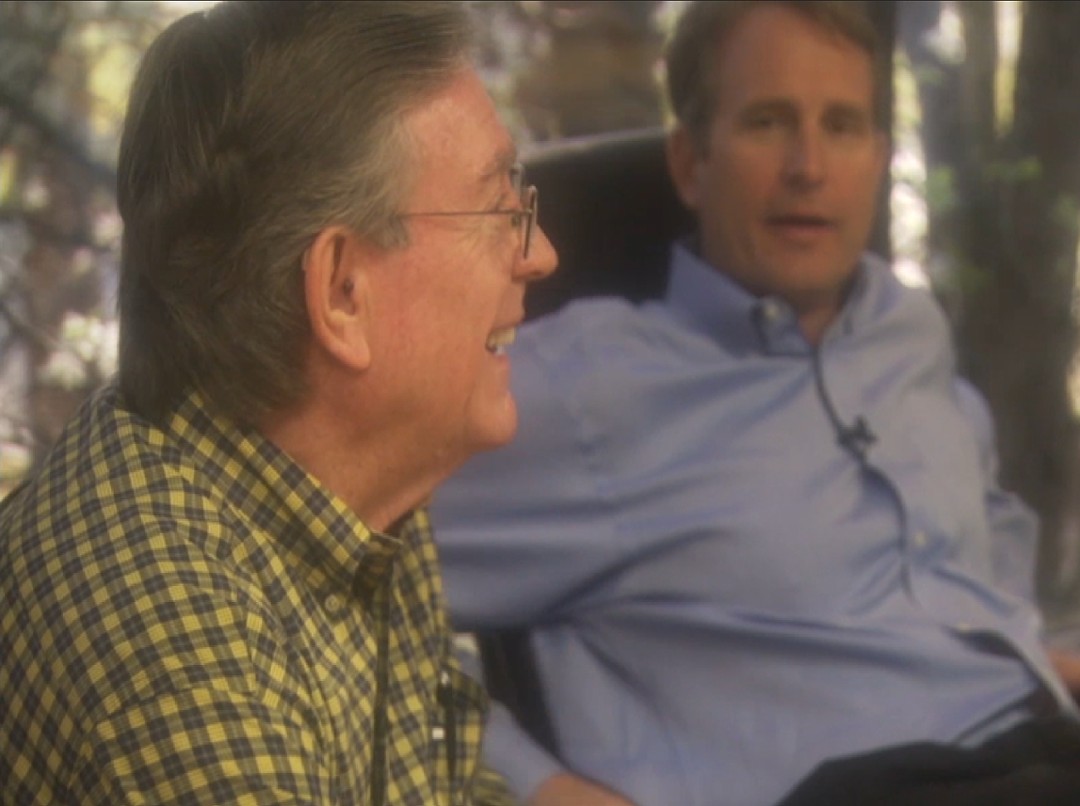 Ray C. Anderson and John Wells
MO: Were customers initially skeptical, and did it take some time for them to come around?
JW: Initially, yes, but momentum began to occur as architects and designers embraced the idea and influenced their clients. The green building movement that evolved into the U.S. Green Building Council (USGBC) became remarkably important to this effort by creating definition and standardization for the construction industry with LEED. Ray and Interface were incredibly important to the growth and evolution of this movement. Ray was one of the first keynote speakers at an early conference in the mid-'90s with fewer than 100 people in attendance. At the same conference fifteen years later, just before his passing, Ray delivered his last keynote speech to an audience of over 30,000.
MO: In many respects, a lot of companies have come a long way in their sustainability journeys and perhaps are approaching where Interface was back in the mid to late '90s. However, others are not yet at that point. What advice do you have for them?
JW: Sustainability was in Interface's mission and came to be expected. We were even compensated for it. I believe sustainability needs to be integrated into current business operation, innovation streams, and customer interactions. A lot of companies have handed sustainability to a group of people on the side. I worry about these groups because they seem like separate entities that may not be taken seriously within a company. Interface didn't have a separate sustainability group because that would make it somebody else's job. The integration of strong sustainability mission, vision, and principle is so critical—at every level.
MO: Based on my observation, that's the only way it works. There are examples of companies that have siloed sustainability, and then they get accused of greenwashing because it's not really embedded. We're trying to teach our students to work on infusing sustainability into every business function.
JW: It's great that you're exposing this to Georgia Tech students. Back in the '90s, an understanding of environmental sustainability was held within a very few people in the world. Today, on the other hand, middle management pretty thoroughly understands the impacts of climate change, carbon footprint, recycling, the circular economy… I think there's a great opportunity now, and people don't need to be afraid to lead with it.
MO: So how does one do that?
JW: Leaders have to find ways to connect sustainability goals to current business practices and things that you measure every day. When we started the sustainability journey at Interface, Total Quality Management was the big thing in manufacturing companies, so we created metrics for environmental responsibility that connected to the same metrics we were using for TQM. People started to see that sustainability was important both for quality and the world.
MO: Sustainability, in my mind, is both a mindset and a discipline. You have to have both.
JW: That's a fact. And products or services that make a lot of money and are super sustainable are going to the ones that change the world.
MO: You've had experience, too, with the startup world. I'd love to hear more about that.
JW: When I left Interface four years ago, I started thinking: Where are my strengths? What can I bring to the table? I do have a network and a passion for bringing like-minded people together with resources. I looked for opportunities related to areas such as renewable energy, energy storage, infrastructure, and materials. John Picard, longtime member of Ray's sustainability "Eco Dream Team," introduced me to a Spanish nanotech startup (Phi 4 Technology) that had developed a unique process to synthesize graphene in large scale and at low cost, primarily for the purposes of advanced materials and energy storage. I worked with the startup and helped them connect to GTRI. Another organization, Endeavour, which is focused on critical infrastructure issues of distributed energy, clean water, and plastics to energy, grew out of that, and I've connected them with professors at Tech. We're close to a few commercializable products, mostly focused on utility-scale energy storage. I've also worked with Dr. Ilan Stern in Kevin Caravati's Energy & Sustainability Group at GTRI.
MO: We're lucky to have you serving on our Center's Advisory Board and are appreciative of your insights on the Drawdown Georgia initiative.
JW: I'm really pleased with the direction in which Drawdown Georgia is headed. I got involved early with Paul Hawken on the original vision for Drawdown—that is: What are the things we can do today to make a dent in carbon emissions? Now, to have a roadmap of solutions that relate specifically to Georgia—I think that's a really smart idea.
MO: It was incredibly gratifying when you and your wife sponsored the Wendi W. and John R. Wells Scholarship for Scheller College undergraduates [preference is given to a student with demonstrated interest in sustainability]. I'd love to know the inspiration for that decision.
JW: I love Georgia Tech. It has made a profound difference in me. I love the mission of the Center. At the same time, I'd like to keep Ray's name and legacy and the practice he created in front of the emerging business leaders. We can change things that need to be changed and head to a better future through the students you are educating and inspiring today. If we can in some way include more people in that group, Wendi and John Wells on a visit to St. Simons Island.that's great.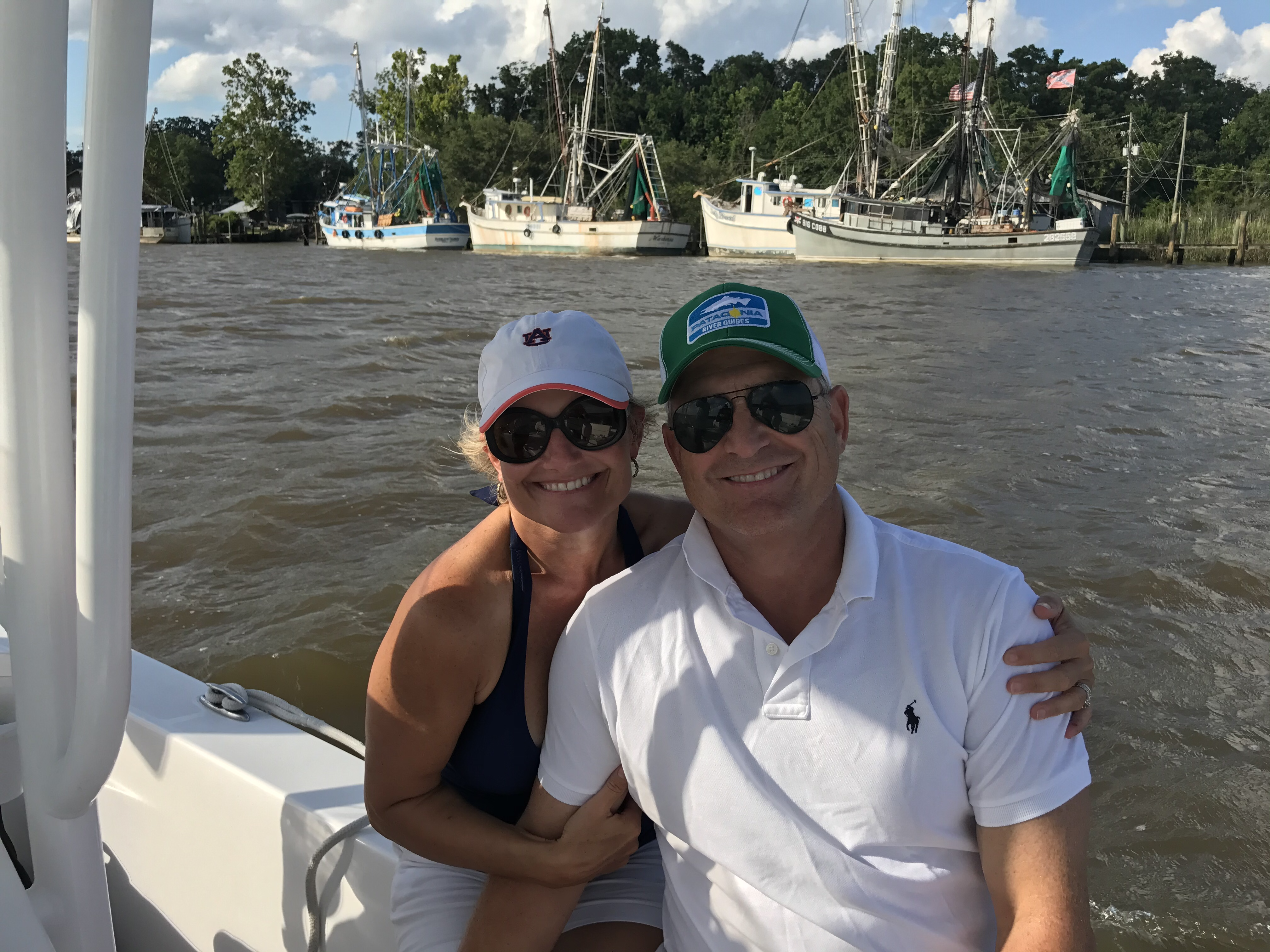 Wendi and John Wells on a visit to St. Simons Island
MO: For a change of pace: What do you do for fun?
JW: Wendi and I have a little place down on St. Simons Island. I'm trying to learn the creeks and tributaries in the beautiful Georgia wetlands marsh that we're all so blessed with and trying to protect.
MO: Any last thoughts?
JW: My parents' whole lives were dedicated to service, so the marriage of business and service was never a weird thing to me. If anybody asked me, I'd say the most important thing is to live your career and your life with a servant's heart. Help other people—really. That servant orientation was in me when I joined Interface, and Ray delivered permission to pursue it.
Written by Jennifer Holley Lux