The new program provides support to those who want to start businesses that solve social and environmental challenges.
"Georgia Tech is a beacon of innovation that aims to empower entrepreneurs to create ventures with a positive impact on society and the environment. As a hub of forward-thinking ideas, Georgia Tech is leading Atlanta, Georgia, and the United States into a more sustainable future," said Andre Calmon, assistant professor of operations management, at the launch event for Sustainable-X. An offshoot of the successful CREATE-X entrepreneurship initiative at Georgia Tech, Sustainable-X gives students, faculty, staff, and community members the tools and confidence to create and grow startups that address social and environmental challenges.
Sustainable-X is supported by Sustainability Next, the implementation roadmap for sustainability goals within Georgia Tech's Strategic Plan 2020-2030. The new program launches in tandem with a climate action plan, a living learning campus initiative, seed funding for teaching through the lens of the UN Sustainable Development Goals, and more.
CREATE-X and the Ray C. Anderson Center for Sustainable Business ("Center") are partnering on Sustainable-X programming. Organizers include Scheller College of Business faculty and staff: co-directors Andre Calmon and Karthik Ramachandran (Dunn Family Professor), advisor Beril Toktay (Brady Family Chair and Regents' Professor), and program manager Kjersti Lukens (program support coordinator for the Center).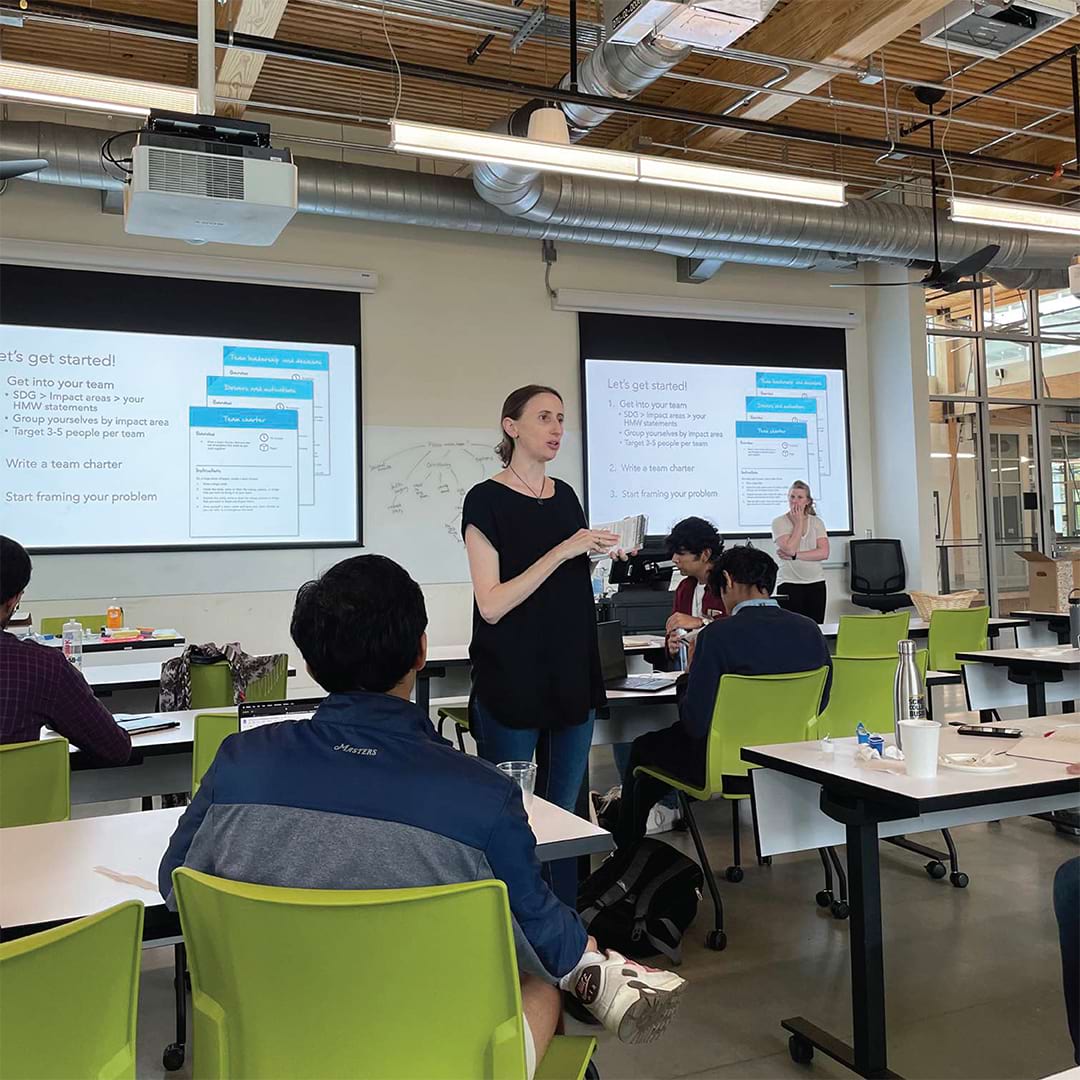 The program kicked off with the Social and Environmental Entrepreneurs Bootcamp, held at the Kendeda Building for Innovative Sustainable Design from November 5-6, 2022. Twenty participants from Georgia Tech and the community learned how to tackle complex sustainability problems and create startup solutions. The bootcamp was facilitated by Jackie Stenson, an expert in sustainable innovation and co-founder of multiple social enterprises. Participants progressed through problem framing and ideation exercises to design solutions inspired by the UN Sustainable Development Goals.
The participants shared their projects in a pitch session, where judges and peers listened to an array of business solutions related to STEM education in under-resourced communities, meal preparation kits to help reduce food waste, water management for golf courses, and infrastructure and innovation to accelerate the transition to renewable energy. First prize was awarded to the group that focused on water management. Team members included Isha Dogra (environmental engineering graduate student at Georgia Tech), Emma Vail (student at University of North Georgia), and Michelle Wong (assistant director of the Petit Institute at Georgia Tech ).
Tanju Özdemir, a first-year materials science and engineering major who is also serving as a 2022-23 Scheller College Undergraduate Sustainability Ambassador, remarked, "I signed up for the bootcamp because it felt relevant to my future career goal of being an entrepreneur in the energy sector. The SDG innovation process was completely new to me and exposed me to how difficult and exciting it is to explore solutions to different problems." The bootcamp revealed to Özdemir how "even the seemingly chaotic process of creativity can have structure."
Next Steps and Resources
Participants in the bootcamp will be invited to take part in a series of forthcoming events and opportunities related to mentoring, transitioning from idea to prototype (through CREATE-X programming), and funding. The Sustainable-X 2022-23 program will culminate in a showcase in March in which selected participants, along with their counterparts in CREATE-X, will pitch their startups in hopes of obtaining support from investors.
Reflecting on the weekend launch event, Toktay said, "I enjoyed seeing how teams including students, staff members, and community participants – which we intentionally included in the bootcamp – gelled so well. They helped each other stay grounded in real problems while exploring creative solutions." She said that she and her fellow organizers look forward to the growth of the program. "We believe that the teams have great potential to make a positive impact."
"With the new Sustainable-X program, Scheller College is creating a new wave of impact at the intersection of sustainability, entrepreneurship, and innovation," stated Dean Maryam Alavi. She continued, "This program will empower a new generation of Georgia Tech community members as they address some of the most pressing sustainability challenges of our time. I look forward to seeing what results."
Co-directors Calmon and Ramachandran have worked with student and faculty entrepreneurs at Georgia Tech, INSEAD, and MIT. They recognize Georgia Tech's potential to produce the next generation of sustainability and climate-impact startups, and look forward to building the pathway to support these startups through Sustainable-X.
Click here to sign up for updates.
Interested in getting involved? Contact Kjersti Lukens for more information.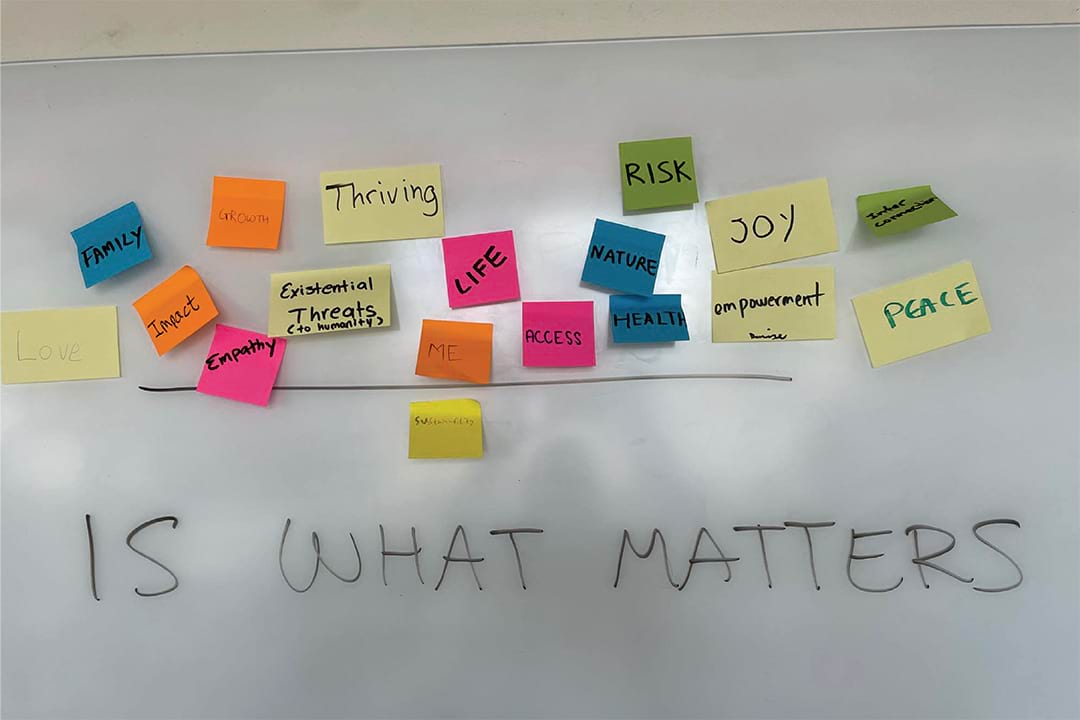 Written by Jennifer Holley Lux