Every Spring semester, ILSI's Dori Pap and Practitioner in Residence, Susan Davis, lead a class of students through a series of workshops that promote an in-depth understanding of social and environmental issues. This year they are joined by Dr. Neha Kumar's Global Development Capstone course that is using the same problem discovery tools as it explores global issues. Students learn about system level frameworks like Assets Based Community Development and the UN Sustainable Development Goals as they do a deep dive into the root causes of the societal issues they explore with the help of Black civic innovators and social entrepreneurs. We are proud to announce this year's outstanding community partners - through our partnership with the Center for Civic Innovation - who work on issues ranging from: developing and implementing equitable curriculum in K-12 schools, to providing young Black men with mentors who look like them, to a tech-enabled training platform that reskills youth using VR.
The Tech community is invited to meet our I2S partners who create a better ATL on Monday, April 17 at 5pm in Scheller at the Ideas to Serve Showcase. There will be swag, food, and King of Pops to round out the celebrations and the audience can vote for their favorite student team. Please register in advance.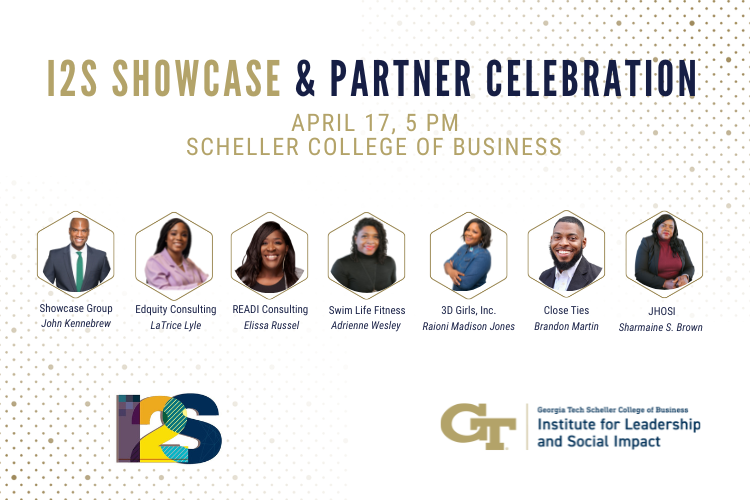 2023 Ideas to Serve Community Partners
3D Girls, Inc
Founder: Raioni Madison Jones
Website: https://www.3dgirlsinc.org 
Founded in 2012, 3D Girls, Inc.'s mission is to educate and empower young women to be advocates for themselves and their families. Our work is fulfilled through youth mentoring, prenatal and parental development, and social and emotional wellness. Our wrap-around services provide opportunities for women and girls that are inclusive and intentional about empowering them to thrive.
Close Ties Leadership Program 
Founder: Brandon Martin 
Website: https://www.closeties.org/ 
Close Ties Leadership Program serves as both a mirror and a window. We create a safe space for Black boys to reflect on who they are and equip them with the tools to become whom they aspire to be. 
Readi Workforce Training and Development 
Founder: Elissa Russel  
Website: http://www.consultreadi.com/ 
READI Consulting, LLC is a for-profit, tech-enabled training platform that reskills youth aged 16-26; READI offers literacy and foundational workforce skills-building remediation. We design and deliver courses to upskill the undereducated and underemployed with a focus on addressing literacy inefficiencies (reading, numeracy, digital, language) and workforce skills building. 
Swim Life Fitness 
Founder: Adrienne Wesley 
Website: https://www.swimlifefitness.com/ 
Swim Life Fitness provides communities access to quality and impactful wellness and aquatic programming that focuses on addressing mental and physical health disorders. 
Jared's Heart of Success 
Founder: Sharmaine Brown 
Website: https://www.jaredsheartofsuccess.com/ 
Jared's Heart of Success is dedicated to advocating for gun violence prevention through education and youth empowerment. JHOSI does this through education, advocacy, and empowerment.
Edquity Consulting 
Founder: LaTrice Lyle 
Website: https://www.edquityconsulting.com/ 
Committed to dismantling white supremacy culture in schools and developing and sustaining equitable classrooms, schools, and systems for Black and Brown children by implementing project-based learning through a culturally relevant lens. 
Showcase Group  
Founder: John Kennebrew 
Website: https://showcasegroup.org/ 
Showcase Group provides support to at-risk youth and their families by implementing psychosocial services such as youth advocacy, mental health, and case management services. Each participant experiences programming that is culturally relevant and tailored to their unique needs, addressing various elements related to mental health, residential living/care, education, and employment pathways. 
Ideas to Serve (I2S) is a program that takes a comprehensive approach to social innovation. It encourages students to be compassionate listeners, identify and build on the community's assets, research the solution landscape to learn from successes and failures, and take a systems approach to identify the root cause of issues rather than merely treating the symptoms.
The weekly workshops that guided student groups in their problem discovery journey as part of the Social Impact course featured influential experts from organizations like Hands on Atlanta, the US Census Bureau Open Innovation Lab, CARE International, Center for Civic Innovation, and SpeechWorks.
The Ideas to Serve program is made possible through the generous support of The Cecil B. Day Program for Business Ethics, Brook Byers Institute for Sustainable Systems, the Center for Serve - Learn - Sustain, The Denning Technology & Management Program, Center for International Business Education and Research, Design Bloc, VentureLab, Global Development Program at Sam Nunn School of International Affairs, Scheller College of Business, Mosley Ventures, Speechworks, Center for Civic Innovation.

The Institute for Leadership and Social Impact is an interdisciplinary institute that promotes servant leadership and social innovation that contribute to a more just, caring, and equitable world.