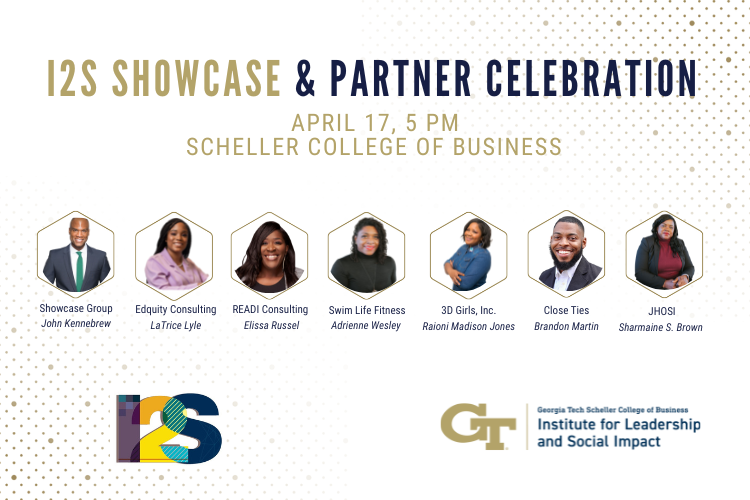 I2S Showcase and Partner Celebration
Details
Areas
ILSI
Evening MBA
Full-time MBA
Executive MBA
Location
Scheller College of Business
LeCraw Auditorium & Atrium
800 West Peachtree St., NW
Atlanta, GA
Registration Closed
Join us for the culmination of the 2023 Ideas to Serve program. Register for the event here. A Poster Showcase with refreshments and pops will follow the presentations.
Student teams will present the results of their problem-discovery journey around various societal issue areas prevalent in Atlanta. You will meet and network with our fantastic community partners: 3D Girls, Close Ties Leadership Program, READI Workforce Training, Swim Life Fitness, Jared's Heart of Success, Edquity Consulting, and Showcase Group, and then vote for your favorite student team to receive the People's Choice award.
 A Poster Showcase will follow the presentations, where teams will display the Stakeholder Maps they prepared on issues ranging from developing and implementing equitable curriculum in K-12 to providing young Black men with mentors who look like them to a tech-enabled training platform that reskills youth through the use of VR. 
I2S takes a comprehensive approach to social innovation, encouraging students to be compassionate listeners; identify and build on the assets of the community; research the solution landscape to learn from both what works and what has failed; take a systems approach to identify the root cause versus the symptoms of the issue.
Students who aspire to work closely with and learn from a community partner/civic entrepreneur, those who want to affect change in the United Nations Sustainable Development Goals (UNSDGs), and those who are wondering how they can make a real, lasting, and appropriate difference in other people's lives are ideal candidates for I2S.
In the 2023 season, student teams learned from and worked with our Atlanta area community partners and civic entrepreneurs. A series of hands-on workshops and discussions, complemented by conversations with front-line experts, equipped participants with broadly relevant problem-discovery tools and skills to apply in any field and career. 
We are grateful for support from our partners on and off campus:
Community Partner: Center for Civic Innovation
The Cecil B. Day Program for Business Ethics

Brook Byers Institute for Sustainable Systems

Center for Serve - Learn - Sustain
Denning Technology & Management Program
Center for International Business Education and Research
Design Bloc
VentureLab
Global Development Program @ Sam Nunn School of International Affairs
Scheller College of Business
Mosley Ventures
Speechworks
Ted Munchak Chair in Entrepreneurship
The Woodall Servant Leadership Endowment
Learn more about our community partners and our supporters at ilsi.gatech.edu/i2s.
Meet our community partners.