This Spring's Business Analytics Practicum Showcase may have been the best practicum showcase yet.
During the practicum, three teams presented the results of their semester-long study to an audience made up of BAC Executive Council Board members, Board Advisors, Scheller faculty, and representatives from challenge sponsors, Veritiv and Acorns. Two teams addressed an intricate challenge from BAC Executive Council Partner Veritiv aimed at forecasting product and customer demand planning at scale, and a third team looked at predicting job losses due to pandemic shut-downs and demand for Paycheck Protection Loans by local companies in Georgia.
"In the 5 years we've been putting on showcases, this had to be one of the strongest co-horts I've seen," said Keith Werle, BAC managing director. "Not only did they generate some unique insights from challenging data sets, they also told an intriguing story and put on dynamic, informative presentations that led to some great discussions."
Veritiv executive leadership agreed.
"I'm impressed by the innovative and practical solutions that students generated during the GT Business Analytics Practicum, using Veritiv data," said Gang Wang, senior director of Data Analytics and Business Insights. "Their success showcased the power of business analytics and data science in addressing complex forecasting challenges. This collaboration between the Veritiv analytics team, the students, and Georgia Tech was fantastic!"
Student teams appreciated the opportunity to wade into the data and gain some real-world experience. 
"Transforming raw data into insights and meaningful recommendations for a client was extremely valuable," said MSA Student Zach Labkovski. 
"In the classroom, we are always doing technical and complex data challenges," added Vanessa Yip, MSA. "What I enjoyed about the practicum was seeing the difference data makes and how business analytics, data science, and business considerations actually come together."
"It's a unique class," said MBA Student Paula Simonetti. "Professor Werle gave us the opportunity to guide ourselves. He was there if we needed him, but it was great to have the freedom to explore different options. Some of the paths we went down did not pay off, but led to other, more powerful solutions." 
After each presentation, the teams took questions from the audience, leading to some lively give and take. 
"That's another reason this practicum stands out as fantastic," said Werle. "Our audience had some major analytics heavy-hitters who you could tell just loved talking to these talented students about the power of data and its real-world implications. They carried the question and answer over to our networking event and it was great to see the students discussing their work with some of Atlanta's top business analytics executives." 
Ricardo Rodriguez Caceres is a senior manager of Data Science and Machine Learning at UPS. "These students did a great job, utilizing some really advanced techniques. It was quite impressive to see them balance technical data, business insights, and storytelling."
Dr. Yancy Riddle, a serial entrepreneur, venture investor, distinguished GT PhD alum, and current BAC Board Advisor, attended the event via Zoom and was available as a mentor for the students. "The students developed some really robust analytics," he said to conclude the evening. "Some of those data-driven insights were more advanced than a lot of what I see in the business world today."
Presenting teams included: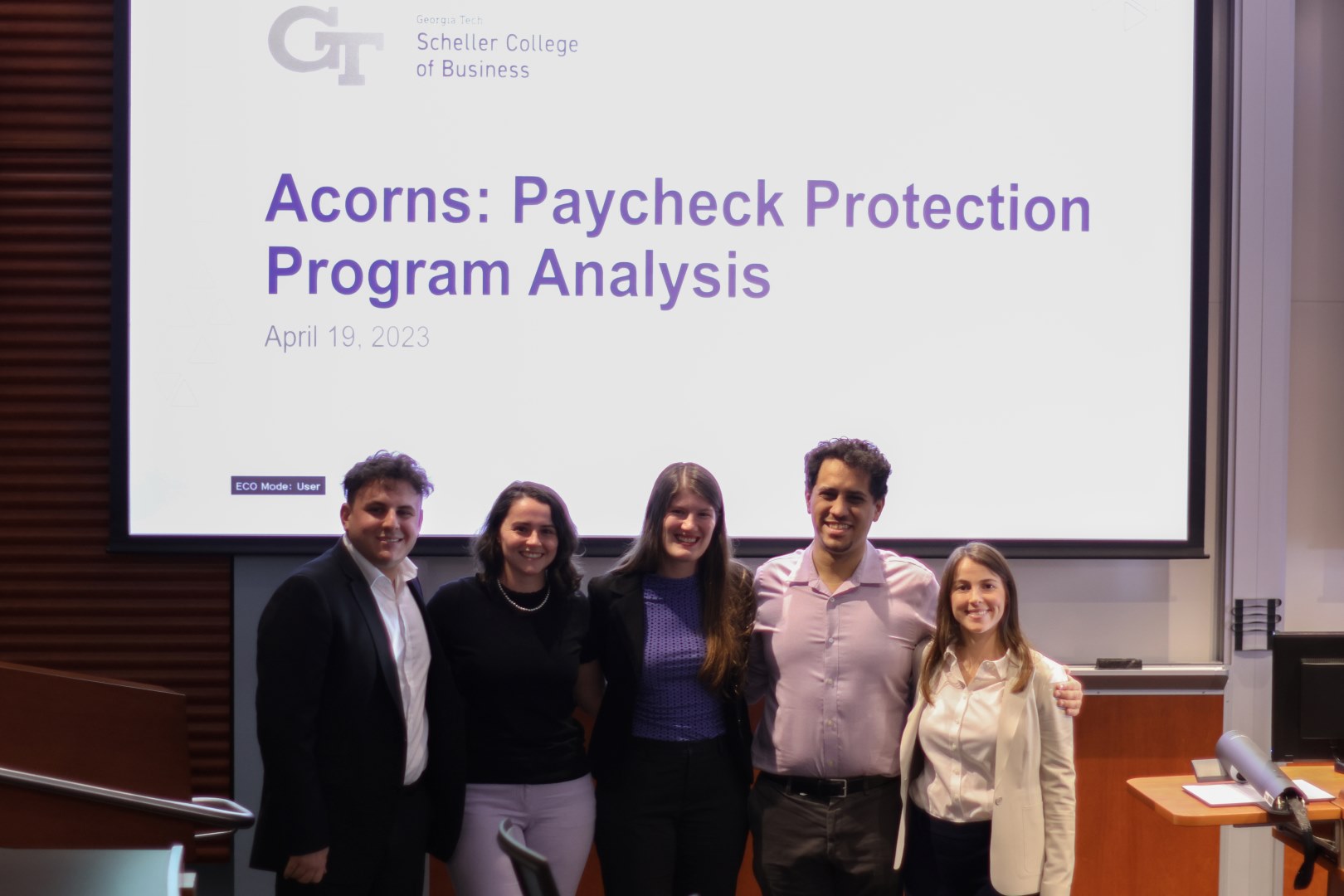 PPP Pros (from L to R): Zach Labkovski. MSA; Emma Watkins, MSA; Cassidy Gasteiger, MSA; Omar Mikawi, MBA; and Paula Simonetti, MBA.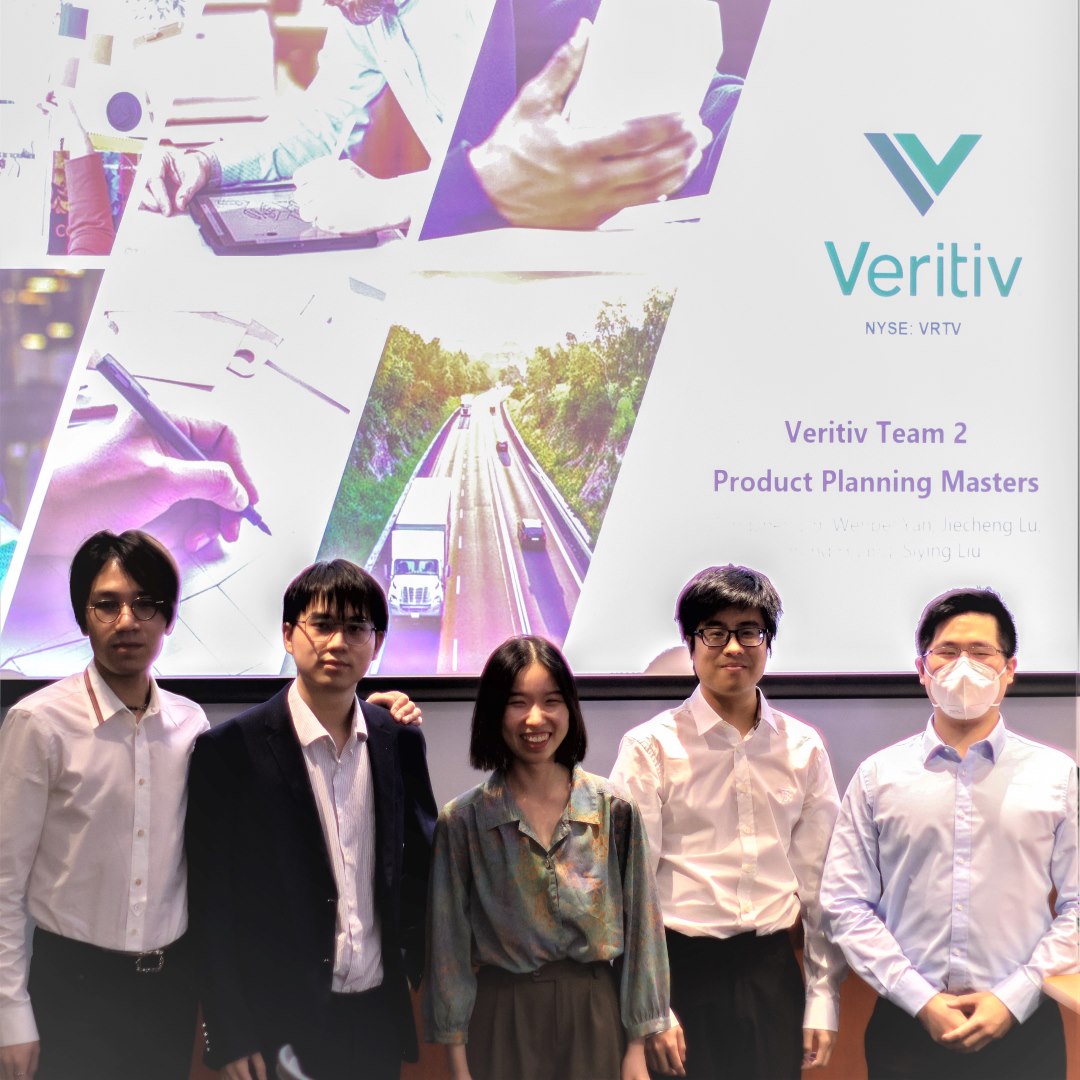 Product Planning Masters (from L to R): Wenpei Yan, MSA; Jiecheng Lu, MSA; Siying Liu, MSA; Dihong Huang, MSA; Zongzhen Lin, MSA.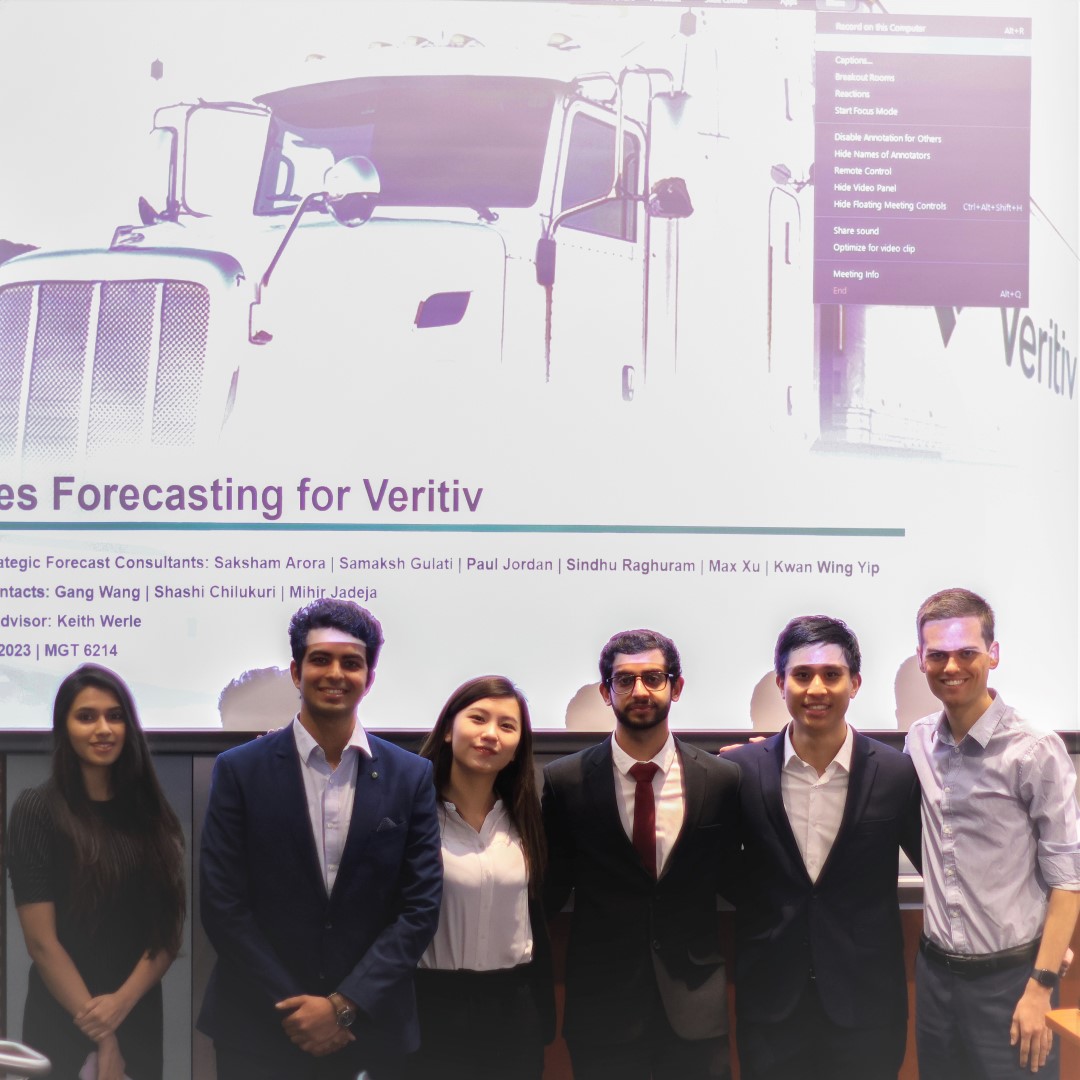 Strategic Forecast Consultants (from L to R): Sindhu Raghuram Panyam; MSA, Samaksh Gulati, MSA; Vanessa Yip, MSA; Saksham Arora, MSA; Max Xu, MSA; Paul Jordan, MSA.
To see more photos, check out the Photo Gallery, with pictures from student photographer Tyler Parker.