The Business Analytics Center was excited to help sponsor Data Science @ GT's annual 36-hour hackathon, Hacklytics 2023: A Starry Night. This is the BAC's third year sponsoring the event, which took place both online and in person at the Klaus Advanced Computing Building, with more than 350 in-person participants.
"The Data Science @ GT Club put on an amazing weekend," said BAC Managing Director Keith Werle who volunteered as a judge. "The participants were charged with finding innovative data-driven solutions to real-world problems—and they delivered in a big way. The students I met and talked to certainly displayed impressive analytics acumen, coming up with some creative hacks that had real commercial potential."
Sixteen different groups helped to sponsor the event including the National Security Agency, Google Cloud, Amazon Web Services, Geico, and Georgia Tech Athletics.
Participants submitted projects in four different tracks:
Energy and Sustainability,
Finance,
Healthcare, and
 Sports.
Students Shine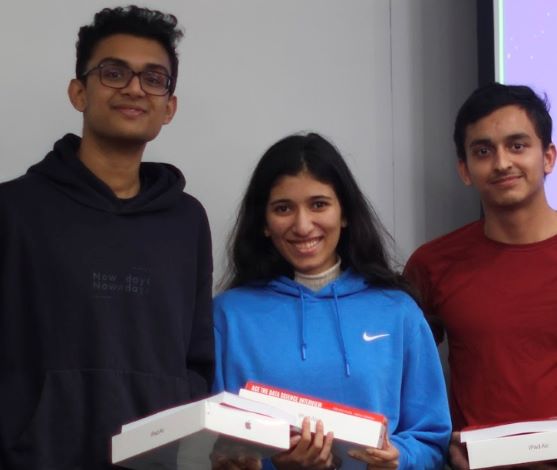 (From left to right: Abhishek Pillai,  Khushi Gupta, and Ansh Bhatti display several of the prizes their team took home.)
Awards and prizes totaled more than $10,000. Three Georgia Tech College of Computing students, Abhishek Pillai,  Khushi Gupta, and Ansh Bhatti, won the Best Overall Hack, with their project, Roster MD, an initiative that addresses both healthcare staff shortage and burnout.
"Hacklytics was a great experience for me, especially working with a warm and welcoming team," said Ansh Bhatti.  "I learned a lot from this team, their ideas, and their vision. I especially enjoyed exploring newer frameworks, such as Streamlit, for developing markdown web apps out of the data analysis I conducted. Hacklytics made it easier to set aside a large, consecutive block of time to work on my coding skills, and I would definitely recommend it to other students."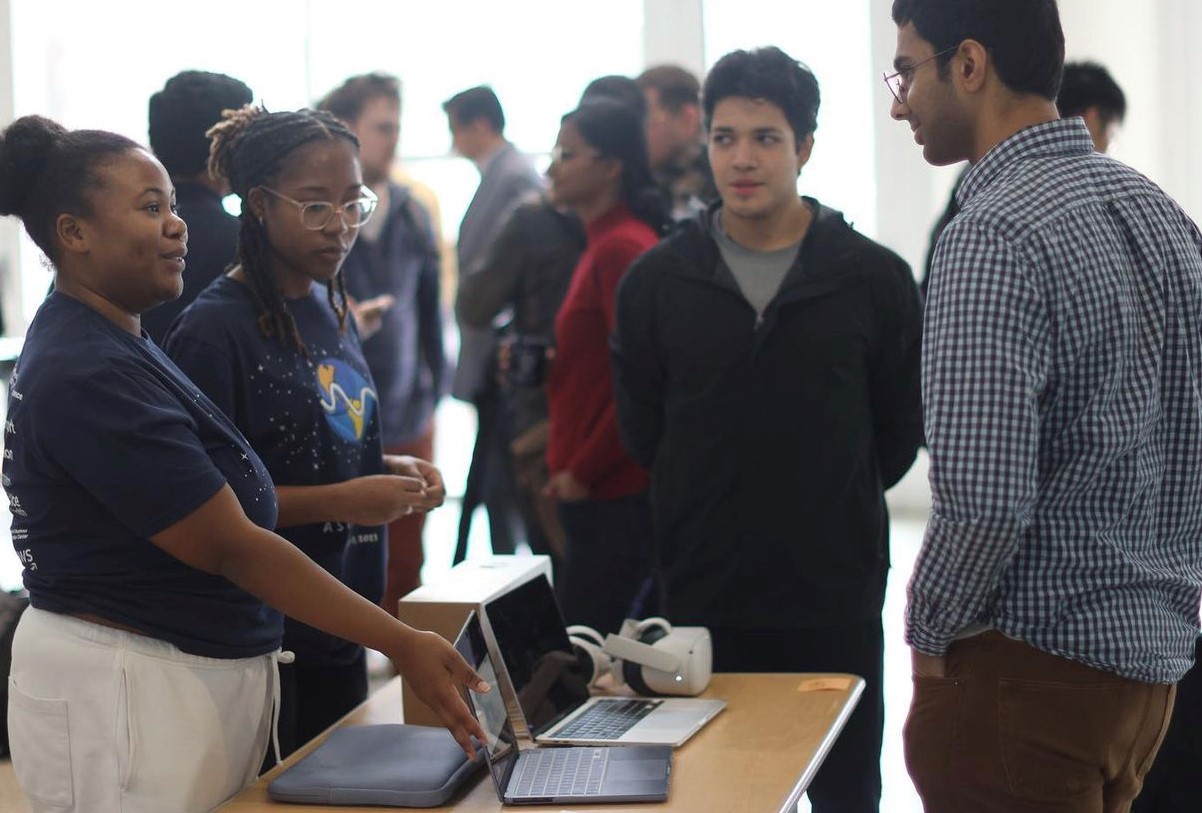 (From left to right: Brianna Henderson, Zamaria Winston, and Gabriel Gomez-Palomino demonstrate their project to a student judge.)
Scheller undergraduate student Brianna Henderson competed for the first time. She and her teammates, Zamaria Winston, Gabriel Gomez-Palomino, and Bavisha Raj, built a VR scene to help medical trainees prevent medical negligence and decrease malpractice across the United States. "It was slightly intimidating to compete as one of just two Business Administration majors among more experienced programmers," said Henderson. "However, our business knowledge made our project stronger and much more unique because we brought in both corporate AND technical perspectives. The experience prepared me well to go into technical fields and feel comfortable coding as well as thinking strategically and explaining technical concepts."
To get a more in-depth look at other innovative projects created, please visit the Project Gallery.
About Data Science @ GT
Data Science @ Georgia Tech is the largest data science organization at Georgia Tech with over 900 members. Hacklytics is their signature event. This year's Hacklytics leadership team included: Pratham Mehta, Director of Hacklytics and DSGT Vice President; Shreiyas Saraf, DSGT President and Hacklytics Co-Lead; Krishi Manek, DSGT Director of Projects and Hacklytics Co-Lead; Reshma Gudla, Director of Marketing; Pranay Begwani, Director of Finance; and John Ramberger, Director of Technology.