Three Yellow Jacket alumni shared their well-earned wisdom during a recent Graduate Business Analytics Club event.
Vaco Senior Director of Business Analytics Shelton Blease, MBA '21, Axis Group Vice President of Customer Success Nathan Hombroek, MBA '16, and Slalom Principal Rachel Wiseley, Dual Degree MBA/MSA '18 gave frank and often humorous perspectives about graduating from Scheller and building a career in business analytics.
Graduate Business Analytics Club Co-president Michael Veal stressed the importance of learning from alumni. "Our panelists resonated so well with our MBA & MSA students because they are uniquely positioned to share their expertise in data & analytics while also completely understanding where we are coming from—Scheller," said Veal.
First-year MBA student Anna Brown appreciated the opportunity to engage with former Scheller students. "It was incredibly helpful to hear from alumni about their current roles in data analytics and to understand how they leveraged their Georgia Tech education to set themselves up for success. My biggest takeaway was that analytics can be a powerful tool in a wide variety of rules and industries—and that careers in business analytics can be incredibly diverse."
Insights from the panelists included:
Working in analytics
"Coming up with novel ways to solve problems is the heart of it for me. Analytics is a tool, it's not the end purpose. It's about connecting with the person on the other side of the table, trying to understand the challenges they're facing, and framing their challenges into data problems that I can help them solve."  Nathan Hombroek
"One of the things I really enjoy doing is customer service, and in analytics, what you are really doing is serving the customers of the organization. You are serving the company by providing analytics that are going to help them make decisions and drive effective decision making if it is done properly. For me, it was a wonderful fit where I could meet that customer service need while also tapping into the analytical mindset that I have." Shelton Blease
In my role, I bridge the gap between business and technology. With business analytics and analytics in general, you are the translator. You are the person who can help answer those questions on both sides so that you can make an informed decision. Maybe you don't take the answer that the data says all the time, but at least you have the knowledge to make an informed decision." Rachel Wiseley
The power of data
"Data can make a change. It has the ability to change your perspective, change your viewpoint, and change the way things get done for the better." Rachel Wiseley
Standing out from the crowd
"There are tons of roles out there. Do your research, build connections, ask questions, and figure out what kind of roles interest you - if you'd want to take on a generalist or a specialist role. Networking is crucial." Shelton Blease

"What differentiates a good candidate from a great one is the ability to break down the technicalities to the clients. Soft skills are the key." Rachel Wiseley

"Make sure you take and engage in classes outside your chosen track. On the job, you will work with cross-functional teams and stakeholders from all backgrounds, and you'll need to understand what is important to them." Nathan Hombroek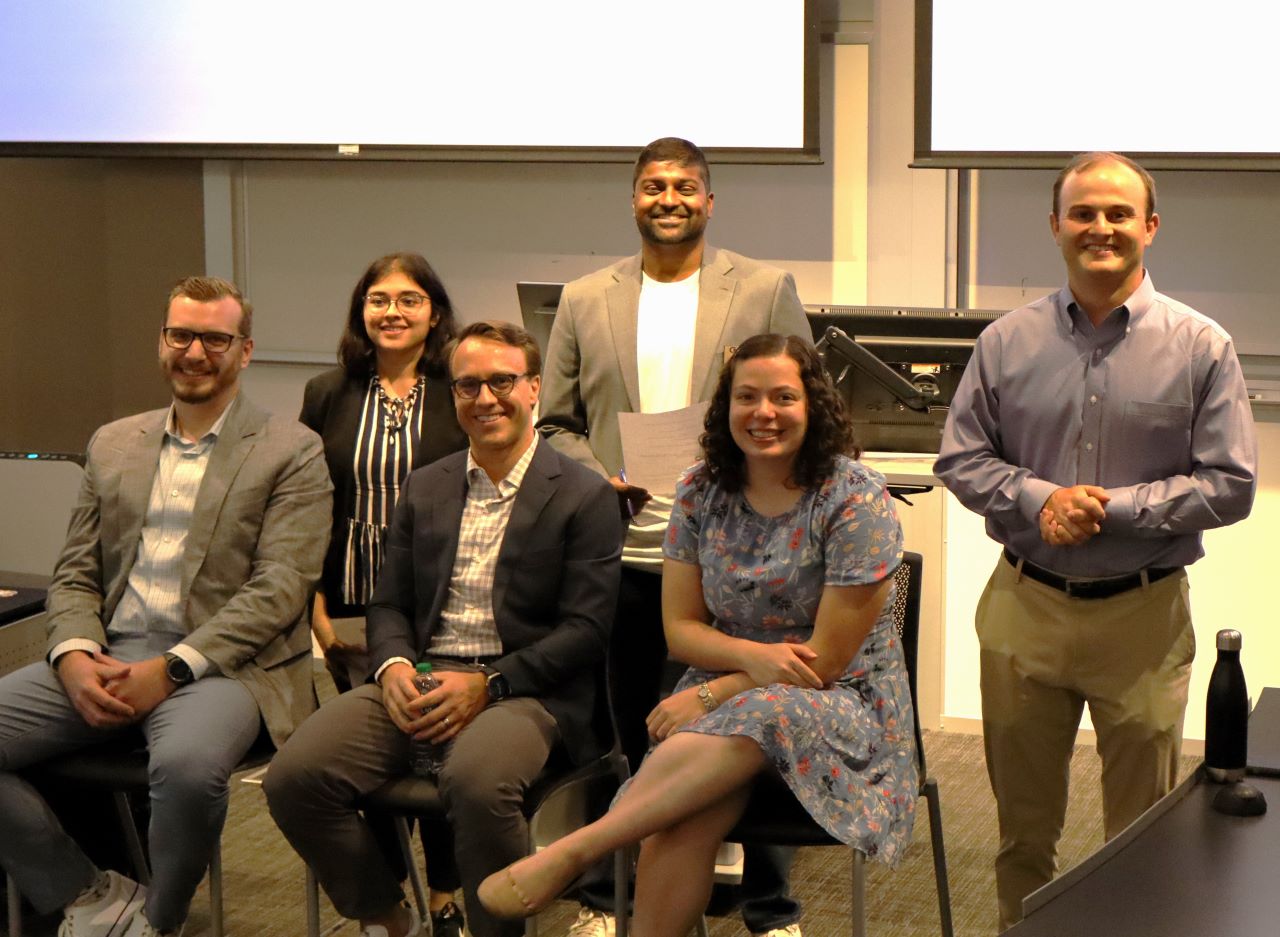 Event organizers and leaders from the Graduate Business Analytics Club pose with the panel. (Front row): Nathan Hombroek, Shelton Blease, and Rachel Wiseley; (Back row): Aishwarya Shenoy (Business Analytics Club First-Year Rep, MSA), Abhinav Navuluri (Business Analytics Club VP, Evening MBA), and Michael Veal (Business Analytics Club Co-president).