Is healthcare a business or a service? That's the question Bill Todd, Professor of the Practice at the Georgia Tech Scheller College of Business, asks his students at the beginning of the fall semester in what he calls his signature class, "Management in the Healthcare Sector." In response to his question, students say healthcare is a business, because a hospital has to make payroll. And yet, his students muse, when someone is bleeding, you need to take care of them whether they have money.
"When students say the purpose of business is to make money, I say 'Wrong.' If you're successful, great, but the purpose of business is to solve some human need," said Todd.
Todd has taught hundreds of Tech students interested in healthcare during his career at Scheller. His insights into the patient and business side of the industry are only one of the reasons his classes - and his healthcare practicum - are so popular for business students and students studying biology, neuroscience, public policy, and even design. 
"I'm teaching three courses in the fall, all three about healthcare. One, Management in the Healthcare Sector, will be the 35th time I've taught it since I returned to my alma mater in 2011," he said.
Todd received his bachelor's degree in Industrial Management in 1971, and his first job was in the healthcare industry, starting as a unit clerk at Crawford Long Hospital. He was 22 years old. Over the years, he worked up the ladder, acquiring numerous titles, including hospital administrator. Altogether, he has 53 years of experience in the healthcare field.
"Here I am, a business guy, and I've been in healthcare my whole career," he noted.
From Business School to Residency
Maggie Kearney, BSBA '15 and former Miss Georgia '14 was a student of Todd's. After receiving her undergraduate degree from Scheller, Kearney earned her master's degree in Public Health at the University of Georgia. She is currently a resident physician in internal medicine and pediatrics at the University of Alabama in Birmingham. She cites Todd as one of the guiding forces that helped her in her career decisions.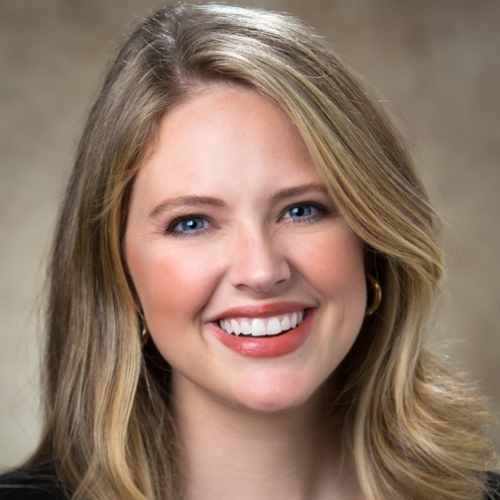 "When I was at a career crossroads or thinking about what I wanted to do next, he's one of the people I'd talk to," she said.
She'd always been interested in healthcare and worked in a pharmacy while attending Tech. When she came to Tech, she initially thought she might work in the pharmaceutical industry and perhaps contribute to making new drugs. As time passed, she changed her major to business because she was interested in working on the administrative side of healthcare in a leadership role. When she graduated, she took a consulting job in the industry, but her heart was with patient care, so she decided to study epidemiology within her public health program.
"I was doing a couple of different things that were directly involved with patients, and it became apparent to me that I was not going to be satisfied until I went to medical school," she said.
Taking Todd's class was one of the things that helped her on her path to becoming a doctor.
"We talked about so many different areas of healthcare in his class, and for me, I've had so many things that have led me to want to be more involved in direct patient care. His class is one of those many things that helped point me in the right direction, and he's continued to be a mentor even far beyond that course," she said.
Kearney has no regrets in choosing business as her undergraduate degree. The knowledge she gained has helped her think more about whether a patient can afford care, what resources they might have access to, and the economics of running a medical facility.
"I think it gives me a unique perspective and a different background," she said.
Information Technology in the Healthcare Sector
While Kearney chose a front-facing career in healthcare, Divad Miles, BSBA '17, decided to use her business degree behind the scenes in healthcare and information technology.
As a four-year-old, Miles carried around a stethoscope as part of a doctor's kit her mom bought for her. She wanted to become a doctor, that is, until she got a computer when she was eight.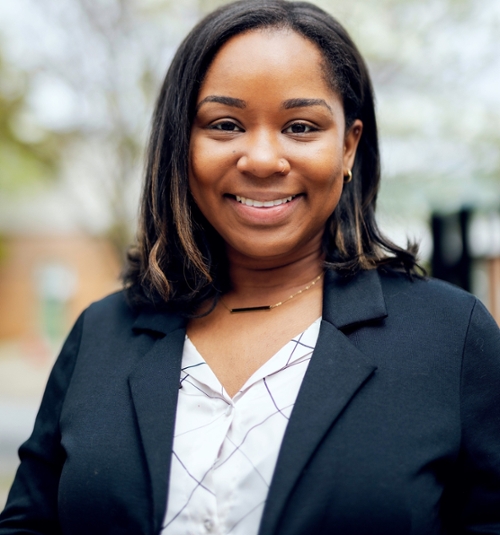 "I had a knack for wanting to know how computers work and what they could do, but it was more of a hobby growing up," she recalled. She continued to pursue medical-related programs in high school. She participated in one of the Morehouse School of Medicine's Pathway programs in biomedical research and took part in the National Youth Leadership Forum for Medicine and Health Care, a summer camp held at different colleges around the U.S. to nurture students' interest in medical careers. 
After being accepted to Tech, she pursued her dream of a career in medicine.
"Originally, I thought I wanted to be a doctor. I had high hopes starting at Tech and took biomedical engineering and premed classes, but that first year was a wake-up call. Coming from somewhere where we didn't even have calculus in high school, the curriculum at Tech was tough, and it made me sit down and evaluate whether I wanted to become a doctor," she explained.
When she switched to business, Miles initially chose a concentration in accounting, following in her mother's footsteps, but began to realize it wasn't the right career path for her. 
As someone who was always involved in programs to expand her learning experiences, she joined the Alumni Association's Mentor Jacket program in her sophomore year while still taking accounting classes to help her figure out her career path.
That's when she met Bill Todd.
"Previously, I was partnered with someone in accounting, but I decided I didn't want to pursue that concentration anymore. So, my advisor said, 'I want to pair you up with someone great. His name is Bill Todd, and he is a big wig in the healthcare space. He's done a lot for the Atlanta community and healthcare, and he's not in medicine, but he's in healthcare, and I think you'll benefit from that relationship.' She partnered me with him, and the rest is history," said Miles.
Todd provided her with a more expansive view of the healthcare industry, including careers in epidemiology and allied health. Still, she loved the world of computers and wasn't sure how to marry the two fields.
Miles recounts how Todd told her she could have a healthcare career and utilize IT skills.
She was able to experience this firsthand when she took Todd's healthcare consulting practicum. For many students, it's the capstone project of their college degree. Over the years and through his network, Todd has developed relationships with many hospitals in the Atlanta area, including Children's Healthcare of Atlanta (CHOA), Emory, Grady, and Piedmont.
In Miles's practicum, students studied the needs of high-cost complex care patients at CHOA. These children required many resources because they had multiple health issues or were dealing with rare diseases.
The students met with physicians, families, and patients. They strategized how to implement better solutions for all aspects of this group's care by automating processes so the hospital could focus more resources on them, decrease utilization, and increase healthcare outcomes. At the end of the practicum, the group presented their findings and proposal to leadership. It's not unusual to see the hospital's CEO attend these presentations. And it's not unusual that many of the students' suggestions have been implemented over the years.
After graduating with a concentration in IT Management from Scheller, Miles accepted a job with Kaiser Permanente, but her position required more external exposure. She felt she was drifting further apart from her desire to stay behind the scenes, so she applied for and accepted a job as a consultant in healthcare informatics at Elevance (formerly Anthem).
"It's been great ever since I took the job. I'm back into that mode where I'm delivering solutions, giving my boss day-to-day updates, and getting validation on my work," she said.
Kearney and Miles provided similar advice when asked what they would tell students interested in taking Todd's class.
"Professor Todd's class teaches you about the healthcare realm from any perspective, and not only that, you learn life lessons, about working with patients, and about new technology in healthcare. Even if you're not interested in a career in healthcare, it's an informative class that gives you real-life skills and real-world knowledge," said Miles.
For Kearney, it's about relationships.
"I think anything that gets you closer to understanding the human experience, anything that exposes you to different people with different backgrounds, is always going to be influential," she said.
The healthcare industry has a place for students from a myriad of majors and concentrations across Tech. Students in any of these areas of study might do well to take at least one of Bill Todd's classes. In the process, they just might discover their calling.