When Emily Salmond was in her first year at the Georgia Tech Scheller College of Business, she joined the Society of Women in Business (SWiB), Tech's pre-professional organization for undergraduate women. As a freshman, she didn't know what to expect, but she knew it was the right choice after making meaningful and personable connections with the club's leadership.

Now as the president of SWiB in her fourth year at Scheller, Salmond has made sure to have the same "pay-it-forward mentality" as she welcomes new members and puts on her mentor hat to help first-year students prepare for the business world.

"We have great members who focus on outreach and serve as mentors for the women in Scheller and the Georgia Tech community, which is how I joined the club," she said. "I had a great mentor extend their hand and help me get involved early in my Scheller journey."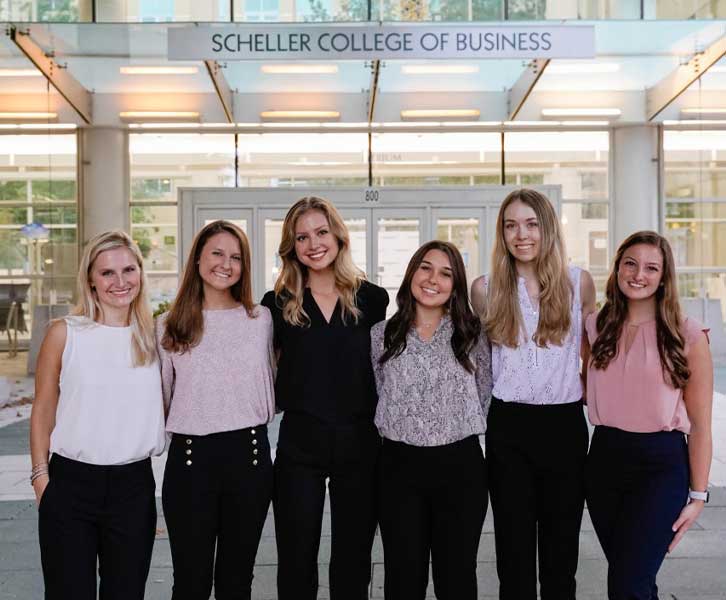 The conversations surrounding women in business at Georgia Tech began in 2002 when industrial management student Melissa Sousa noticed a gap in the extracurriculars available at the College of Management (the Scheller College of Business). Sousa formed the Society of Women in Business for women at Georgia Tech to feel empowered in the business community.
Undergraduate: Society of Women in Business
SWiB is built on three pillars: community, development, and networking. Salmond explains that each year, the club introduces new initiatives that incorporate the three pillars. Some initiatives include philanthropy work and corporate social responsibility such as fundraising for charities that benefit women's education and entrepreneurship.
One of the organization's newer initiatives is the C-Suite Speaker Series, where women in leadership positions talk to the SWiB members about their experience in the workforce. Recent speakers include Donna Hyland, CEO of Children's Hospital of Atlanta, and Carol Yancey, CFO of Genuine Parts.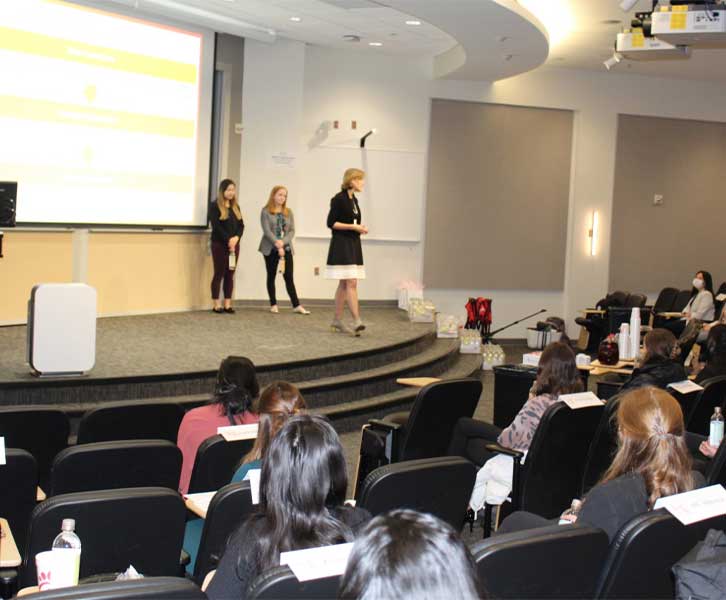 "They discussed their experience in the business world, their journey getting into a leadership position, and how they manage their work-life balance," Salmond said. "These are interesting conversations that aren't captured anywhere else, and it's great that Georgia Tech hosts these speaking events with prominent figureheads. They're wonderful examples of champions of women in the workplace and of using your full potential and speaking your voice. It's all those great things that women need to hear, but they're also candid. They have not shied away from the good and bad things they've been through and the dynamics of how things operate."

The club has also hosted leading consulting firms in Atlanta. Bain, BCG, Deloitte, EY, KPMG, McKinsey, and PwC have come and spoken with SWiB over the past three years.

Over the course of the four years she's been a part of the club, Salmond has been amazed by the growth of the organization and the ways it's remained true to its three pillars.
Students who joined the club shy and unsure have grown into women finding their voice and scoring their dream internships and full-time offers. Salmond said it's great to see them gain confidence and bloom. Members help other women get jobs, prep for interviews, write letters of recommendations, and connect with people in their network.

"I've loved seeing myself change as a person, leader, and student as I've gone through the program," she said. "SWiB to me means finding the best version of yourself and helping others do the same because no matter what stage you're in, you're always teaching other people something. Every member brings a unique experience, skillset, or mindset, and there's value in every member's experience."
MBA: Women in Business
What SWiB represents for undergraduates, Women in Business (WIB) represents for MBA students. The club is a forum for students to strengthen ties among themselves and the wider business community and find their confidence in the business world.

MBA student Sarah Naumann joined Scheller in Fall 2021 with no business background. She was ready for a career pivot and knew she needed to study at a business school that was challenging yet supportive for her to reach her professional goals. In the beginning of her MBA journey, she faced some insecurities coming from a non-traditional background as a special needs teacher. But she found support and friendship with two Scheller ambassadors, Nammu Kumar and Joshua Berger, who recruited her to join the club.

"They put a lot of those insecurities I had to rest," Naumann said. "They explained to me the strength, power, and uplifting nature of WIB. The club encourages, empowers, and equips women to be successful and competent in the business world. Scheller practices what it preaches."
As a club that focuses on equipping members with the insights and tools to become successful in the workplace, WIB hosts various workshops and events for members to strengthen their business skills and networking opportunities. And like SWiB events, the power of storytelling is encouraged at WIB events.

One of Naumann's favorite events was one held in Fall 2021 called "What's Your Story?" It was an interactive exhibit where members received writing prompts and shared their stories. These stories were displayed in the Grad Commons and members responded to them. Naumann said the workshop was powerful because it was a way to get to know your classmates on an intimate level, provide encouragement, and discuss shared experiences.

WIB also hosts social, educational, and impact events, including negotiation workshops and personal investing courses. The club even hosted a kickoff event sponsored by Bumble as a way for first-year and second-year MBA students to mix and mingle.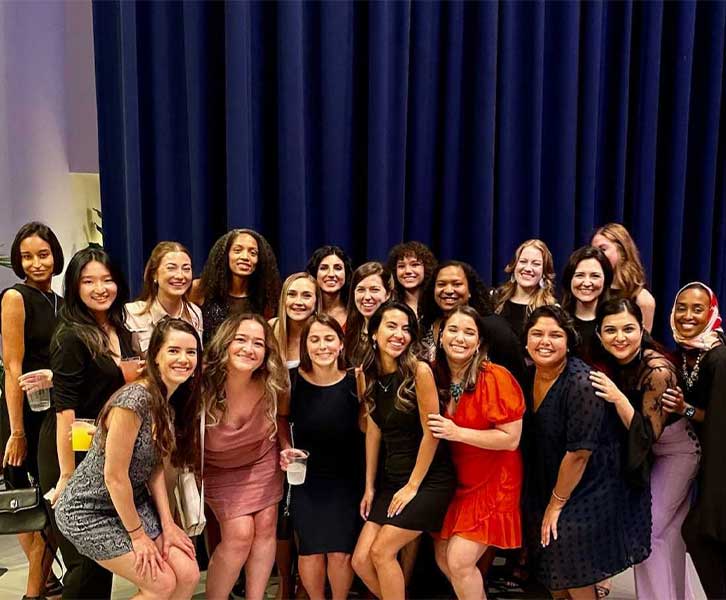 As Naumann starts to transition to her second year in the MBA program, she's taking a leadership role beside Alison Walker, another MBA student. While WIB remains focused on sharing stories and supporting local businesses, Naumann says they will also focus on helping women who come from marginalized groups.

"I have this platform and want to bring as many people up to the platform with me as possible. There is more power in numbers," Naumann said. "One of the Scheller ambassadors last year communicated to me that we believe a rising tide lifts all ships. The influence that women have on other women is strong and powerful." Naumann also credits the men of WIB for encouraging her to enter the business world, letting her know she can be successful.

"WIB is about empowering women in the workplace," Naumann said. "It's good to dream big and think about what we want in the future and also celebrate how far we've come.
Interested in joining one of Georgia Tech's women's clubs?

Undergraduate women at Georgia Tech can join the SWiB club in the fall and spring semesters. Membership for the WIB club is open to all Full-time MBA students every fall semester.