Why do Fortune 500 companies such as AT&T, The Coca-Cola Company, Michelin NA, Pirelli Tire, and State Farm turn to Georgia Tech Scheller College for Lean Six Sigma training? Because we teach world-class problem-solving skills employees can use from day one.
LSS Green Belt Curriculum
The Lean Six Green Belt curriculum is designed for those with little or no prior experience in Lean Six Sigma (LSS). The course is an introduction into the tools, techniques, and methodologies of Lean Six Sigma's DMAIC principles.
DMAIC (an acronym for Define, Measure, Analyze, Improve and Control) refers to a data-driven improvement cycle used for improving, optimizing and stabilizing business processes and designs and is a practical, applicable approach that can be applied across all industries and services.
LSS Green Belt students learn the framework for solving problems and improving processes using the DMAIC principles in a variety of hands-on classroom projects and activities, including the processes for streamlining and improving production of a product or service's entire life-cycle, how to reduce waste and lower defects, and how to improve customer satisfaction.
Upon completion, a Lean Six Sigma Green Belt student is capable of quickly identifying problems, analyzing possibilities, and implementing solutions to increase production and decrease inefficiencies for their organization.
Lee Campe, Master Black Belt instructor
Learn from the best. Georgia Tech Adjunct Instructor, Lee Campe, is a certified Lean Six Sigma Master Black Belt instructor and proven Six Sigma deployment leader with a wide array of expertise in all facets of business.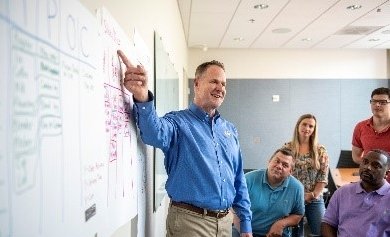 With an extensive experience in Design for Six Sigma (DFSS), change management, metric development, Business Process Management and hypothesis testing, Lee has taught as a Master Black Belt (MBB) for Home Depot, JP Morgan Chase, Johnson and Johnson, General Electric Power Systems, Penske Logistics, NAPA, and Benchmark Brands among others.
In addition to teaching Lean Six Sigma for Georgia Tech Scheller Executive Education, Lee is also Master Black Belt Instructor for the joint GTPE - US Army program, VET2, developed for Army personnel transitioning from a military career to the civilian sector. He is also Master Black Belt Instructor for Georgia Tech Scheller College's MBA programs.
Lee's class reviews from students are always stellar and he routinely is awarded 5 out of 5 stars for his engaging and informative, hands-on teaching style.
Lean Six Sigma Green Belt Certificate and Georgia Tech Credentials
Students completing the LSS Green Belt course will work with instructor Lee Campe to identify a Green Belt project for their final assignment.
Upon completion, submission, and final approval of their Green Belt project, students will receive their Georgia Tech Lean Six Sigma Green Belt certificate and Georgia Tech credentials.
Students choosing to continue their Lean Six Sigma studies and progress to Black Belt certification do not need to complete a Green Belt project to advance. For more details, contact Malisa Gipson, LSS Program Manager, at 404-385-0548 or .
Lean Six Sigma Green Belt Class Fee
$3,950 per person
Class Schedule
Monday-Friday
8:30 am–5:00 pm
Breakfast & Lunch provided
Upcoming Class Dates
June 15 – June 19, 2020
Sept 21 – Sept 25, 2020
Oct 5 – Oct 9, 2020
Next Steps
Download a Lean Six Sigma Brochure
Register for a Green Belt Class
Please note: Internet Explorer 10 and older versions are not supported. Please use a newer version of IE or an alternate web browser to access Registration.
Questions about Georgia Tech's Lean Six Sigma Green Belt?
Please contact: Malisa Gipson, Lean Six Sigma Program Manager
or 404-385-0548.