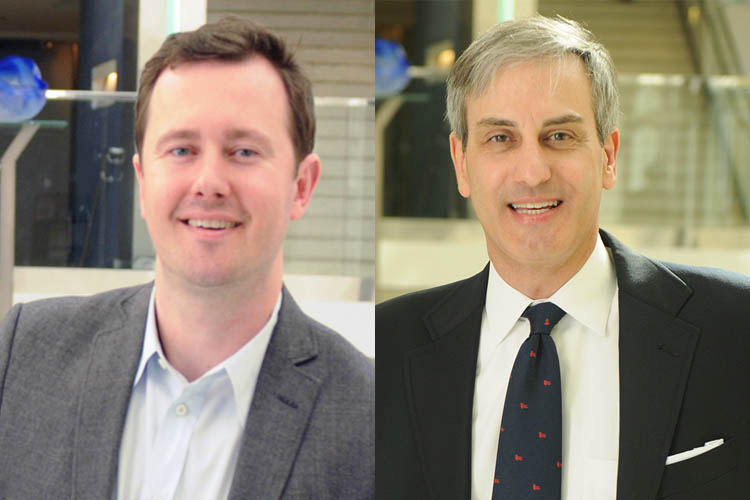 Scheller Lunchtime Live: Why Scaling Technology-Based Ventures is Hard - Lessons from the Creative Destruction Lab
Details
Areas
General
Undergraduate
Full-time MBA
Evening MBA
PhD
Scheller Lunchtime Live is a livestream series hosted by the Georgia Tech Scheller College of Business featuring faculty, student, and alumni speakers discussing relevant topics for a tech-driven digital age.
Join professors Alex Oettl and Jonathan Giuliano for an exploration into the challenging landscape of scaling technology-based ventures. Drawing from the Creative Destruction Lab's unique entrepreneurship program housed in the Georgia Tech Scheller College of Business, they will discuss what sets it apart from other initiatives and why building these businesses is so complex. This presentation is ideal for entrepreneurs, students, investors, or anyone curious about the intersection of technology and business. Don't miss this opportunity for an insightful conversation.
Just hit "Attend" on this LinkedIn event and refresh this page on Friday, September 8, at 12:00 p.m. ET to access the session. Please note, you must have a LinkedIn profile to register and view the livestream.
About Alex Oettl
Alexander Oettl is a professor of Strategy and Innovation at the Georgia Tech Scheller College of Business, holder of the Dean's Distinguished Term Professorship, co-site lead of the Creative Destruction Lab-Atlanta, and a research associate at the National Bureau of Economic Research. 
He obtained his Ph.D. at the Rotman School of Management at the University of Toronto in 2009. His research focuses on the economics of innovation, entrepreneurship, and science. His current work explores how new breakthrough ideas are created and diffused by individuals, firms, and regions.
Professor Oettl has received funding from the National Science Foundation, and he was a recipient of the 2014 Kauffman Junior Faculty Fellowship in Entrepreneurship Research. His research has been profiled in numerous international media outlets, including the Wall Street Journal, New York Times, Financial Times, Harvard Business Review, Nature, Science, The Atlantic, Wired, and Business Insider, among others. He has presented his research at top institutions around the world.
About Jonathan Giuliano
Dr. Jonathan Giuliano is the academic lead of CDL-Atlanta, the Creative Destruction Lab site at Scheller College. CDL is an objectives-based mentorship program for massively scalable, seed-stage science and technology-based startups. He is also the executive director and academic director of TI:GER (Technology Innovation: Generating Economic Results), a transdisciplinary technology-innovation program bringing together students from Scheller College and Georgia Tech's College of Computing, College of Engineering, and College of Sciences. TI:GER students work with ventures at CDL-Atlanta.
Dr. Giuliano teaches graduate, undergraduate, and executive students in strategy and innovation, including elective courses in technology innovation, corporate strategy, and strategy execution at the Georgia Tech Scheller College of Business.