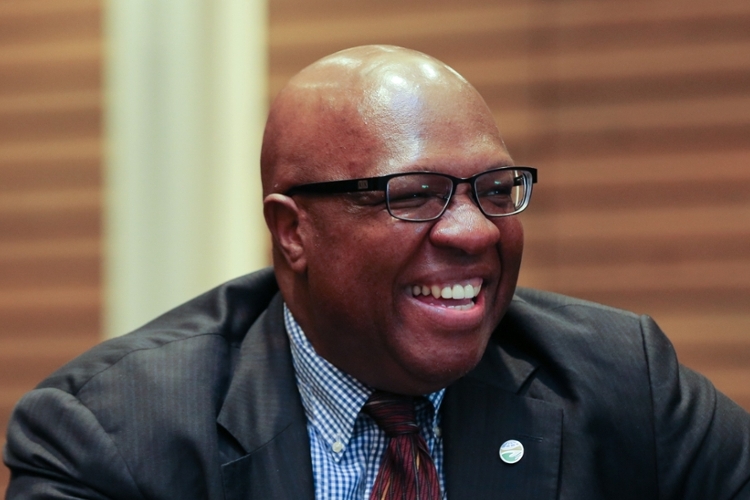 Impact Lunchtime Talk: Charles Redding (ChE'85), CEO MedShare International
Details
Areas
Evening MBA
Full-time MBA
Executive MBA
Location
Scheller College of Business (In-person & Virtual)
LeCraw Auditorium (Room 100)
800 West Peachtree St., NW
Atlanta, GA
Registration Closed
Join us for our first Impact Lunchtime conversation with GT alum (ChemE) Charles Redding, CEO of MedShare International. Lunch is provided with registration. This event is presented in collaboration with the Center for Health and Humanitarian Logistics and the Ray C. Anderson Center for Sustainable Business.
MedShare is a leading nonprofit that delivers vital medical supplies and equipment to more than 100 countries and countless patients in need around the world, bringing health, healing, and the promise of better lives while decreasing our nation's carbon footprint by diverting medical surplus from our landfills. Join us for this critical conversation with CEO Charles Redding to hear how MedShare adapted its model to serve in crises, like sending supplies to Ukraine.
Charles has served as CEO and President of MedShare International, Inc. since 2014. From 2012 until 2014, he served as Chief Operating Officer, leading efforts to expand to a third region in the Northeast with a Sorting and Collection Center in Secaucus, New Jersey.
Under Charles' leadership, MedShare has experienced record-breaking years of humanitarian aid shipments, programmatic interventions, fundraising, and community outreach. His strategic shift from outputs and a relentless focus on measurable outcomes and impact are recognized as major contributors to the organization's expanded success. His leadership in responding to the 2014 Ebola Virus outbreak in West Africa and the 2020 COVID-19 pandemic garnered significant recognition and accolades. He was named Georgia Trend's 2021 Notable Georgian.
Charles honed his global leadership skills at Johnson & Johnson from 1988 until 2011. As Vice President of Global Operations for the Aesthetic Medicine Business (Mentor), based in Santa Barbara, California, his responsibilities encompassed 1,200 employees in the U.S., France, The Netherlands, and Mauritius with a multimillion-dollar operating budget.
A successful transition to non-profit leadership is reflected in MedShare's 4-Star rating by Charity Navigator, and the Platinum Seal of Transparency received from GuideStar. MedShare also is a key member of Partnership for Quality Medical Donations (PQMD), InterAction, Center for Global Health and Innovation (CGHI), Medical Surplus Alliance (MSA), and the Georgia Global Health Alliance (GGHA).
A native of Atlanta, Georgia, he holds a BS Degree in Chemical Engineering from Georgia Tech and a certificate in Team Management from the Daniel School of Management at the University of South Carolina. He resides in the Atlanta area with his wife of over thirty years and his son. He enjoys reading, sports, teaching, mentoring, and developing people.
The conversation will be moderated by Scheller MBA student Ashley McCrea. She is a self-proclaimed health nut. She has relentlessly pursued her dreams in healthcare since being inspired by the movie 'Harriet the Spy' as a kid. This is evidenced by her nutrition, nursing, and health finance degrees. Although Ashley has big aspirations of one day creating an equitable healthcare system for all, she humbly enjoys simple victories as well – serving as a mentor in her community while inspiring youth to take bite sizes of their big dreams.
Community members are invited to join the conversation in person at the Scheller College of Business in LeCraw Auditorium (Room 100) or virtually through web conference on Tuesday, February 7th from 11:15 a.m. to 12:15 p.m. 
Lunch will be provided to those that register for the in-person event.
Impact is a monthly series of meaningful, free and open conversations. The main goal of the series is to engage students, faculty, staff, and the broader community on topics that matter through discussions and presentations by leaders and entrepreneurs from all sectors. Past talks are accessible on the Institute for Leadership and Social Impact's YouTube page.