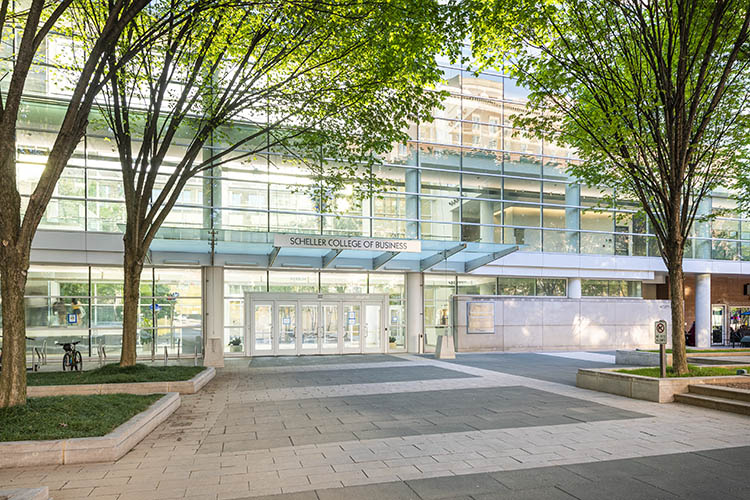 Impact Presents: Dr. Valerie Montgomery Rice, Morehouse School of Medicine
Details
Areas
ILSI
Evening MBA
Full-time MBA
Executive MBA
Location
Scheller College of Business
Virtual Speaker Series
Join us for a virtual Impact session on Wednesday, February 3 from 5 pm to 6 pm. Impact presents a conversation with Dr. Valerie Montgomery Rice, President, and Dean, Morehouse School of Medicine, hosted by Nisha Botchwey, Associate Professor of City and Regional Planning at the Georgia Institute of Technology and an adjunct professor in Emory University's School of Public Health.
Valerie Montgomery Rice, MD, FACOG, provides a valuable combination of experience at the highest levels of patient care and medical research, as well as organizational management and public health policy. Marrying her transformational leadership acumen and strategic thinking to tackle challenging management issues, she has a track record of redesigning complex organizations' infrastructures to reflect the needs of evolving strategic environments and position the organization for success through sustainability tactics. 
The sixth president of Morehouse School of Medicine (MSM) and the first woman to lead the freestanding medical institution, Montgomery Rice serves as both the president and dean. A renowned infertility specialist and researcher, she most recently served as dean and executive vice president of MSM, where she has served since 2011. 
Dedicated to the creation and advancement of health equity, Montgomery Rice lends her vast experience and talents to programs that enhance pipeline opportunities for academically diverse learners, diversifies the physician and scientific workforce, and fosters equity in health care access and health outcomes. To this end, she holds memberships in various organizations and participates on a number of boards, such as the following: member, National Academy of Medicine, the Association of American Medical Colleges Council of Deans, and the Horatio Alger Association and board of directors for The Metro Atlanta Chamber, Kaiser Permanente School of Medicine, The Nemours Foundation, UnitedHealth Group, Westside Future Fund, Josiah Macy Jr. Foundation, Headspace, Wellpath and CARE.
A Georgia native, Montgomery Rice holds a bachelor's degree in chemistry from the Georgia Institute of Technology, a medical degree from Harvard Medical School, an honorary degree from the University of Massachusetts Medical School and a Doctor of Humane Letters honorary degree from Rush University. All reflect her lifetime commitment to education, service, and the advancement of health equity. She completed her residency in obstetrics and gynecology at Emory University School of Medicine and her fellowship in reproductive endocrinology and infertility at Hutzel Hospital.  
The 2020/21 series will feature conversations on race, social justice, diversity, equity, and inclusion.
RELATED LINKS