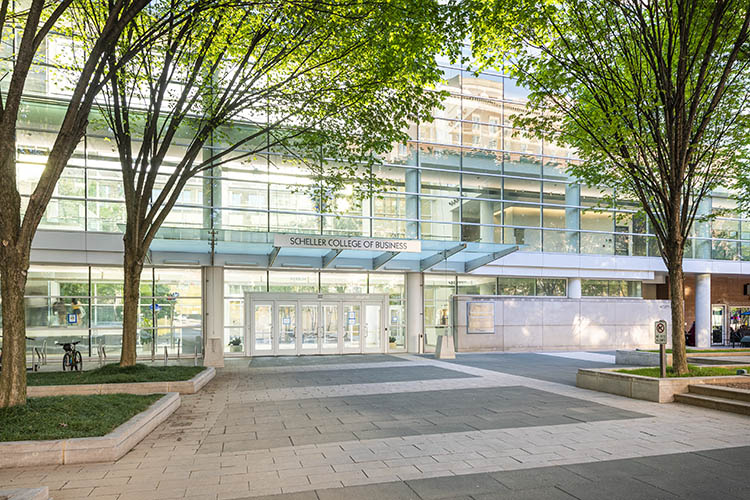 Impact Presents: What is Civic Innovation? Atlantans Who Are Making a Difference
Details
Areas
ILSI
Evening MBA
Full-time MBA
Executive MBA
Location
Scheller College of Business
Virtual Speaker Series
The Institute for Leadership and Social Impact and the Center for Serve-Learn-Sustain presents an engaging conversation with a group of Atlanta's finest civic entrepreneurs. The panel includes Sagdrina Jalal (Senior Director of Programs at CCI), Akissi Stokes (Founder, WunderGrubs), Rachel Willis (Elevating Equity), and Mamie Harper (Carrie's Closet). The entrepreneurs are Center for Civic Innovation (CCI) Fellows, working on local issues to create a more just and equitable Atlanta for all. 
Since its inception in 2014, CCI has built a community dedicated to reimaging policy solutions to address inequality in Atlanta through investing in civic entrepreneurs, advocating for community voices and better data to be used in policymaking, and informing/engaging people about city's social and economic inequity. 
CCI's Civic Innovation Fellowship has empowered hundreds of entrepreneurs and a select number of ideas are now being tested to quantify how their work contributes to systems change in Atlanta. Building off the recent success of their collaboration with InvestAtlanta and Sara Blakely Foundation, CCI is preparing for the next stage of growth by raising additional capital to directly fund scalable ventures that emerge out of its residency program.
CCI has partnered with SLS and ILSI in the past to offer the Social Innovation for Sustainable Communities Buzzcourse as part of SLS' Innovating for Social Impact Program. This short course introduced participants to the basics of innovation as a tool for social impact and exposed them to some of Atlanta's experienced and burgeoning civic entrepreneurs - problem solvers working locally to tackle large-scale challenges in new and creative ways. Students, community members, and CCI fellows teamed up to deep-dive into specific aspects of the fellow's projects.
Impact is a weekly series of meaningful conversations, free and open to all. The talks provide students, and the larger community on and off-campus, the opportunity to network with and learn from, successful leaders and entrepreneurs from the corporate and social sectors.
The 2020/21 series will feature conversations on race, social justice, diversity, equity, and inclusion.
This event is co-sponsored by the Georgia Social Impact Collaborative.
The panel will be moderated by Dr. Ruthie Yow, Service Learning and Partnerships Specialist, Center for Serve-Learn-Sustain.
RELATED LINKS