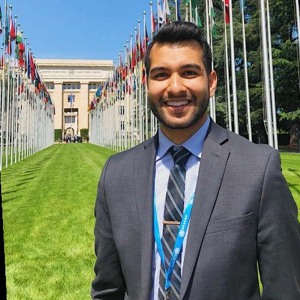 Meet Arush Lal: Global Health Consultant, Gender Equity Advocate, and Scheller Undergrad Alum
Join us for a conversation with Arush Lal, an honoree in the inaugural Georgia Tech Alumni Association 40 Under 40 list.

From a young age, Arush Lal learned a tough lesson: Illness is universal, but healthcare resources and support are not. With one of the largest global health challenges upon us, Arush Lal's experience in global health policy and pandemic preparedness (including with Ebola and Zika) has proved critical to Covid-19 response efforts. Arush works at the WHO Americas Office where he supports Covid-19 efforts by procuring test kits and preventing stockouts of essential medicines and public health supplies worldwide. He's worked across government and non-government organizations including the U.S. HHS Office for Global Affairs in the Pandemic and Emerging Threats division, IntraHealth International, and the Task Force for Global Health. In addition, he was appointed the youngest member on the board of directors for Women in Global Health.

Learn about Arush's background, what drew him to his career in public health, lessons to learn from the Covid-19 pandemic, and the future of his work.