Make a career switch, advance in your current role, or start a new business venture. Wherever you're headed, the Jones MBA Career Center helps you get there.
Our mission is to prepare students for their job search and recruit companies to hire Full-time MBA students for summer internships and permanent employment.
We offer a variety of services to enhance your personal growth and job search skills.
We're dedicated to helping Full-time MBAs:
Develop a career strategy, identify your job search targets, and explore MBA career options

Prepare you for the interview process and MBA job market

Identify MBA recruitment opportunities for both summer internship and permanent employment
Student Advisement
Full-time MBAs benefit from the personal attention of the program including a 25:1 student to advisor ratio. You will be assigned to a corporate relations manager who will advise you throughout the two-year program. Your advisor will get to know you personally, and help you develop a career strategy to leverage your individual strengths.
Our career center staff has years of professional experience and understand industry dynamics. Because our corporate relations managers advise students and also manage relationships with companies recruiting MBAs, they know the skills recruiters are looking for and how to help you prepare for the MBA job market.
Career Development Resources
Planning your career path is a process of continual discovery. We provide a portfolio of services and tools to help you develop a career plan and sharpen your job search skills.
Career Development Workshop
Designed to help you get a head start on your summer internship and permanent job searches, the Career Development Workshop is held during your first semester. The eight-week course covers effective job search tactics, including:

Networking
Communicating your story
Developing a high-impact resume
Preparing for competitive interviews
Working national job fairs

MBA Business Buzz: A special portal only accessible to Georgia Tech MBAs, where students can post resumes, gather information about job/internship opportunities, apply for jobs and internships, and register for information sessions and other recruiting events.
Resume Books: Resumes of graduating MBA students seeking full-time employment and first-year students seeking internships are made available to companies that choose to recruit remotely.
Career Leader: A career self-assessment tool, used by more than 260 top business schools and corporations worldwide to identify student career interests with sample MBA jobs, areas of strength, and helpful information on organizational fit.
Optimal Interview System: A video-based interview preparation system allowing you to customize practice sessions and record responses to critique your performance.
Practice Interviews: Interview with and receive immediate feedback from career services professionals from our team.
MBA Conferences and Career Fairs: Career advisors and students participate in several Georgia Tech career fairs and the country's largest association and industry career fairs. Students are encouraged to attend the National MBA Career Fairs:

Graduate Women in Business National Conference
National Black MBA Association Conference
National Society of Hispanic MBAs Conference
Reaching Out - LGBT MBA Conference
MBA Career Center Staff
In addition to college recruiting expertise, Georgia Tech's MBA Career Services team has a wide range of corporate experience. Our team members have served in various career development, human resources, and management roles at industry-leading companies.
The hard work of our MBAs on their job search combined with the corporate experience of our career services staff has resulted in our employment statistics ranking in the top tier of all national MBA programs.
Jim Kranzusch, Executive Director
| | |
| --- | --- |
| | 404.385.2900 |
Jim Kranzusch has served as the leader of the MBA Career Services office for more than nine years and brings 30 years of management experience to this role. Founder of ClientView LLC, a customer relationship management (CRM) consulting practice, he has held executive positions at IBM and other technology companies and been involved in two start-ups (one private and the other culminating in a successful IPO). Jim, who received his MS in Business Policy from Columbia University, represents the Georgia Tech Scheller College of Business to the business community, recruits companies, leads the career development class, and serves as a student advisor and mentor. He is actively involved as one of three members of the MBA Admissions Committee.
Kelley Broome, MBA Career Services Manager
| | |
| --- | --- |
| | 404.894.2620 |
Kelley Broome joined the MBA Career Services team in 2013. Her past experiences include 14 years of recruiting for university admissions and study abroad programs. Most recently she worked with graduate programs and admissions for Scheller College of Business. Kelley communicates with recruiting companies, executives, and students on MBA processes and procedures. She also manages the corporate job database and organizes information sessions, resume drops, MBA Career Services events, and on-campus interviews. She received her MS in College Student Personnel from the University of Tennessee, Knoxville.
Ann Blasick, Corporate Relations Manager
| | |
| --- | --- |
| | 404.385.3294 |
Ann Blasick joined the MBA Career Services staff in 2013, after having worked as the Associate Director of the Georgia Tech Women in Engineering Program for two years and Assistant Director in the Georgia Tech Division of Professional Practice for six years where she was responsible for providing career coaching to students seeking co-op and internship positions. Before joining Georgia Tech, her experience includes working as a mechanical engineer for Lucent Technologies and Nortel Networks. Ann is responsible for career advisement for Full-time MBA students and corporate relationships with companies recruiting MBAs. She earned her MS in Mechanical Engineering from Georgia Tech and BS in Mechanical Engineering from Wilkes University.
Paul Hobson, Corporate Relations Manager
| | |
| --- | --- |
| | 404.894.1913 |
Paul Hobson joined Georgia Tech in 2010 after a 25 year career with IBM. His career has included corporate leadership and management roles in Operations, Finance and Business Development. While responsible for managing these various business roles, leading and developing the career progression of his employees proved to be the highlight of his professional career. During his management career, Paul also led the HR process for hiring new employees into the IBM Corporation. He currently provides career coaching to the working professionals in the evening MBA program as well as growing and maintaining corporate relationships with employers that currently hire our MBA students. Paul has a Masters Certificate from Florida Institute of Technology and a BS in Business Administration from Morgan State University.
Barb Lindquist, Corporate Relations Manager
| | |
| --- | --- |
| | 404.894.1465 |
Barb Lindquist joined the MBA Career Services staff in 2006. She brings more than 13 years of management experience with IBM, which included career coaching and professional development for new consultants in the southeast region of Business Consulting Services. Prior to joining Georgia Tech, she served two and half years as the Associate Director of Career Services at the Graziadio School of Business at Pepperdine University. Barb is responsible for career coaching and corporate relationships with companies recruiting MBAs. She is a graduate of Miami University in Oxford, Ohio.
John Patrick, Corporate Relations Manager
| | |
| --- | --- |
| | 404.385.3103 |
John Patrick joined the MBA Career Services staff in 2014. In addition to managing employer relationships and creating new corporate MBA recruiting channels, John provides career advising and coaching to working professionals in the Evening MBA program. He brings more than 10 years of experience leading global campus recruiting initiatives and internship programs at some of the most well-known companies in Atlanta including CNN, Newell Rubbermaid, and AirWatch (VMWare). John has extensive HR leadership, talent acquisition, and talent development experience across a number of functions including technology, engineering, consumer products, marketing, sales, supply chain, media, journalism, corporate finance, research, and consulting. He is a graduate of the University of Tennessee, Knoxville.
Kevin Stacia, Corporate Relations Manager
| | |
| --- | --- |
| | 404.385.4148 |
Kevin Stacia joined the MBA Career Services staff in 2013, after having worked in Georgia Tech Career Services for three years as a Career Specialist. Prior to joining Georgia Tech, he worked for 20 years as a Human Resources professional with several high tech companies including Scientific Atlanta, HP, and Agilent Technologies. During his tenure at Agilent Technologies, Kevin served as the Global Campus Program Manager for their Life Sciences business unit. He received his MBA from Clark Atlanta University. Kevin is responsible for providing career coaching to MBA students and managing the relationships for a portfolio of companies seeking to recruit MBAs.
Career Results and Placement
Proof is in the placement and Georgia Tech graduates enjoy tremendous success. Our MBAs continuously achieve some of the highest job placement figures in the country for permanent positions and paid internships for first-year MBAs.


MBA Class of 2015 Compensation Summary
Average starting base salary
$103,454
Employment three months after graduation

96%
Signing bonuses
Graduates receiving a signing bonus
Average signing bonus


77%
$18,256


A Broad Range of Career Opportunities
Georgia Tech's MBA students are strong and successful competitors in regional and national job markets. Our students are recruited by firms from a broad range of industries for positions that offer opportunities for professional and personal growth and advancement.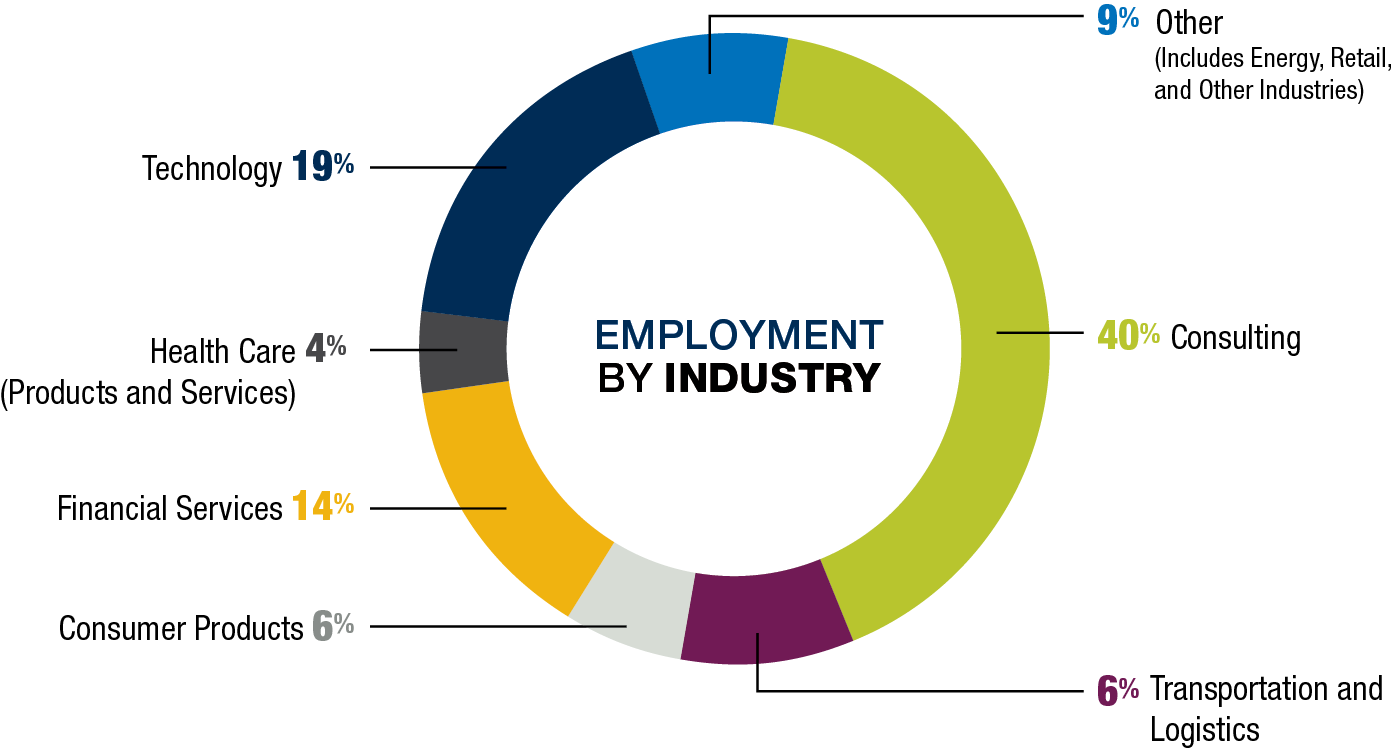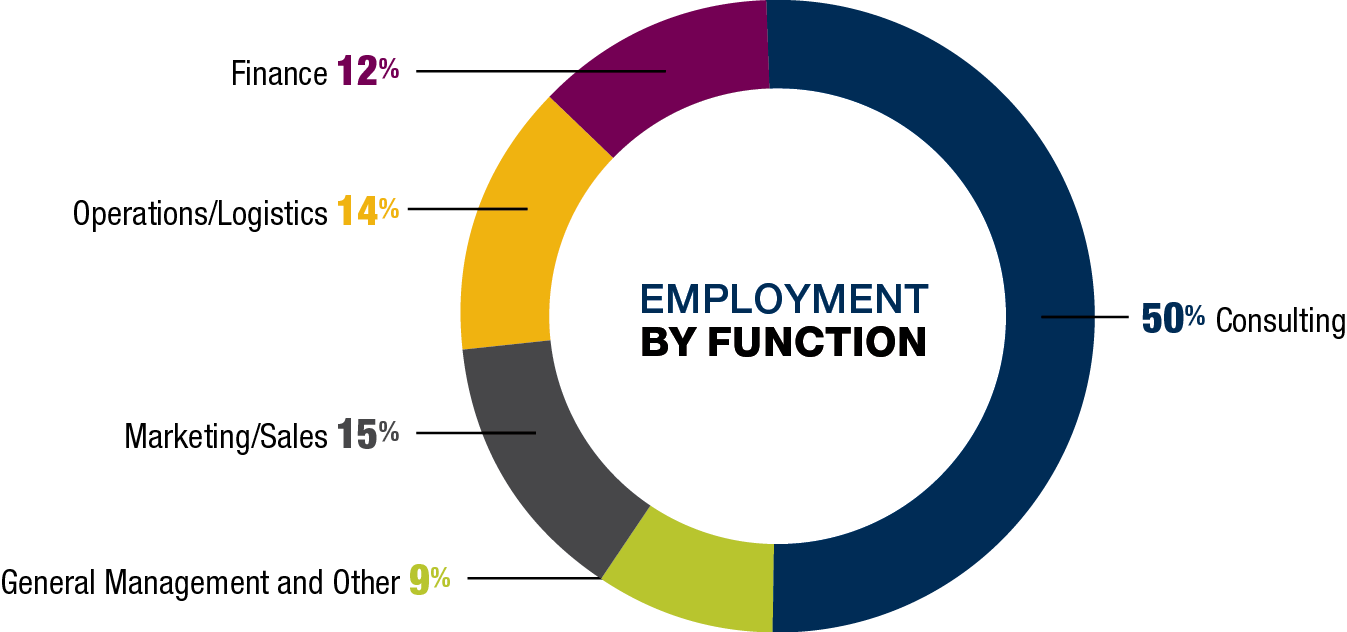 Recruiting Companies
More than 100 companies recruit Georgia Tech MBA students through the Jones MBA Career Center each year, representing functional areas such as leadership development, strategic and functional consulting, operations and supply chain, technology, corporate finance, and marketing.
Accenture
AGCO
Amazon
ATA Engineering
AT Kearney
AT&T
Bank of America
BB&T
Booz Allen
Capgemini Consulting
Cisco
Citi Cards
Cox Communications
Daughtery Business Solutions
Deloitte
Delta Air Lines
Duff &Phelps
Gallup
Eaton
eBay/PayPal

Emerson
Ericsson
EY
ExxonMobil
First Data
GE
Georgia-Pacific
Hewlett Packard
Humana
IBM
Infor
Infosys Consulting
iGate
Intel
Johnson & Johnson
Kimberly-Clark
KPMG
LexisNexis
Liberty Mutual

Manheim
McKesson
Microsoft
Nestlé Purina
North Highland
Northrop Grumman
OPS Rules
Proctor & Gamble
Raytheon
ScottMadden
Siemens
Sparks Grove
SunTrust Bank
Systems Evolution
Texas Instruments
The Coca Cola Company
The Home Depot
The Walt Disney Company
Value Prism Consulting