"When you have experience that can help other people, it's your duty and responsibility to put that skill to use—to share that information and experience with other people to help them achieve their career goals," said Steven Murchison, this year's recipient of the Georgia Tech Scheller College of Business Dean's Award for Full-time MBA Student Excellence.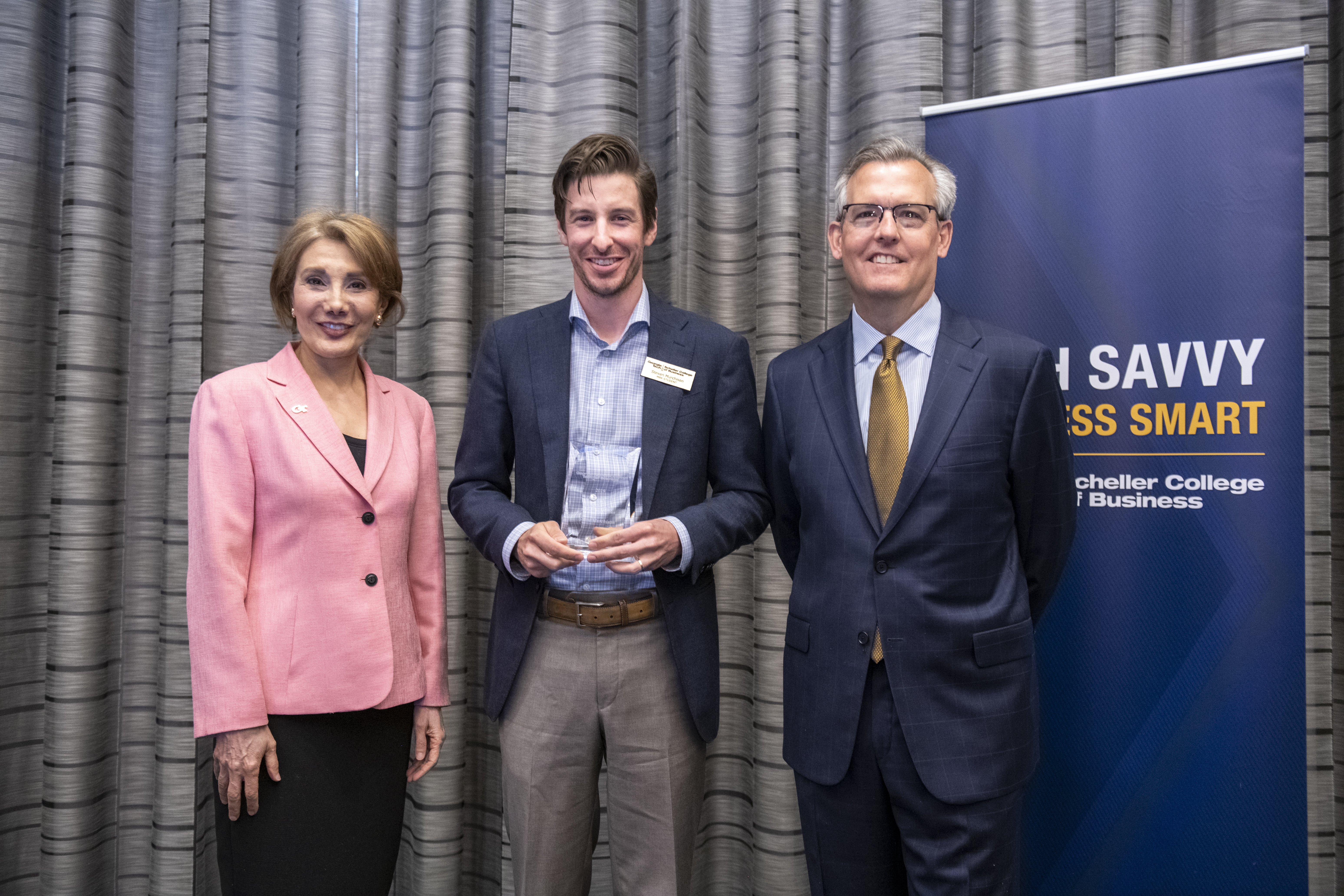 Scheller College Dean Maryam Alavi, Full-time MBA student Steven Murchison, and Chair of the Scheller College Advisory Board David Rowland (IMGT 1983).
"It's an honor, and I'm very grateful to have been selected," said Murchison about receiving the award from Dean Maryam Alavi at the April 4 Scheller College Honor's Day celebration. This award recognizes Murchison for demonstrating exceptional integrity, academic merit, and leadership.
During Murchison's two-year tenure as graduate research assistant for Dr. Beril Toktay, faculty director for the Ray C. Anderson Center for Sustainable Business ("Center"), he has contributed toward sustainable business research, education, and industry engagement. Some of his work includes translating faculty research for Sustainable Business Insights: Research Briefs for Practitioners, collaborating on The Coca-Cola Company's World Without Waste initiative, and evaluating Carbon Reduction Challenge deliverables. In another Center touchpoint, Murchison serves as Vice President of Finance and Operations for the Net Impact at Scheller College MBA Chapter. The club, with more than 55 dues-paying members, has grown to become one of the largest at Scheller College under the current board's leadership.
"Steven often provided excellent insights into the class discussion and helped improve the classroom experience not only for other students but also for me as an instructor," said Professor Atalay Atasu.
Toktay said, "Steven Murchison is a student who consistently—and with good humor—exceeds expectations. His professionalism and academic merit have made him an invaluable asset in executing high-quality Center projects."
Murchison's impact at Scheller College has spread far beyond the realm of sustainable business. As Vice President of Internal Development of the Scheller College MBA Consulting Club, Murchison has helped many first- and second-year full-time MBA students prepare for case interviews through one-on-one consultations and practice.
"I found myself in a position to help people meet their specific career goals, so I did," said Murchison.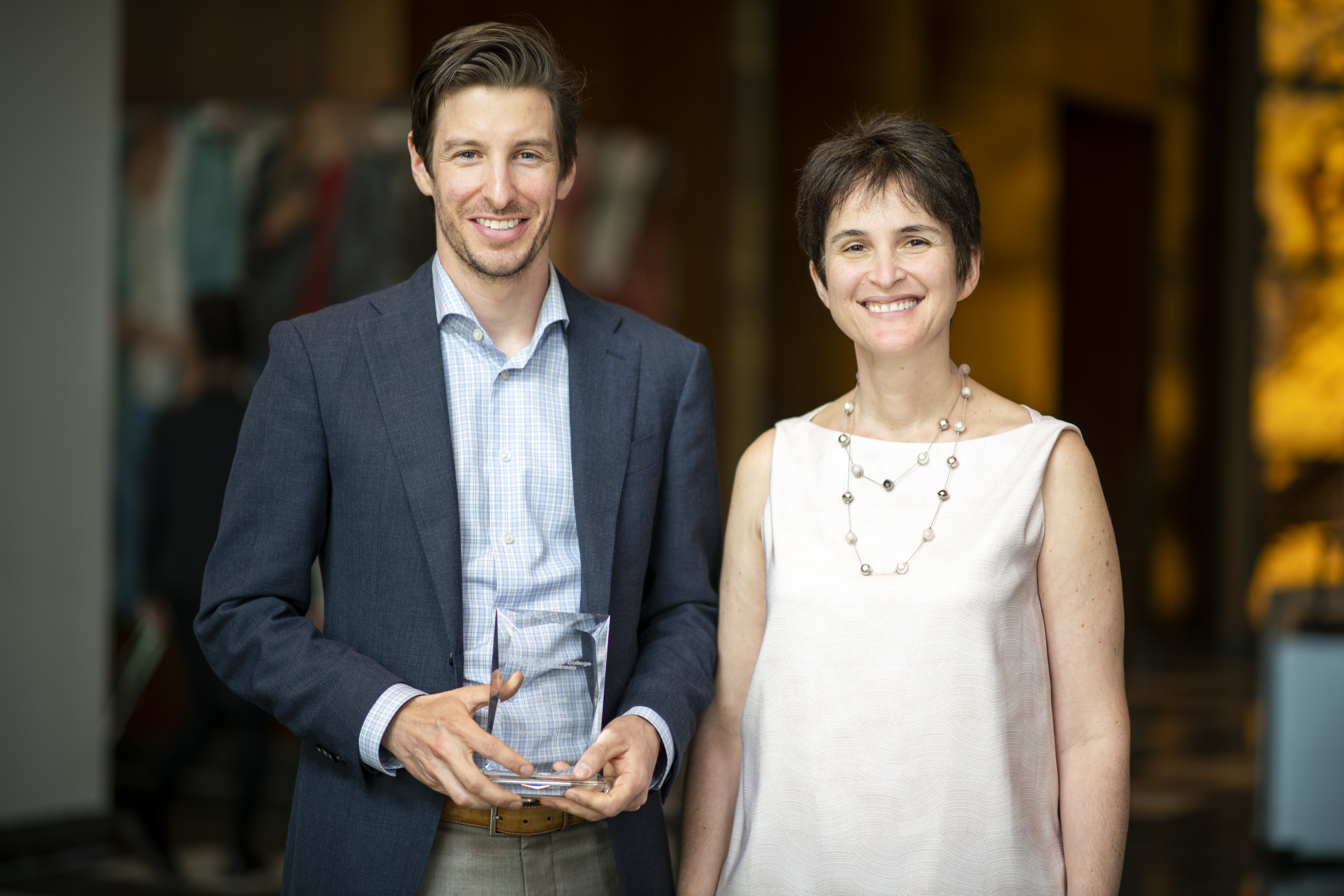 Steven Murchison with Center Faculty Director Beril Toktay, both Scheller College Honors Day award winners.
As a student in MBA practicum courses, Murchison worked on strategic projects for three external organizations. Multiple Scheller College faculty members have praised Murchison for his insights and value-add to their classrooms, including Professor Atalay Atasu. "Steven often provided excellent insights into the class discussion and helped improve the classroom experience not only for other students but also for me as an instructor," said Atasu.
Murchison pursued an MBA to gain an understanding and appreciation of a wide range of business roles. This background has prepared him for his future role at Georgia Pacific. After he graduates in May, he will join the company as a category manager in a highly-collaborative role in which he will assume profit and loss responsibility in a specific product category.
"One of the reasons I chose Scheller College was because of the Center and its opportunities for graduate students to engage in sustainable business. I'm excited to influence the direction of sustainable business development in a company that has an inherently sustainable product. I'll be on the ground floor as the company evaluates opportunities for further integrating sustainability into their organization," said Murchison.