On October 21, 2021, the Drawdown Georgia Business Compact officially launched with a virtual panel discussion hosted by the Ray C. Anderson Center for Sustainable Business at the Georgia Tech Scheller College of Business ("Center"). The Compact, a collaborative initiative focused on galvanizing climate action in Georgia, so far comprises 16 founding members: Anthem Blue Cross and Blue Shield, Atlanta Gas Light, Autodesk, Better Earth, Cox Enterprises, Delta Air Lines, Eversheds Sutherland, Goodr, Google, Interface, Norfolk Southern, Southwire, The Coca-Cola Company, TK Elevator, UPS, and YKK Corporation of America.
Nearly 150 people logged in for "Climate Action and Business Leadership in Georgia," the first in a series of four events tied to the launch of the Compact. (Click here to view the recording.) Scheller College Dean Maryam Alavi moderated a conversation with Jasmine Crowe (founder and CEO, Goodr), Nick Pearson (global head of energy policy, Google), Savannah Seydel (vice president of sustainability, Better Earth), and Josh Raglin (chief sustainability officer, Norfolk Southern).
Center leadership, Faculty Director Beril Toktay and Managing Director Michael Oxman, introduced the event. In welcoming attendees, Toktay described the Compact as "the first regional business compact in the U.S. focused on climate action—something that we're very proud of."
Oxman stated, "The Compact will leverage the collective impact of Georgia's business community to achieve a net zero carbon future through a just, competitive, and sustainable transition. We are so thrilled to have 16 Compact founding members so far."
The Compact could not have come at a better time, according to Alavi, given the recent completion of Georgia Tech's Strategic Plan 2020-2030 and Scheller College's soon-to-be-released strategic plan. She stated, "Sustainability themes are prominent throughout the Georgia Tech Strategic Plan, and they remain core tenets for Scheller College as evidenced by our top five ranking over the last [seven] years in the Corporate Knights [Better World] MBA." The Compact, Alavi stated, will help to position the State not only as a great place to do business but also as a leader in local action on a pressing global issue.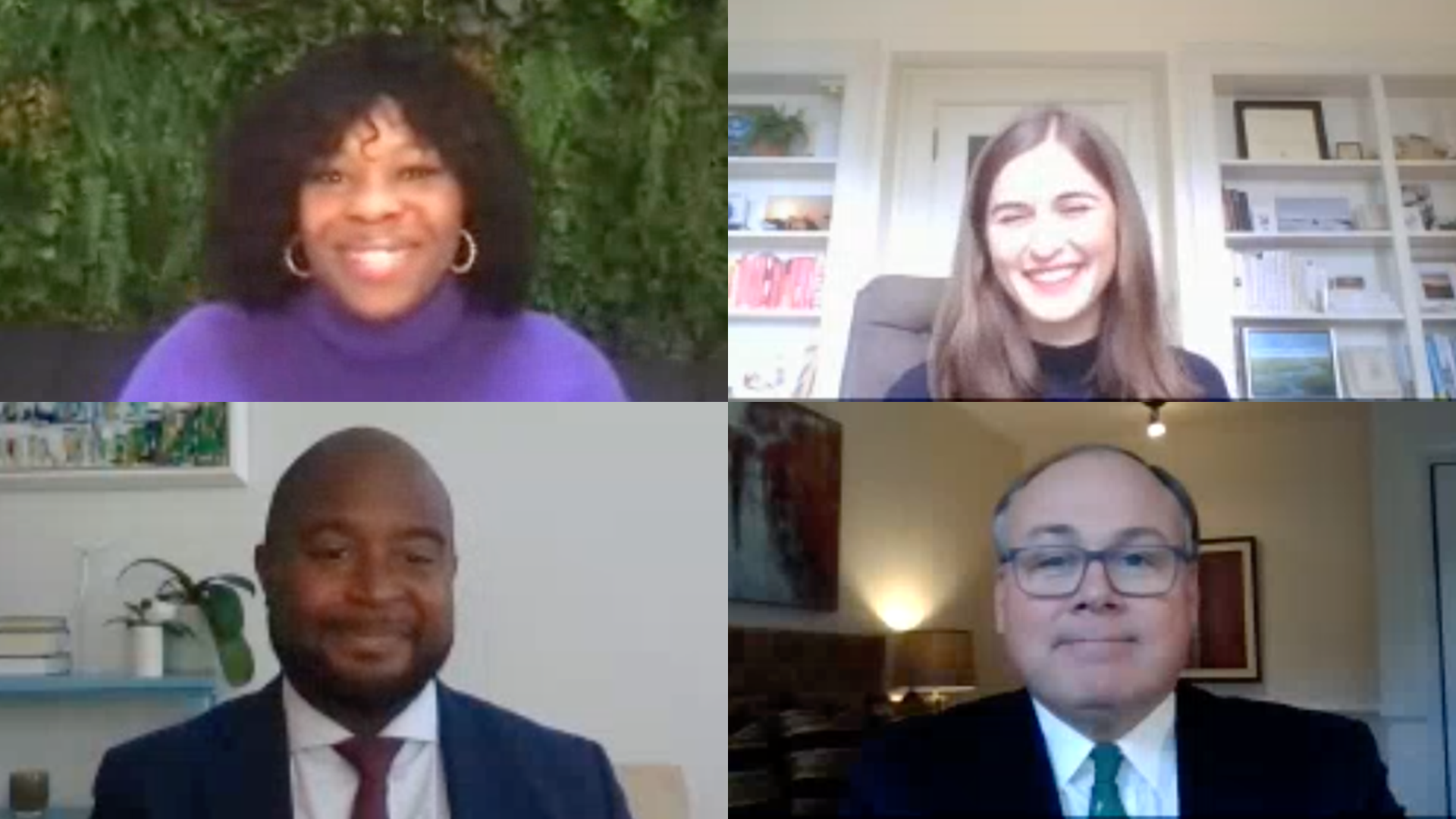 Clockwise from top left: Panelists Jasmine Crowe, Savannah Seydel, Josh Raglin, and Nick Pearson.
The panel discussion explored speakers' career paths and carbon mitigation as a core business strategy in their current organizations. Below are highlights from the conversation.
Passion first. Leadership second. 
The speakers shared how their current roles grew out of deep-seated passions. Crowe came to found Goodr by "going viral." She had been feeding people who were experiencing homelessness and hunger out of her apartment. When a video about her work went viral, someone asked, "Who donates the food?" The truth was "nobody." As Crowe researched donations, she discovered just how much food was going to waste and came to believe that "hunger is not an issue of scarcity but rather a matter of logistics." This discovery was the impetus that sparked the creation of Goodr, which connects excess food with those who are food insecure.
"More sustainable companies" means "more sustainable consumers."
There's good news for consumers who are conscious about their carbon footprint. Businesses that are working to make more sustainable products and services can help consumers sleep better at night. And that's not simply by default. Seydel described her work at Better Earth, a sustainable foodservice packaging solutions provider, first through the lens of being a consumer. "What brought me to this role was just being a conscious consumer," she said. "We all buy things. We all order things. [...] I think we've often found packaging as this unfortunate necessity. But it doesn't have to be that way." Better Earth, she explained, is on a mission to make sustainability accessible for the food service industry. "It's incredibly powerful and motivating work," she said.
Large companies realize their responsibility—and opportunity for impact.
Google is one example of a large company facing climate action head-on. Atlanta native Pearson, who has been at Google for about six years, said, "We are very proud of our record on climate [and] on addressing the energy consumption that we, as a very large company, are responsible for. We are proud to have been carbon neutral since 2007. But that's not good enough. We aim to be 24/7 carbon free by 2030." Pearson, who believes Google can reach that goal, said it's even more important that Google create tools to help individuals and companies pay attention to their carbon footprint. He said, "We have a momentous task ahead of us to make sure that we're making positive impacts for the globe when it comes to energy consumption and climate change."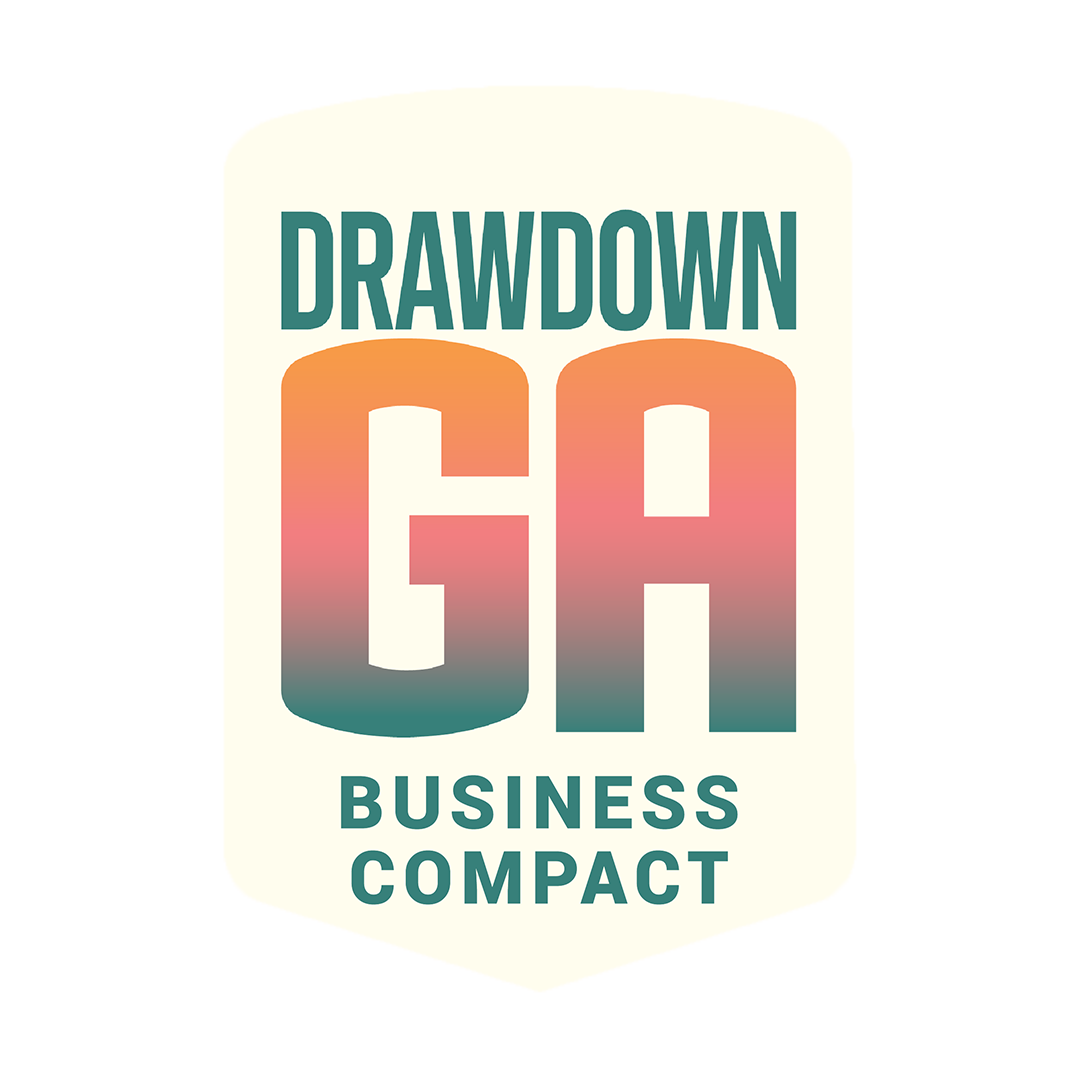 Some Compact members have already set (and are making strides towards achieving) ambitious targets.
The transportation industry is undeniably hard to decarbonize for some companies. But for Norfolk Southern, a Class I freight railroad, improvements to fuel efficiency are key to carbon reduction. Fuel usage accounts for over 90% of the company's emissions. Raglin, who has been at the company for 25 years, said the company set an ambitious target to reduce Scope 1 and Scope 2 emissions intensity by 42% over a 15-year period. He said, "We made a 7% improvement in the last year alone, and that's primarily driven through our improvements in locomotive fuel efficiency." Norfolk Southern is also further modernizing its fleet and helping customers reduce their supply chain emissions. Raglin stated that rail produces, on average, 75% less emissions than trucks. He said, "There's a huge opportunity there. We definitely think we are a part of the solution."
Compact members look forward to sharing best practices across diverse industries.
While the keyword in business is typically "compete," working to address climate change requires collaboration. Raglin said, "This is a big problem that will require a lot of collaboration across multiple industries." Learning from others was also an important theme for Seydel. She described that Better Earth is focusing on reducing its supply chain emissions and actively investing in commercial composting infrastructure across the Southeast. She said, "We can't solve these problems on our own. We joined the Business Compact because it is so important for us to surround ourselves with a diverse community of like-minded Georgia companies to share, ideate, and collaborate in a safe space." Pearson also shared his excitement for the collaborative environment the Compact creates. He said that while Google has learned a lot of things (that it looks forward to sharing) through three decades of trying to address the company's carbon footprint, there's more to learn from others as well. 
The Compact offers a platform for technology innovation in the region.
Pearson illustrated regional innovation by reminding attendees that they can look just a couple hours east of Atlanta to Plant Vogel, the new nuclear power plant that will deliver carbon-free energy. Pearson said that while Google supports nuclear energy, it's also important to look down the road. He pondered, "What's coming next? Is it small modular reactors? Is it advanced nuclear? Is it geothermal? There are a lot of different options out there, and we are focused on providing funding, research and development know-how, our brain power as a company, our employees' experience throughout the tech sector [...] to find where the next solution's going to be for how to address this serious issue." The Compact's network of business members and academic partners will offer opportunities for finding the right answers.
Commitment to equity is a point of pride for Compact members.
Seydel said that equity is "such an important value for our state and should be part of any climate action conversation." She said Better Earth is proud to be located in Clarkston, Georgia (the most diverse square mile in the U.S.), and that 75% of its team is made up of women or underrepresented populations. Raglin noted that Norfolk Southern is working (through initiatives such as "Eco" locomotives, which reduce emissions by about 75%) to improve air quality and public health near its facilities, many of which are located in lower income and minority communities. Pearson touted Google's job creation in areas where there are more diverse candidates and support to help small and minority-owned businesses expand their reach. Crowe celebrated Goodr for being a black-founded company in which 85% of the employees are women.
The public was invited to join the next events in the Drawdown Georgia Business Compact launch series. A virtual panel, "Equitable and Inclusive Innovation for Georgia Climate Action," moderated by Dean Husbands Fealing, took place on November 16, from 2 to 3 p.m. Another panel, "Research to Action: Three Climate Solutions for Georgia," moderated by Dr. Marilyn Brown, took place on November 18, from 11 a.m. to 12:30 p.m. A student-focused networking event was held in January.
For information on how to join the Drawdown Georgia Business Compact, visit the Compact website or contact David Eady by email (david.eady@gatech.edu) or phone (404-894-3038). 
By Jennifer Holley Lux