We at the Ray C. Anderson Center for Sustainable Business invite you to join us on a journey through ten highlights – in photos and words – in celebration of our tenth anniversary. The selected milestones are just a handful of the many ways we are working with our students, faculty, industry partners, and staff to empower the "Ray C. Andersons of tomorrow" to create sustainable businesses and communities.
In 2013, we launched as the Center for Business Strategies for Sustainability at Scheller College with support from the Ray C. Anderson Foundation, the Kendeda Fund, and Scheller College leadership. It was founded upon the desire to accelerate the development and adoption of sustainable business practices through educational programs, high-impact research, and industry engagement.
Our first ten years have seen us grow from a "startup Center" to the ten-members-strong Ray C. Anderson Center for Sustainable Business. Our community of Center-affiliated faculty continues to grow, too, with more opportunities for engagement every year. Our students, passionate about problem-solving, impress us with their dedication to tackling some of the world's most challenging issues – from climate change to equity. We truly value our business and community partners, who provide experiential learning and research opportunities for our students and faculty. These partners are also joining us on our mission to drive impact through collective action initiatives.
As our community of changemakers, partners, and supporters has expanded over the years, our programming has taken root and grown in both scope and impact. In the pages ahead, you will see some of the communities we have created and contributed to that fill us with pride. As we continue our vision of empowering the leaders of tomorrow to create sustainable businesses and communities, we invite friends new and old to join us on the continuation of our journey.
2013: Getting started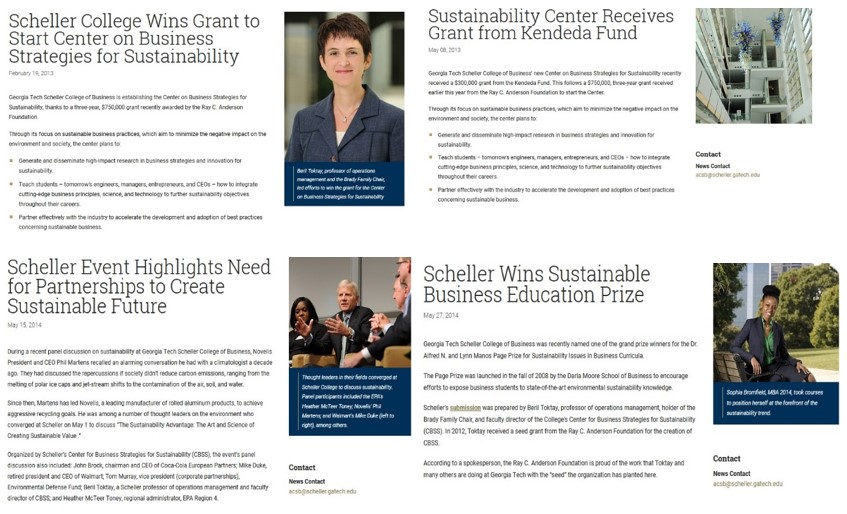 Then: The Center on Business Strategies for Sustainability was established thanks to a grant from the Ray C. Anderson Foundation. Ray C. Anderson (IE '56, Honorary Ph.D. '11) was an impassioned entrepreneur and a "radical industrialist" who led by example and inspired others to innovate a sustainable world together. Beril Toktay, who spearheaded the effort to establish the Center, said, "What we want to achieve is so congruent with Ray Anderson's vision that I cannot imagine any other partnership that would be more inspiring to us and send a more powerful message to the world about our aspirations: to do groundbreaking, high-impact research, and to educate the Ray Andersons of the future."
Now: We have educated and empowered thousands of students and practitioners through a bold series of curricular and experiential programs and cutting-edge research that cemented us as a top 5 U.S. business school in sustainability. We were also instrumental in shaping and steering high-impact Institute-wide initiatives: The Center for Serve-Learn-Sustain, which was recognized for its innovative, large-scale programming, and the Sustainability Next Institute Strategic Plan, which will govern the next decade of sustainability implementation at Georgia Tech. "It's been an exhilarating journey," says Beril Toktay. "I continue to learn something new every day from our incredible colleagues, partners, and students – it's humbling and inspiring."
2014: Speaker series takes off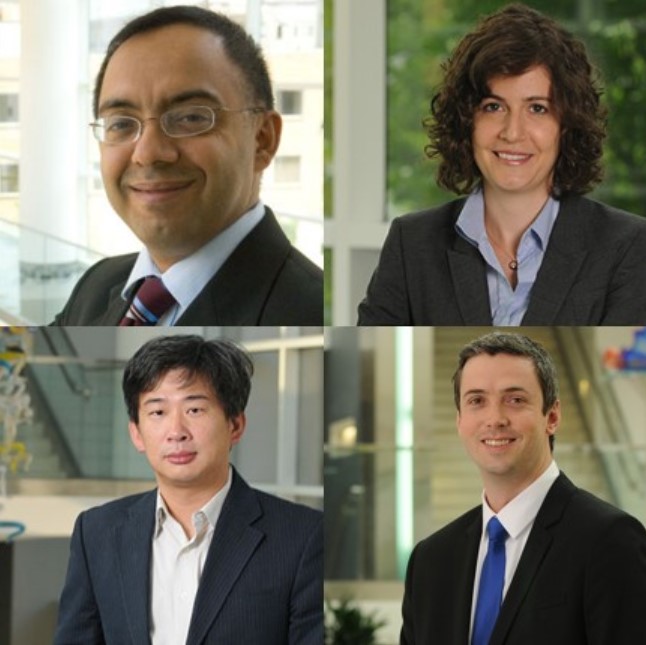 Then: In 2014, the Center launched the Business, Environment, and Society Speaker Series to develop and strengthen the network of sustainability-minded students, faculty, staff, practitioners, and community members. Several times throughout the year, we invited faculty and Ph.D. candidates to present on topics connected to research and the practice of sustainable business.
Now: Through informative talks, lively Q&As, and illuminating interviews, the series continues to open the lines of communication between current and future changemakers. Several semesters into our programming, we expanded our series to include speakers from a wide range of backgrounds, including faculty, authors, nonprofit leaders, and corporate practitioners. We are grateful for the 50+ presenters who, over the years, have generously shared their time and deep sustainability expertise across a diverse range of sectors.
2015: Center named for Ray C. Anderson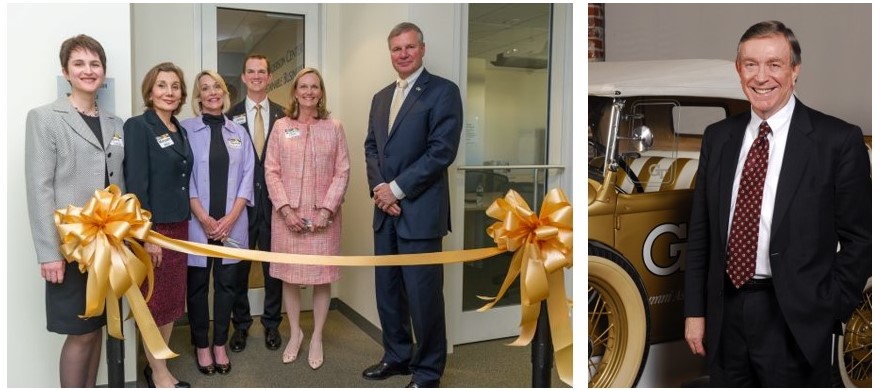 Then: In 2015, Scheller College received a $5 million commitment from the Ray C. Anderson Foundation to rename the Center for Business Strategies for Sustainability. To honor this commitment, the Center became known as the Ray C. Anderson Center for Sustainable Business. John A. Lanier, executive director of the Foundation, said, "Ray stood for the principle that businesses must learn to live in harmony with society and the environment. For this dream to happen, the business leaders of tomorrow need to learn about this principle today."
Now: John Lanier reflects, "We are seeing the promise of the Ray C. Anderson Center for Sustainable Business fulfilled. For every student it teaches, for every business it supports, and for every researcher it empowers, we see time and again that sustainability offers a better way to do business. To solve our environmental challenges though, we need even more changemakers, and so the need for the Center is as great today as when it first began."
2015: Welcoming our first Graduate Sustainability Fellows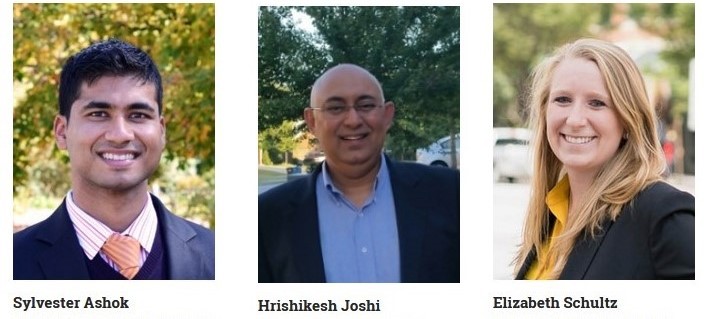 Then: The Center launched a Graduate Sustainability Fellows program in 2015-16. The first three Fellows entered the program to work on projects that would deepen their experience in sustainability. Towards the end of her fellowship year, Elizabeth Schultz said that she better understood sustainability from a business point of view and hoped to leverage that knowledge in her future career. In particular, she hoped to focus on how companies can influence consumers to make sustainable decisions.
Now: The program has grown by leaps and bounds since its inception. Beginning in 2018, undergraduates were invited to apply to become "Sustainability Ambassadors." Our 2023-24 cohort includes 28 Fellows and Ambassadors working on group projects. Elizabeth Schultz (ID '12, MBA '17) reflects, "Being a Fellow was wonderful. The experience furthered my involvement with the Center and gave me the opportunity to work with and learn from the knowledgeable affiliated faculty and Center team. These days, I do a lot of work with social sustainability and try to foster inclusion and authenticity." Elizabeth also serves on the Center's Advisory Board. 
2016: Michael Oxman takes over Sustainable Business Consulting Practicum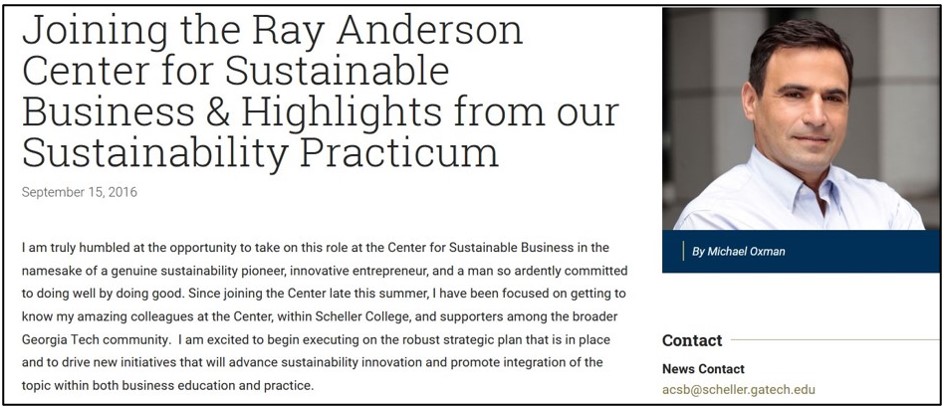 Then: In 2016, Michael Oxman said, "I am thrilled to kick-off this semester's MBA sustainability consulting course where students work with companies, government agencies, and nonprofit entities on developing recommendations and solutions for a broad range of sustainability-related challenges facing these organizations." With the help of coaches from Accenture and Jabian, students learned consulting skills and were immersed in sustainability topics while interacting with liaisons from the project sponsors – Bank of America, the Mayor's Office of Sustainability, Novelis, Points of Light, The Coca-Cola Company, and Rubicon.
Now: The popular course, co-taught with consulting expert Bob Lax, has now completed over 80 projects. Bill Landefeld (MBA '23) writes, "My favorite [Scheller] course was the Sustainability Practicum! This course is one part Consulting 101 and one part a real-world sustainability consulting project with a Georgia-based client." Landefeld's team helped Southwire build a roadmap for electrifying their fleet. He says, "While it was one of the most time-consuming courses I have had, I absolutely loved working with teammates . . . and we all agree that it was one of the most rewarding experiences we had at Scheller!"
2017: Students participate in the first Carbon Reduction Challenge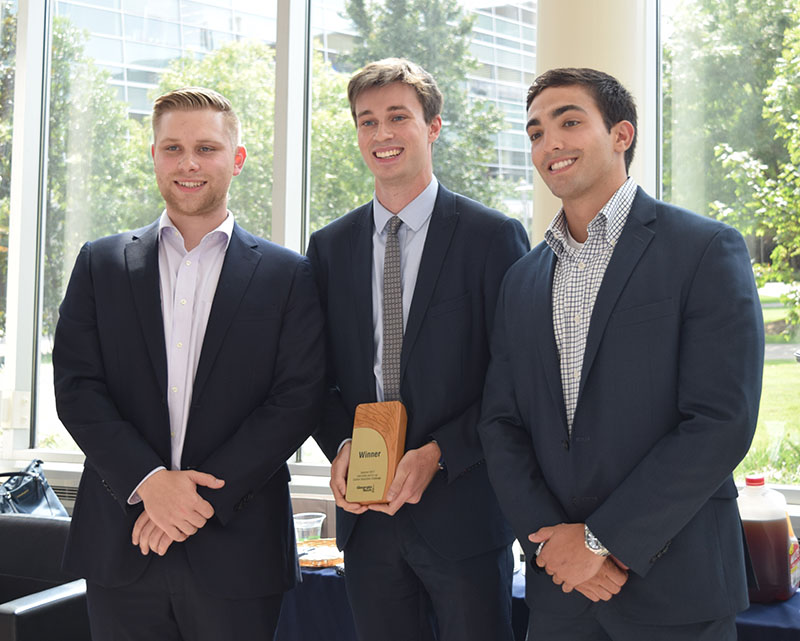 Then: An innovative co-curricular initiative between the Scheller College of Business and the College of Sciences launched in 2017, with Beril Toktay and Kim Cobb as co-directors. Cobb's long-running class project, the Carbon Reduction Challenge, was adapted to make a larger impact. Students (primarily interns) volunteered to propose plans to reduce carbon emissions and cut costs for partnering organizations. Participants learned they could promote sustainable business practices no matter what position they hold at a company. First prize that year was awarded to the SunTrust team.
Now: The Carbon Reduction Challenge keeps gaining momentum with a total of 217 students and 49 partnering organizations being involved since the launch of the program. In 2022, first prize was awarded to the Electrify GT team for their project on the electrification of fleet vehicles. Team member John Schmidt reflects, "An institution can make a far greater dent in carbon emissions than I could ever do myself. Therefore, I feel as if I've made an important contribution. I feel empowered to advocate for the implementation of our solution and to continue this kind of work in the future."
2017: Net Impact - MBA Chapter hosts conference

Then: Net Impact is a nonprofit organization for students and professional leaders who are focused on creating positive social and environmental change in the workplace and world. Since the Center was founded, it has sponsored the Scheller Net Impact – MBA Chapter, which holds Gold Chapter designation. In 2017, the chapter was voted "Club of the Year" by MBA candidates at Scheller College, due in part to its success in organizing a Net Impact Local conference attended by about 80 students, faculty, and staff from seven colleges and universities.
Now: The Scheller MBA chapter has not rested on its laurels! In the 2022-23 academic year, the chapter had 80 dues-paying members (making it one of the largest MBA clubs at Scheller). Recent activities have included facilitating the Board Fellows and Pro Bono Consulting programs, a tour of the Kendeda Building for Innovative Sustainable Design, and a Just Cities event in collaboration with Blacks in Business and Women in Business.
2019: Georgia Tech approves Certificate in Sustainable Business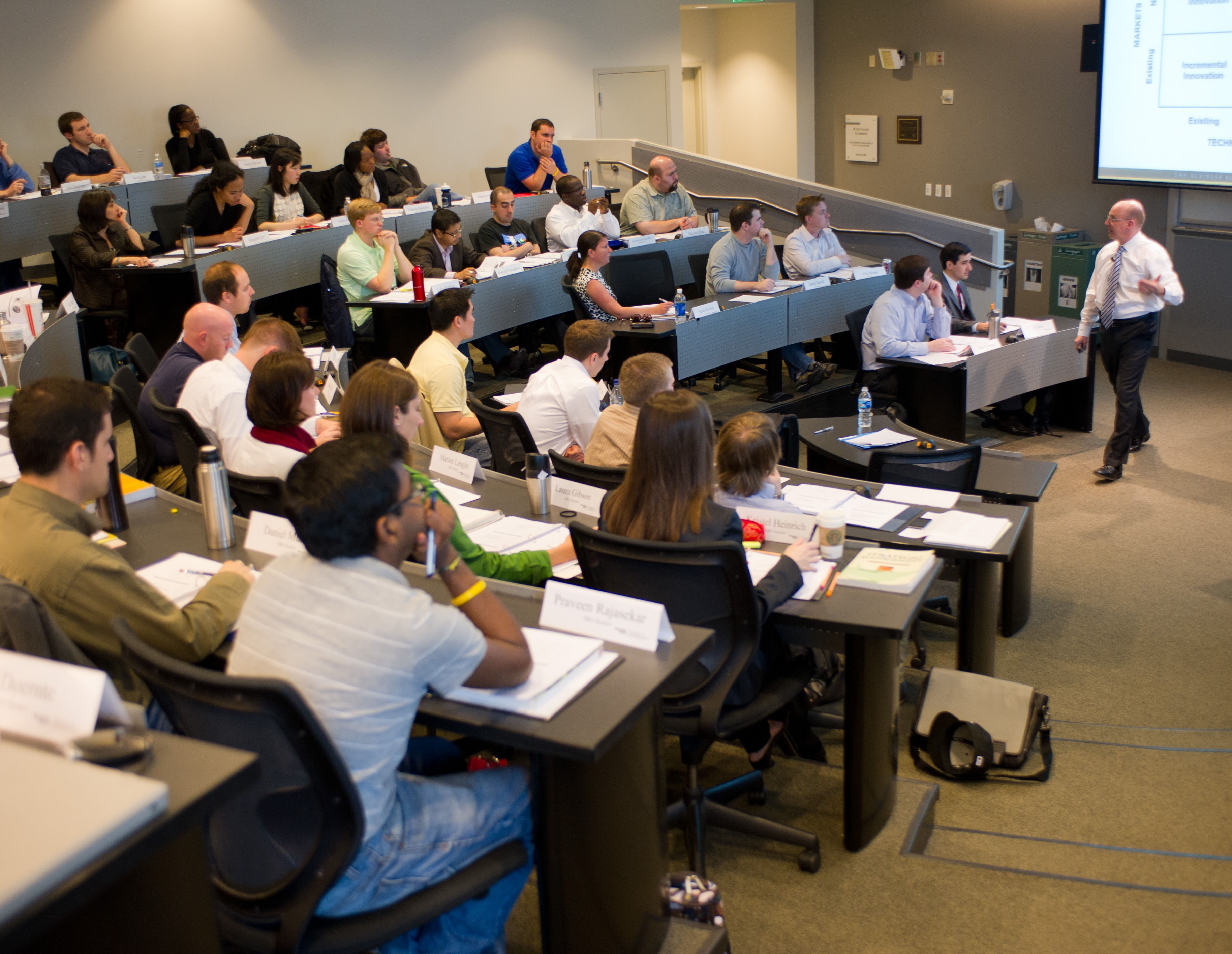 Then: Since 2019, undergraduates from any major have had the opportunity to pursue a Certificate in Sustainable Business. Students pursuing the certificate learn about the importance of sustainability for business and develop a sustainability lens through which to evaluate critical issues that businesses are facing. The Center invested more than a year's research in assessing the viability of the certificate. In focus groups we facilitated, undergraduates expressed strong interest in deepening their engagement in sustainability through classes and experiential opportunities.
Now: More students, year by year, are enrolling in classes that can help them earn the certificate. Since 2020, the Center has awarded the Vivian Nora Lukens Memorial Scholarship to students pursuing the certificate. Meghana Embar (BSBA '23), the 2023 scholarship recipient, is now working for KPMG in supply chain consulting. She says, "I hope to fix some of the damage we have done already and to prevent more damage from occurring – so we can have more time to live on this beautiful planet!"
2019: Drawdown Georgia shows pathway to carbon neutrality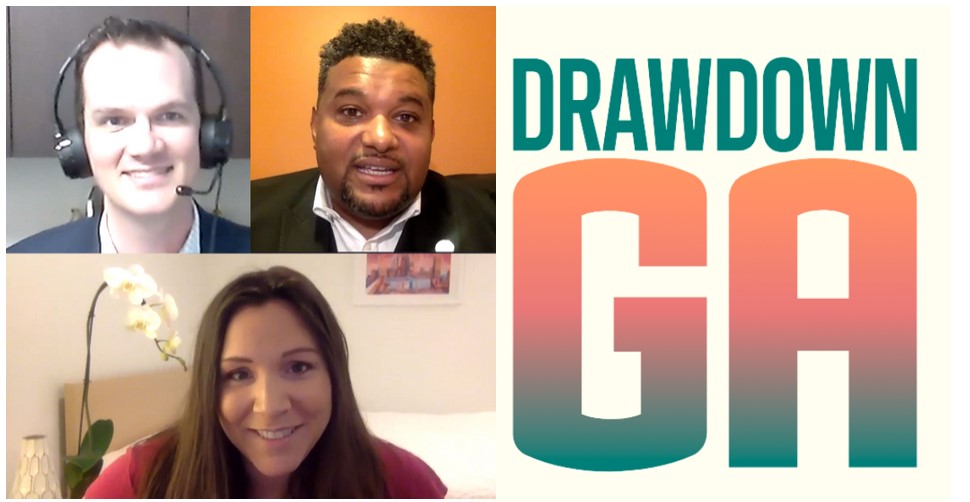 Then:
Beginning in 2019, scholars, researchers, and scientists from Georgia Tech (including Center leadership), Emory University, Georgia State University, and University of Georgia studied data to determine which climate solutions have the greatest carbon reduction potential in our state. They also explored what scaling climate solutions would mean for communities, equity, inclusive economic development, public health, and non-carbon-related aspects of the natural environment. The "Drawdown Georgia" initiative to activate solutions officially launched in 2020. It was the first state-specific roadmap for carbon reduction.
Now: In 2021, the Center launched the Drawdown Georgia Business Compact to engage the business community in solution activation. The Compact's mission is to leverage the collective impact of Georgia's business community to achieve net zero carbon emissions in the state by 2050 through a just, competitive, and sustainable transition. The Compact (62 members and counting!) offers a platform for shared activities that support existing carbon reduction goals, inspire new ambitions, and facilitate statewide engagement across industry sectors and supply chains.
2022: Sustainable-X supports social entrepreneurs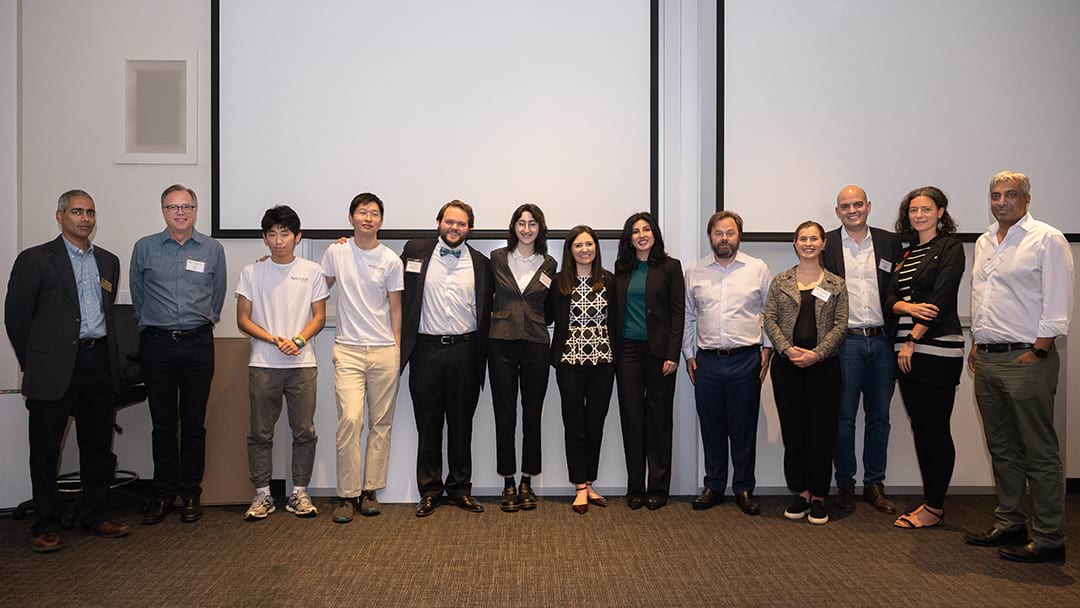 Then: Sustainable-X, an initiative designed to inject energy into the community of sustainable startups through a variety of offerings, launched in 2022. The first event was a bootcamp focused on problem framing and ideation exercises. Participants received mentorship from entrepreneurs and Georgia Tech faculty who are eager to see the next generation of business leaders and changemakers succeed. At the Sustainable-X Showcase in Spring 2023, teams competed for the chance to win cash prizes, investment opportunities, and invitations to the CREATE-X Startup Launch program.
Now: Center-affiliated faculty Andre Calmon and Karthik Ramachandran serve as the program's co-directors. Five Sustainable-X teams started their journeys as startups through the CREATE-X Startup Launch program this summer. Many of them, and several other Georgia Tech sustainable startups, will participate in a Sustainable-X program that will guide startups in their efforts to scale their business. Sustainable-X continues to hold "hangouts" for aspiring entrepreneurs and changemakers and will provide funding for aspiring Georgia Tech entrepreneurs to prototype their idea. All are welcome to the Sustainable-X Showcase in Spring 2024!
Look at us now!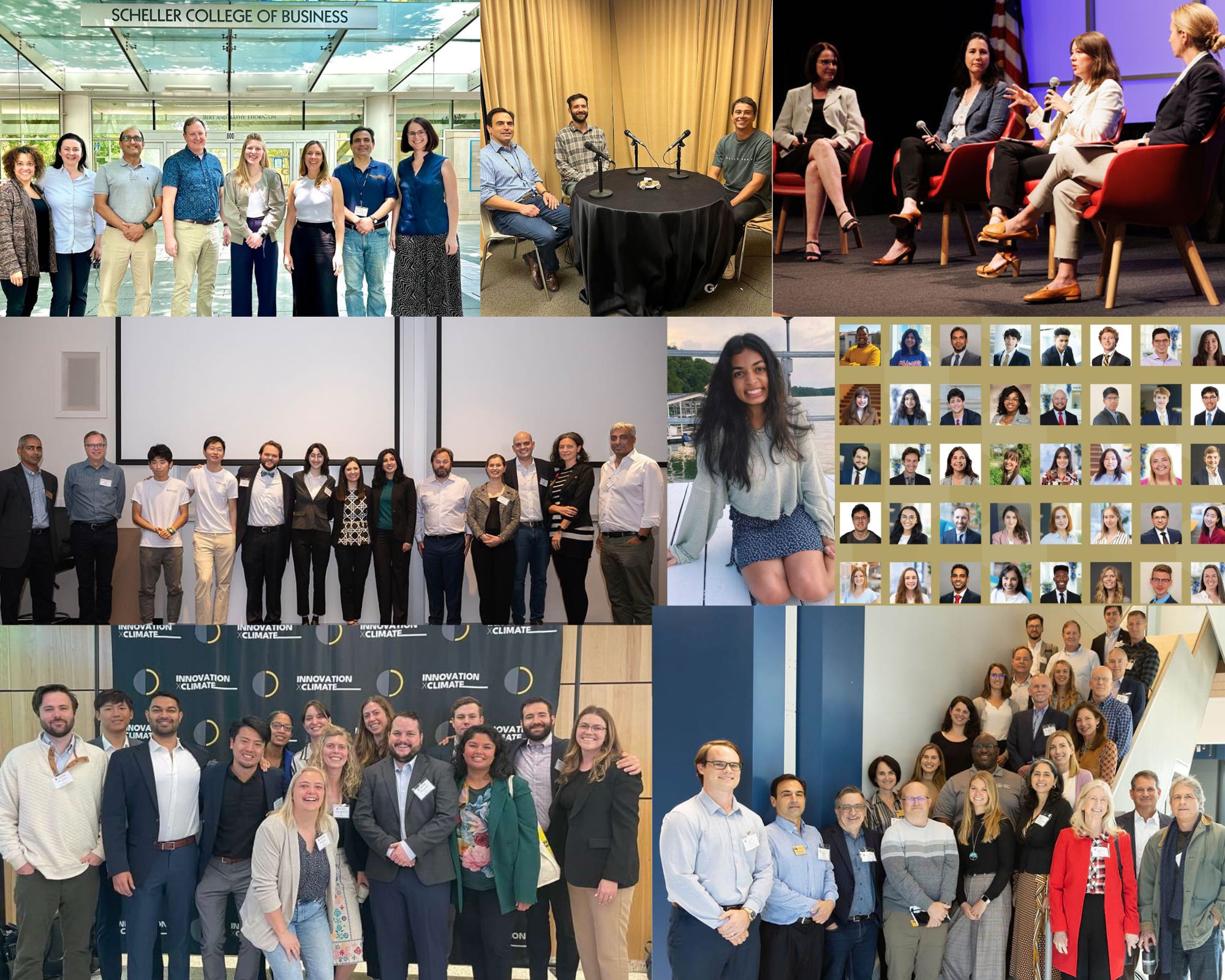 Writer: Jennifer Lux