The Ray C. Anderson Center for Sustainable Business at Georgia Tech Scheller College of Business partnered with Delta Air Lines to advise the company and its employees on a global, business-wide contest that offered Delta employees the opportunity to launch their own environmentally driven innovations that will add value to the airline and its customers.
The winning teams below will have support to move forward with their innovative ideas:
The Sustainable Stations — Install a power-saving mode on airport kiosks

GRU Green — Eliminate boarding passes for connecting customers

Delta Air Lines leaders and competition finalists pictured with some of Ray C. Anderson Center for Sustainable Business team and partnering Scheller College MBA students after winners were announced.
"This competition clearly showcases Delta's commitment to sustainability," said Beril Toktay, Faculty Director of the Center. "We are very impressed with the quality of entries and the ingenuity of Delta employees. We're delighted to be a part of helping Delta generate business value from these environmental initiatives."
Georgia Tech faculty experts at the Center helped five teams of employee finalists from three different countries strengthen their pitches for final presentations at Delta's Atlanta General Offices on April 23.
Selected winners will work with Delta Airport Customer Service and Tech teams to implement these ideas. The winning projects will streamline printed ticketing to a single ticket for all connecting flights to reduce paper waste, save fuel, and improve the customer experience. Additionally, Delta airport kiosks will be optimized with power-saving settings.
Delta became the inaugural participant in the Center's Corporate Sustainability Program Executive Council last June, and has since collaborated with Scheller College faculty on cutting-edge research, also working with MBA and undergraduate business students on sustainability projects.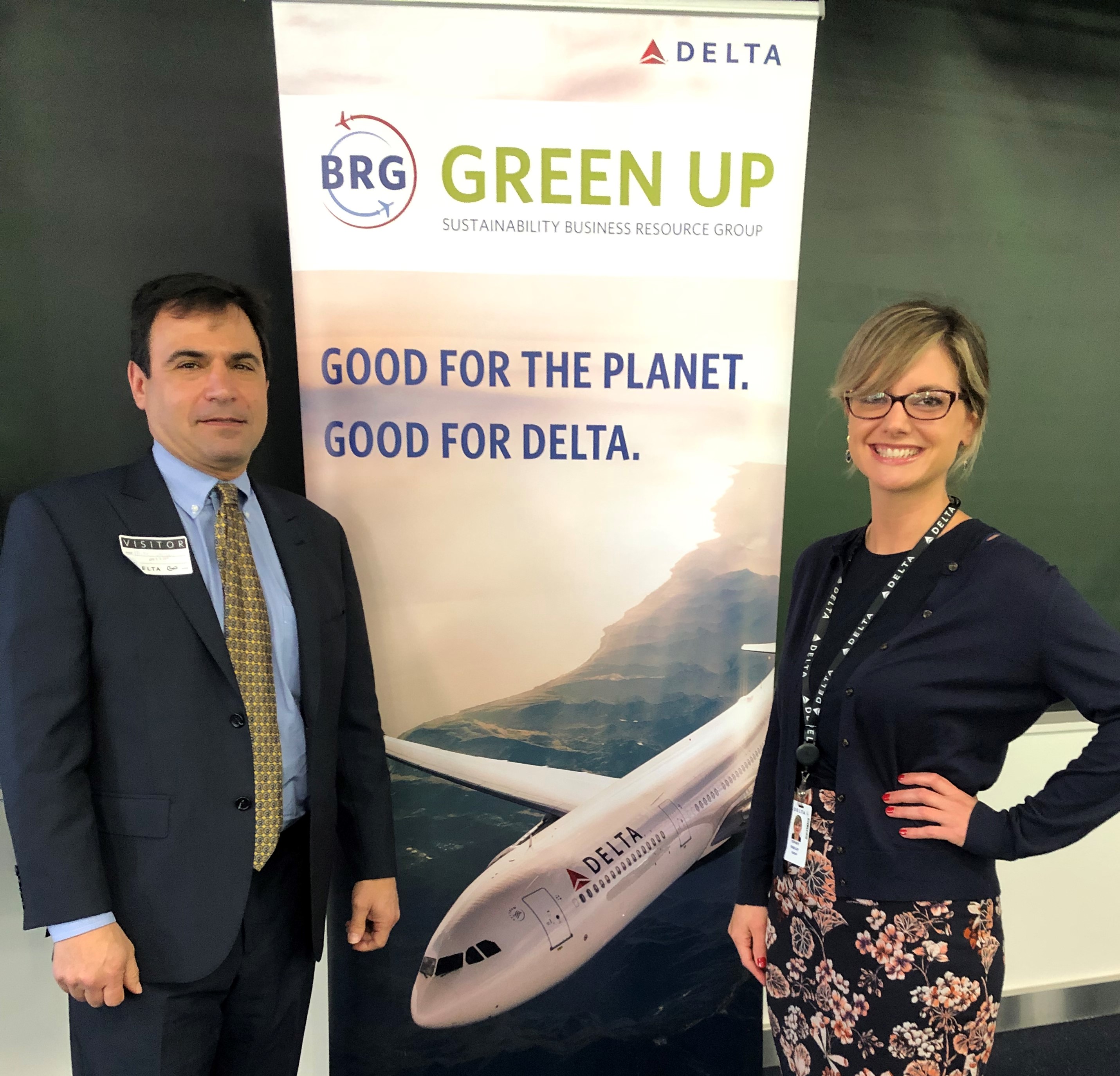 Center Managing Director Michael Oxman with Evening MBA President and Delta Air Lines Sustainability Intern Tiffany Findlay.
"Our relationship with Delta is a great example of an academic and corporate partnership that has engaged students and faculty with Delta's sustainability team, global employee base, and executive leadership," said Michael Oxman, Managing Director of the Center.
"I am so proud of the Delta people who took part in this challenge. Not only are we practicing good sustainability and rewarding those efforts, but we are helping mother Earth," said Ekrem Dimbiloglu, Delta's Green Up Advisor and Director – Onboard Product & Uniforms. "Delta cares about the environment and cares about what we are doing to it. We can't connect the world if we're not protecting it."