"Meeting Andrew Young at the southern tip of Africa was truly surreal—a once-in-a-lifetime experience," said Peter Nguyen, an MBA Sustainability Fellow at the Georgia Tech Scheller College of Business.
The chance encounter between the 30 MBA students traveling as part of the Scheller College International Practicum course and legendary civil rights leader Andrew Young, former United States Ambassador to the UN and Mayor of Atlanta, occurred on March 22.
The students were traveling during spring break to meet with client companies to gain real-world managerial skills in addressing a practical international and operational business problem. The Ray C. Anderson Center for Sustainable Business ("Center"), a course co-sponsor, facilitated consulting projects related to financial, environmental, and social sustainability. Student teams worked with South African clients including Nalo Fashion, Future Ready Schools, and Animation South Africa. Small grants provided by the Center enabled course participants to travel from Johannesburg to the Cape Town area to gain a deeper understanding of the country's racial and economic disparities.
As members of the Georgia Tech group were having lunch at the Cape of Good Hope, Tashi English, MBA 18, sparked a conversation with people at the neighboring table. She found out they were part of a delegation of 50 professionals traveling on behalf of the Andrew J. Young Foundation. The primary reason for their visit was to attend the unveiling of a statue of Martin Luther King, Jr. at the Cradle of Humankind, a World Heritage Site. English learned that Young himself was seated at the next table over.
"I walked away from his talk feeling soulfully inspired to get back to working on making a positive impact around the world," said MBA student Peter Nguyen.
As luck would have it, one member of the delegation was fellow Yellow Jacket, Michael Anderson, IE 79, former Chairman of the Georgia Tech Advisory Board and member of the Georgia Tech Foundation, ISyE, Alexander-Tharpe, and Athletic boards of directors.
"What a wonderful coincidence it was to connect with Georgia Tech students at the majestic and historic Cape of Good Hope," said Anderson. "Our mission—not unlike theirs—was to assist with practical business and societal solutions, given the cultural, economic, and historical dynamic that permeates all facets of life in Southern Africa. Facilitating a real-time history lesson and discussion between the Tech MBA delegation and Ambassador Andrew Young was one of life's precious moments that I will remember always," Anderson continued.
Young graciously agreed to share a few words with the group, and without any preparation spoke on a number of subjects—from his high regard for Georgia Tech to his belief that a highly educated society will have fewer conflicts and disparities. He also emphasized Atlanta's opportunity to become a technology hub where international learners can gain skills and resources for enriching their communities.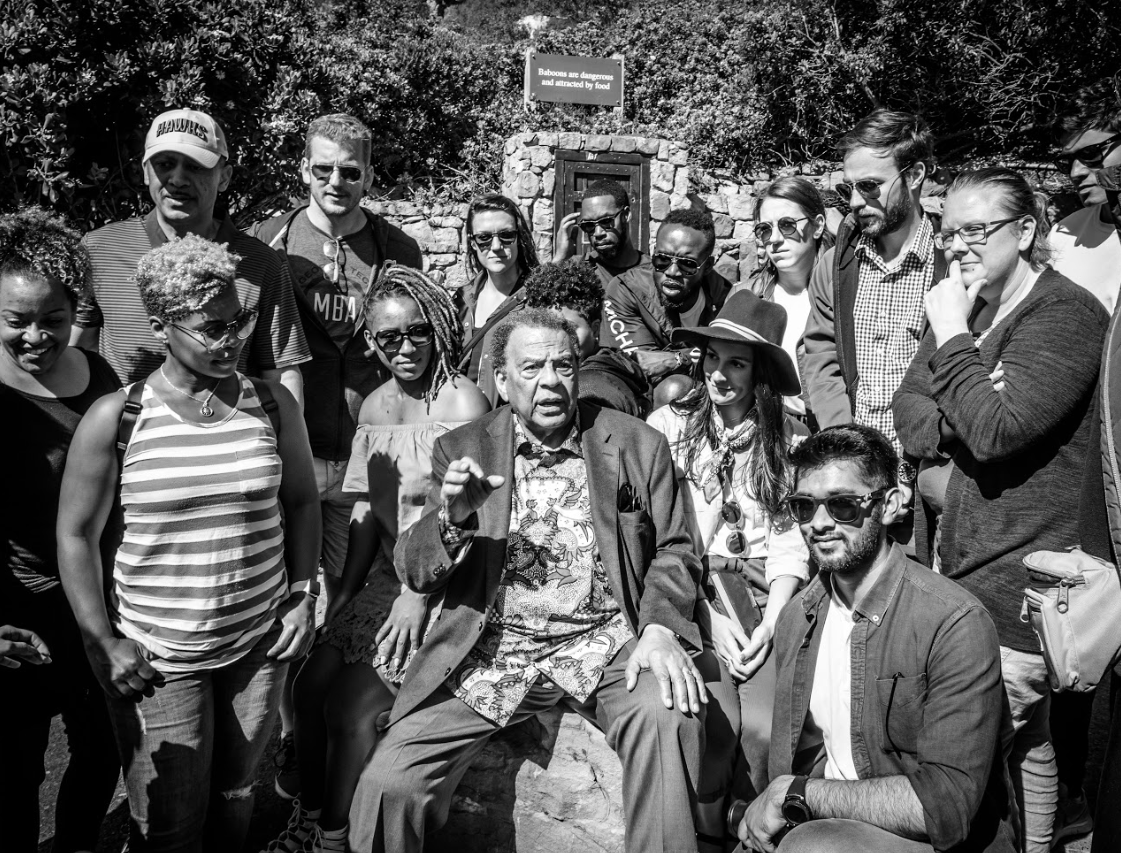 MBA students traveling in South Africa have chance encounter with civil rights icon Andrew Young.
Additionally, he stressed the importance of students receiving international exposure. He shared a personal story about hostile racial discrimination he faced at the first university he attended, which prompted him to transfer to Howard University, an historically black institution. He looked directly at the faces in the Georgia Tech group. "It's wonderful to see such diversity here," he said.
Course professor Dr. Joyelle Harris said that Young's talk illustrated the real-world application for what the students were learning. She remarked, "I was inspired to hear his vision for Atlanta to be the technology hub of the world, which was especially motivating for the social impact, entrepreneurship, and technological work we do throughout Georgia Tech's campus."
"It was truly serendipitous," said Arianna Robinson, Program and Operations Manager of the Center and Staff Director for the course. She continued, "Just a few days earlier, we had toured the Apartheid Museum in Johannesburg, where we learned about the depth of institutionalized racial segregation in South Africa. Then we run into one of the world's foremost civil rights and anti-apartheid activists—literally, an international treasure."
Nguyen added, "After visiting Soweto, a township outside of Johannesburg, and spending many hours learning about apartheid, meeting one of America's greatest civil rights leaders ended our trip on a hopeful note. I walked away from his talk feeling soulfully inspired to get back to working on making a positive impact around the world."