With more than 25 years of experience in everything from sustainable business strategy to risk assessment, Southeast Practice Leader, Climate Change and Sustainability Services at Ernst & Young Chris Hagler brings a brilliant perspective on the interaction between environmental social governance (ESG), company decision making, and shareholder relations. Chris highlighted a unique view of ESG during her March 4 talk, part of the Business, Environment, and Society Speaker Series, which is sponsored by the Ray C. Anderson Center for Sustainable Business ("Center"). While the broad spectrum of today's business world provides both customers and governments with a say in companies' implementation of ESG, it seems that often shareholders' priorities are in fact the most important consideration.
"Realizing that companies and their shareholders are committing more and more every day to ESG is motivating."
Through this lens, Chris excitedly dove into details of the four years of in-depth research that EY has conducted globally on this topic. EY interviewed hundreds of investors from around the world about their perspectives on ESG, and the results of these interviews were quite enticing. As a leader in tracking and addressing sustainability issues, Chris was excited to see that as each year of their research progressed, the investors' responses as to the importance and specificity of ESGs increased.
As an Undergraduate Sustainability Ambassador for the Center, I was drawn to this new perspective on the importance of ESG and corporate sustainability in the mind of investors. What surprised me the most was the statistic that 97% of the investors interviewed claimed they conduct an analysis of a company's ESG before they invest in that company. When investors themselves believe so strongly on a certain issue, the company is bound to listen.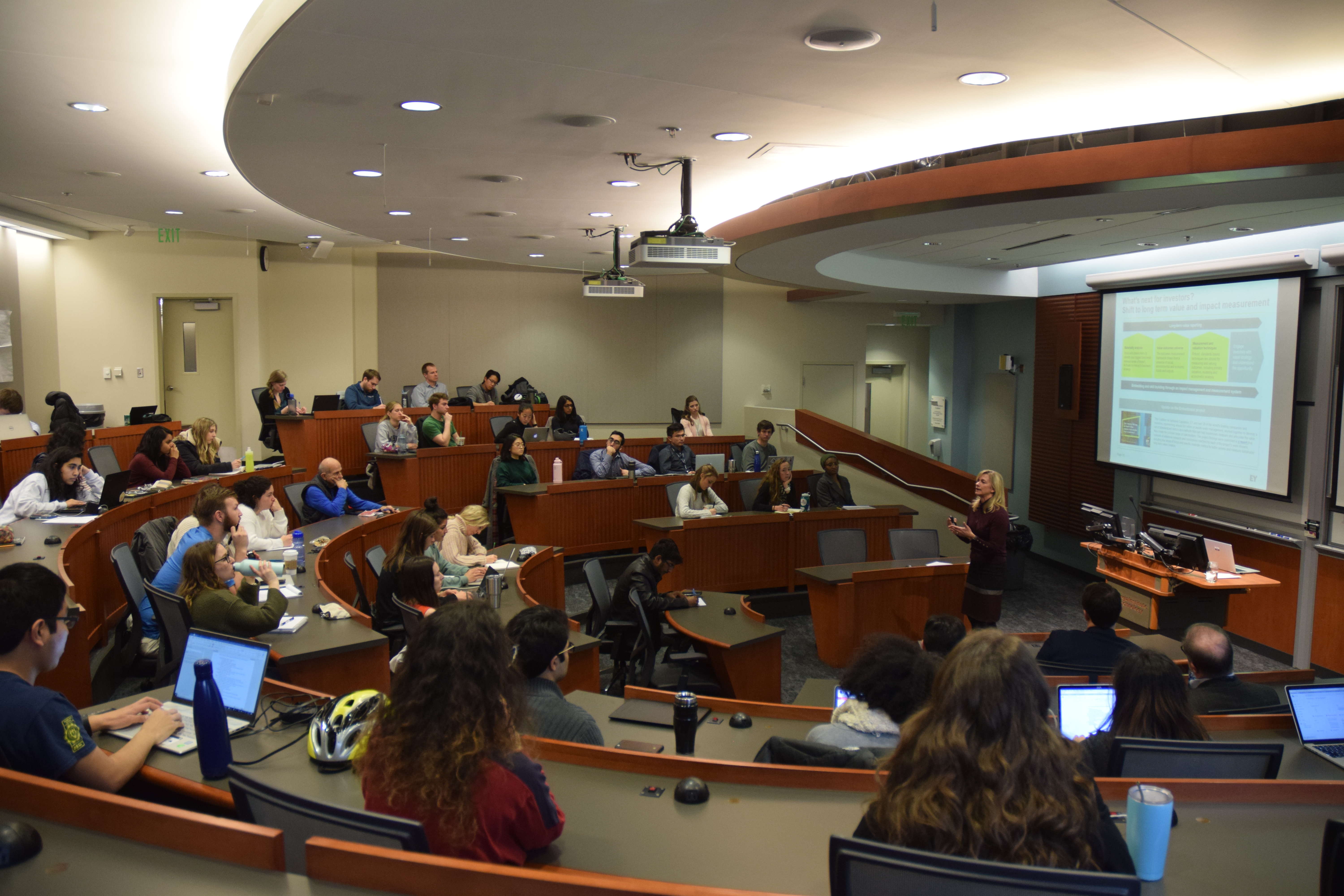 Chris's discussion of EY's research and her personal perspective was inspiring for all of us young sustainably-minded students in the audience. To hear that a "Big Four" accounting and consulting firm is working with these issues first hand – with more than 900 EY employees directly working on sustainability – was mind-boggling and heart-lifting. The topic of ESG is a very difficult subject to approach, especially for larger companies. Realizing that companies and their shareholders are committing more and more every day to ESG is motivating. It suggests that change can happen, and that businesses are moving forward on that path with every minute.
In closing her talk, Chris predicted that the most important issues for companies in 2019 would be: board diversity, ESG, and human capital management. What connects all those three topics are people. The only way to have a truly successful organization is to have the right kind of people and to develop them to do their best work. In looking towards the future, I think it is important for organizations to focus on long-term goals, a sustainable strategy, and the people to help them get there. As a future business professional, I look forward to working within organizations where both the company and its investors care about a more sustainable future, for business and the environment.