As a millennial, I think I must have been born with the twinkle of idealism in my eyes. I have always been one to care about people, the community, and the greater good of the planet. I am sure some of this is due to my upbringing as both of my parents were fairly socially conscious individuals. Growing up in a working-class family that sometimes had to scrape to get by taught me to value objects' worth—perhaps a little more than the average American. I fondly remember taking walks with my mom around our California neighborhood so we could collect aluminum cans to recycle. From an early age, the idea of throwing things away—as if they had no possible further use—just did not sit right with me.
Over the years, I have developed a keen appreciation for sustainability, and I am grateful that I have had the opportunity to combine my social and environmental values with my professional aspirations. In 2016, I joined the Scheller College of Business as an academic advisor. With the Ray C. Anderson Center for Sustainable Business serving as a catalyst and a connector, Scheller College is as a beacon for a better world, bringing together business leaders, research faculty, and students to address critical issues. This work environment has allowed me to feed my passion for sustainability through such things as attending thought-provoking talks by leaders in the field and serving on the College's Work Green Committee. Perhaps most significantly, I was able to enroll in the Evening MBA Program, which is allowing me to gain a deeper understanding of business and how it can move society closer to a sustainable future.
When I became a graduate student, I joined the College's MBA chapter of Net Impact, an international nonprofit focused on students and professionals who want to use their careers to make a positive change in the world. This year, the club offered me the chance to attend the national Net Impact conference, "NI19," from October 24-26 in Detroit. The annual conference brings together educational and professional chapters, leaders and innovators in the sustainability space, and social entrepreneurs for workshops and presentations on how we can move the planet forward in a more sustainable way.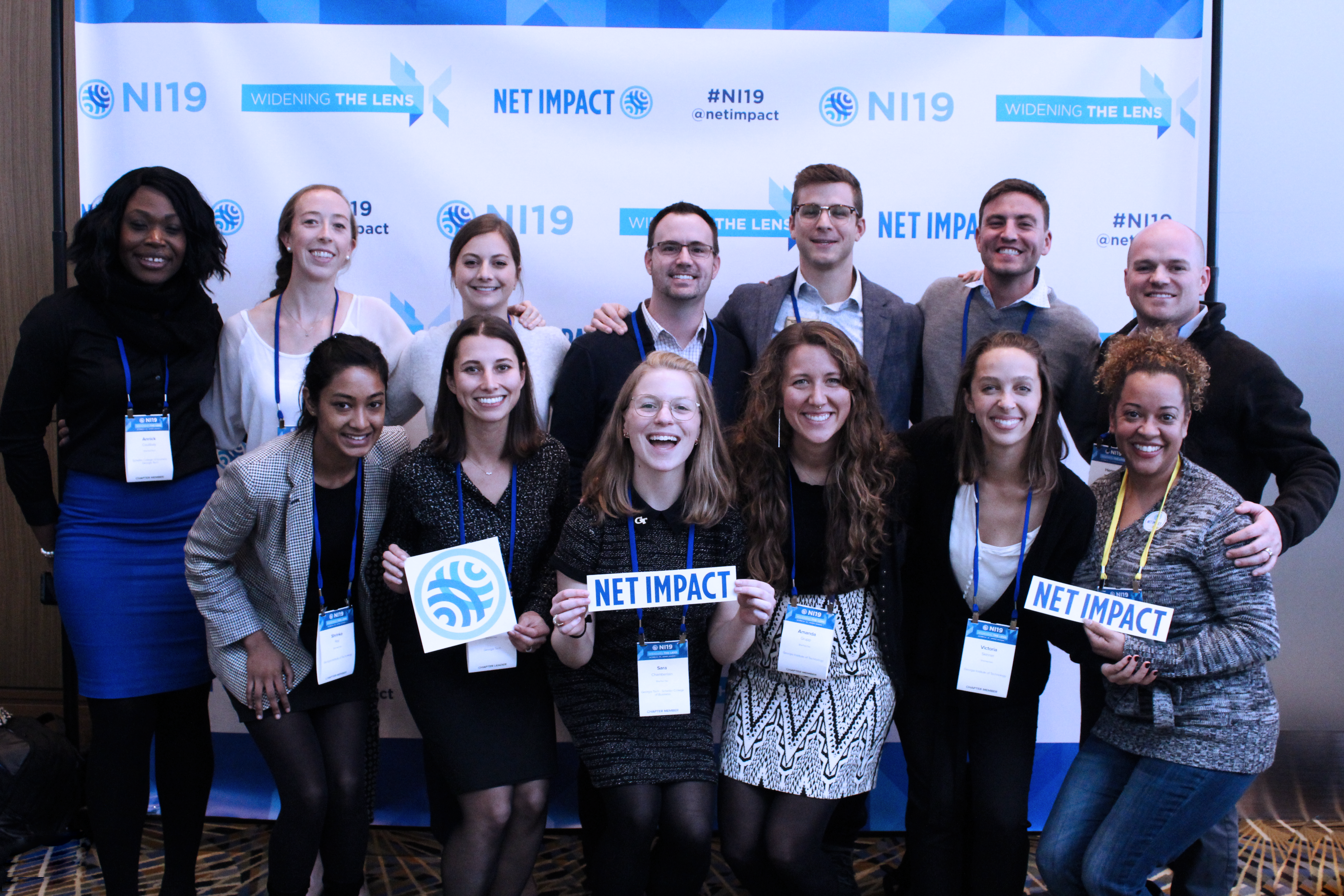 Steve Carriere (top row, center) joins Scheller College students and staff at the national Net Impact conference in Detroit.
Arriving at the conference, I didn't quite know what to expect, but I was excited to connect with likeminded folks and explore how I could help improve our world. The conference did not disappoint!
In the opening session, Dr. Keith E. Whitfield, provost and senior vice president of academic affairs at Wayne State University, shared an empowering story of how doing the right thing and overcoming the seemingly impossible often go hand in hand. He talked about how his institution is located within a community that faces serious economic challenges. Many members of the community do not pursue higher education due to economic barriers—even though education provides a foundation for jobs that can provide better financial security.
Facing this reality head on, Dr. Whitfield and his colleagues dared to dream the impossible: to offer tuition free access for all local students in need. He was proud to say they found a way to make this dream a reality. The transformative power of both this effort and the outcome resonated with me. My college education, after all, had only been possible thanks to federal government grants and scholarships. After such a powerful opening session, I thought the conference couldn't get any better, but I was wrong.
Though I attended several interesting presentations, one in particular stands out. The session, "The Most Meaningful Careers You Never Thought to Consider," featured panelists who described how—through the twists and turns of their careers—they had managed to connect their work to their passions and find meaning in places they never expected. I know this sounds like a millennial cliché, but I do have a serious drive to have a "meaningful" career. When I was a kid, I thought "meaningful work" was limited to the narrow band of professions often referred to as the "helping fields." People in these roles may be nurses, educators (like me), or firefighters (like my father). I honestly never really thought about the huge opportunity for those individuals working in business to be forces for good. The panelists, in discussing how they had widened the lens of their perspective on what it means to "give back," in turn opened my eyes to new possibilities.
While I love being an educator, the last two years of business school have expanded my sense of what I thought possible for myself and the ways in which I can make a difference in the world. I first decided to get an MBA so I could acquire skills to apply within a university setting. Over time, I have come to see the many ways that businesses and business leaders can be forces for good either directly or indirectly.
For example, in MGT 6359: "Business Strategies for Sustainability," taught by Professor Beril Toktay, we completed case studies of several well-known businesses' behind-the-scenes efforts to move producers, supply chains, and consumers toward a more sustainable future. Efforts such as these impact millions of people—and should certainly be counted in the realm of making a difference in the world!
NI19 reinforced the fact that business can be a force for positive change. I learned how organizations big and small are working to move the needle in the right direction for sustainability. All in all, the conference left me feeling inspired to do more, grateful for the good folks working in this space, and appreciative for a widened lens of what it means to make a difference as a professional. I will take the lessons I learned from NI19 with me—wherever my career path may lead.
---
Steve Carriere is a student in the Evening MBA Program at the Scheller College of Business. He also works full time as an academic advisor to undergraduate business administration majors. Now in his third year of being a member of the Net Impact MBA Chapter, Steve also serves on the Scheller College's Work Green Committee.