In only its second year, the Drawdown Georgia Business Compact (Compact) has made momentum on its mission, as more Georgia-based businesses join the effort towards net zero in the state. "We've done a good job of building a committed community," said David Eady, director of industry engagement for the Ray C. Anderson Center for Sustainable Business. "As we've grown, we've stayed true to our goal of having the Compact represent the diversity of Georgia's economy." Focused on identifying opportunities for collective impact, the Compact is activating additional ways to lead, including tapping into the power of market influence. The 62 organizations in the Compact demonstrate just how impactful that influence can be.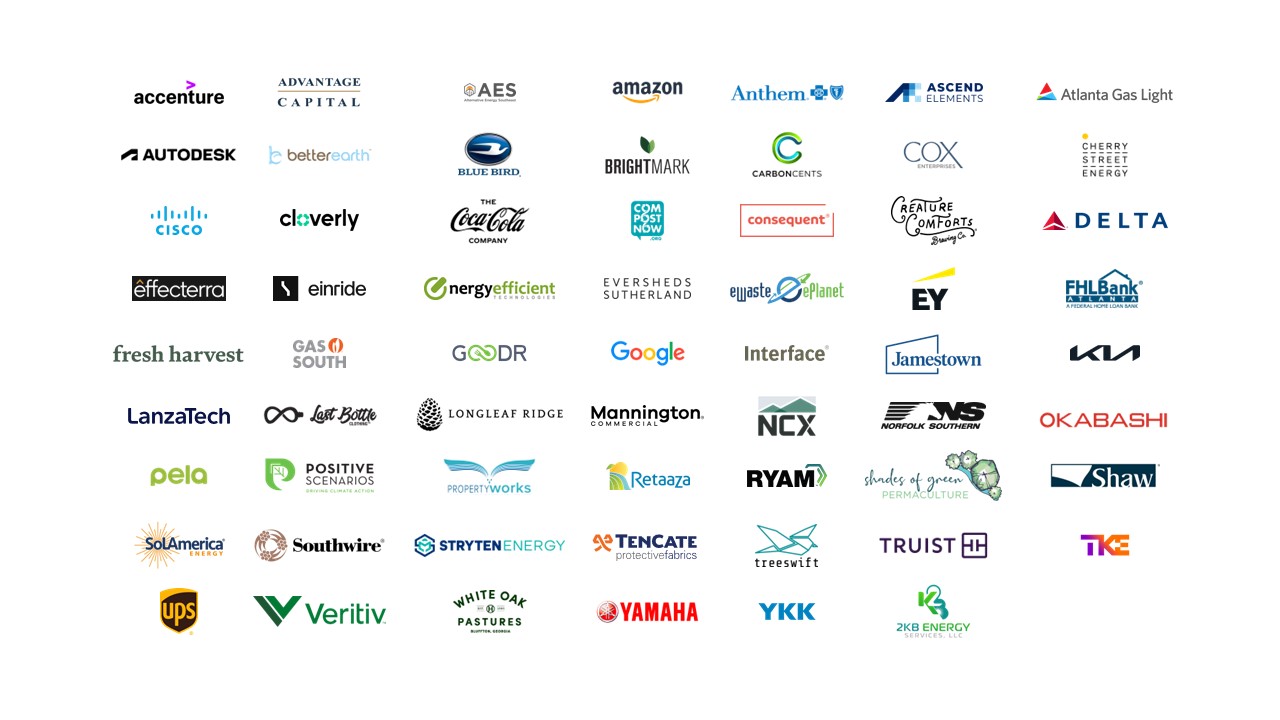 Catalyst for Corporate Change
Just two short years ago in October 2021, the Ray C. Anderson Center for Sustainable Business (Center) at the Georgia Tech Scheller College of Business founded the Compact. This collective impact initiative supports Georgia businesses as they work together toward the goal of net zero carbon emissions in the state. Connecting businesses on their commitment to carbon reduction, the Compact catalyzes corporate action in Georgia through a network of companies implementing climate solutions. The Compact is a partner initiative of Drawdown Georgia, a movement providing Georgia with a roadmap of high-impact climate solutions developed through research, collaboration, and action.
Joining the Compact, businesses share best practices, inspire new actions, and spearhead statewide engagement through industry sectors and supply chains. Whether supporting clean energy goals among Compact members, exploring energy efficiency in the built environment, decarbonizing corporate fleet vehicles, or investing in communities of color and under-resourced communities to create healthy living environments, among others, the Compact initiatives show how demonstrable, measurable, and repeatable actions can move businesses and the environment forward.
"Over the last two years, we've not only built a brand with the Drawdown Georgia Business Compact but also advanced specific collective impact initiatives in areas such as clean energy, forest carbon markets, and renewable natural gas, to name just a few," according to Eady. To foster greater awareness and visibility, the Compact has organized and hosted events and had a major presence at the Georgia Climate Conference at the University of Georgia in May. "What I look forward to in year three is realizing the promise of these and other collective activities," said Eady. That means identifying and demonstrating tangible results with businesses that are meeting and exceeding their own benchmarks through collaborative initiatives.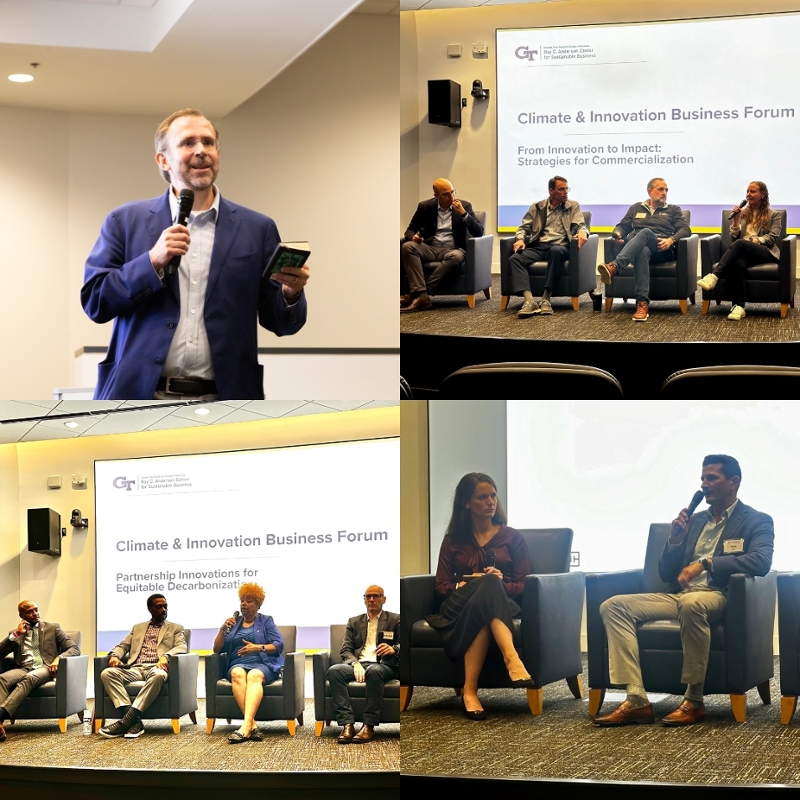 Change Agents for Climate
In conjunction with the second anniversary, the Compact and the Center hosted the Climate & Innovation Business Forum on Friday, October 20, at Georgia Tech's Global Learning Center. The Forum convened stakeholders across various sectors to explore strategies for driving innovative climate solutions and showed how collective action can spur innovation and engagement across the state. At the opening of the day's events, Beril Toktay, the Center's faculty director, said, "I'm very excited to see how the Compact took off over the last two years. We're building capabilities to create stronger communities of practice, to track impact, to catalyze innovation, and to create an entrepreneurship pipeline."
Three panel discussions throughout the day covered core areas driving Georgia businesses forward to a more sustainable future. The first panel looked at how innovative solutions are being activated at organizations, with Compact members discussing strategies for commercialization and entrepreneurism. The second panel addressed the role of cross-collaborative partnerships, something critical to ensuring environmental equity. Finally, the third discussion explored the role of finance in sustainability and strategies for mobilizing financial resources to drive corporate change.
Innovation to Impact
Panelists addressing innovation and its impact included:
Moderator: Andre Calmon, Assistant Professor, Scheller College of Business, and Co-director of Sustainable-X
Scott Childers, Vice President for Essential Power at Stryten Energy, and a Drawdown Georgia Business Compact member
Ben Jordan, Senior Director for Environmental Policy at The Coca-Cola Company, and a Drawdown Georgia Business Compact member
Jen Singh, Sustainability Catalyst for ATDC, the Advanced Technology Development Center, at Georgia Tech
The panelists discussed their organization's response to climate change and how to create consistent and coherent strategies around innovation and commercialization. "We're really focused on the long duration energy storage markets that are so badly needed right now . . . And how the business model is going to work to pay for all on the ground assets that are required to build out these energy systems that we're deploying today," said Scott Childers, Compact member from Stryten Energy. The panelists discussed how a corporate focus on sustainability is key in developing the right programs upstream to drive change across organizations, from products to processes.
Partnerships for Equitable Decarbonization
Panelists addressing organizational roles in environmental equity and the development and deployment of talent and innovation included:
Moderator: Clarence Anthony, Jr., Workforce Development Manager for the Partnership for Inclusive Innovation
Donna Ennis, Director of Community Engagement and Program Development, Georgia Tech Enterprise Innovation Institute
Samuel Fair, Senior Director of Workforce Development, Urban League of Greater Atlanta
Lucas Moreno-Kristiansen, Vice President of Growth and New Business Development, Argos North America
The panelists had a dynamic discussion on their organization's approach to environmental equity. "'Equitable' for us means that as we develop products, technology solutions, and approaches to the market with technologies, whatever the approach may be, we try not to leave anyone behind," said Lucas Moreno-Kristiansen, of Argos North America, one of the largest cement and concrete producers in the U.S. "I think our organization – not just in workforce development, but also civic engagement – can engage individuals at the local level to get the equitable resources they need to help them to be empowered," said Samuel Fair from the Urban League.
Financing the Net Zero Future 
Panelists addressing the essential issue of financing included:
Mike Colón, Strategic Partnerships Executive for Financial Institutions at Redaptive, Inc.
Kristin Watkins, Director of Sustainability Investment Banking at Truist Securities
The final discussion of the day addressed financing the energy transition and ways that public and private entities come together to create pathways to capital. "In sustainable finance, companies are underscoring existing commitments, strategies, and investments to access both bank capital and public capital, aligning their sustainability strategy with their access to the markets," said Kristin Watkins at Truist Securities. On Redaptive's approach, Mike Colón said, "We structure contracts that are performance based, so it's off the balance sheet. We fund the entire project for our clients and receive a return based on either energy savings, energy generation, or other total cost of ownership [considerations]."
Conclusion
In reflecting on the day's activities, Michael Oxman, managing director of the Center, said, "Events like this help to foster the critical collaboration that is needed among stakeholders from industry, nonprofit organizations, academic institutions, and others to exchange best practices, accelerate opportunities for climate-related innovation, and promote a just transition to a decarbonized economy in the state." 
Interested in joining the Compact? Visit Get Involved on the Compact's website or email David Eady, director of industry engagement.