In 2020-21, the Ray C. Anderson Center for Sustainable Business was proud to name Kate Allan and Seth Hildebrand as its inaugural "Sustainability Champions." The two Executive MBA students volunteered to work on a special project with the nonprofit, Sustainable Newton. In the conversation that follows, Kate and Seth discuss how they collaborated to help a local community address recycling challenges.  
Seth Hildebrand: Getting to know the Center was our first step in becoming Sustainability Champions. Both of us were first exposed to the Center through a course we took in Fall 2021—Business Strategies for Sustainability, which was taught by Center Faculty Director Beril Toktay. After the course ended, I reached out to Center Managing Director Michael Oxman to discuss ways to further my knowledge and gain practical consulting project experience within the domain. Michael told me about Sustainable Newton, a local 501(c)(3) that had recently completed an RFP for graduate engagement.  
Kate Allan: I was eager to find a way to get involved with the Center, so when Seth asked me if I wanted to partner with him on a project, I was "all in"!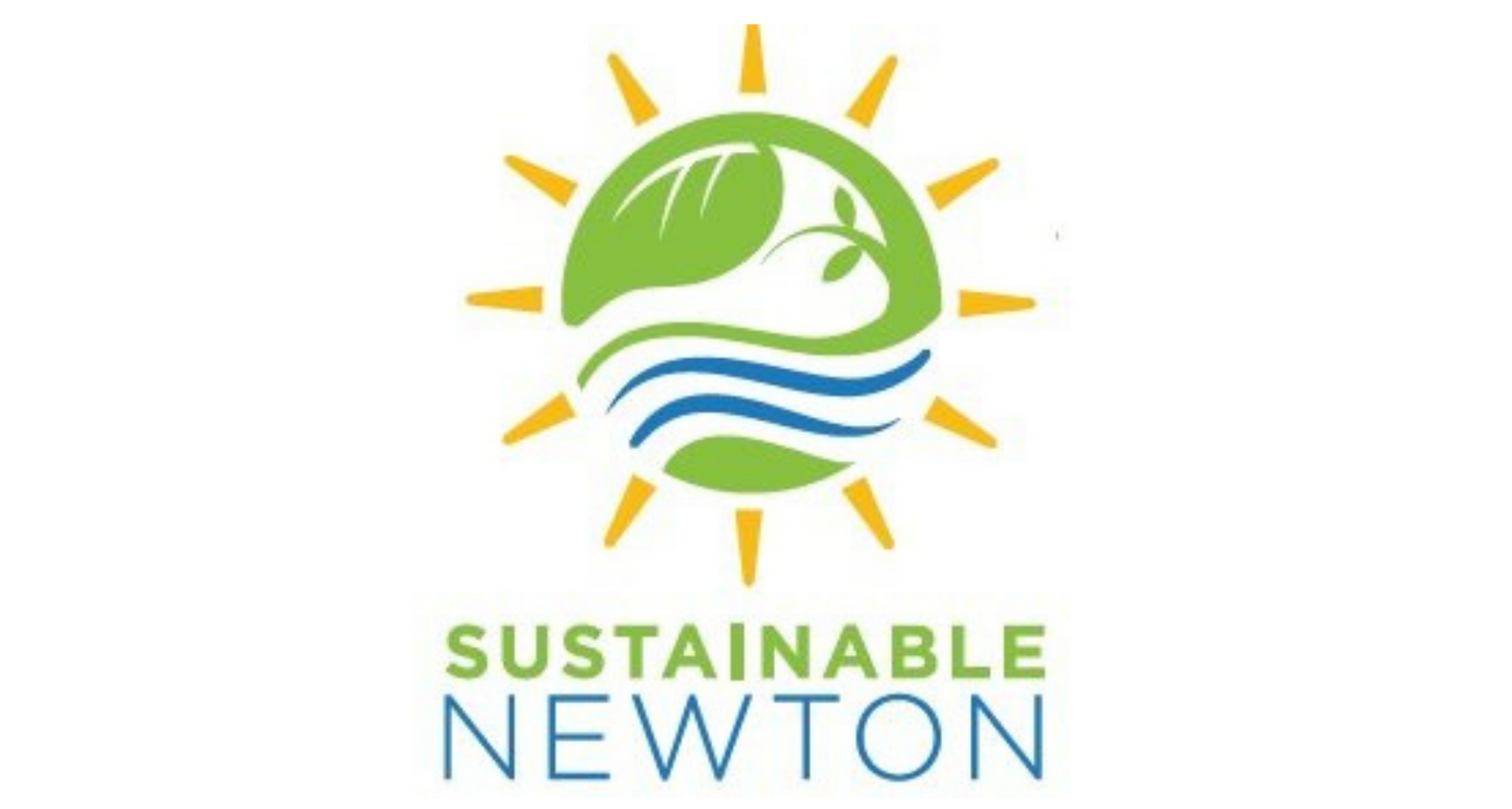 SH: The mission of Sustainable Newton is to drive solution-oriented local responses to the global issues of climate change and sustainability. It does this by working with fellow citizens, businesses, and local governments. The organization is focused on creating awareness, engaging neighbors, and enabling action. 
KA: Sustainable Newton had a broad project objective in the RFP: to reduce plastic waste and improve recycling in Newton County, Georgia. The project appealed to me because it dealt with real-world problems. First, how do we motivate people to recycle and educate them to recycle right? Second, how does the local government manage the materials and the economics of recycling downstream?
SH: We initiated our project by meeting with our contacts at Sustainable Newton and other local officials to gain an understanding of the current recycling challenges in Newton County. Then, we leveraged the Center's resources and our personal networks to initiate meetings with subject matter experts in recycling to identify potential solutions.  Kate and I developed actionable solutions based on both qualitative and qualitative research. 
KA: Seth and I met at least once per week to further our project. We used our time to debrief on recent learnings and discuss next steps. Both Seth and I have several years of professional experience in consulting. In many ways, the Sustainable Newton project was like a consulting project. Our client had a challenging business problem and engaged us to identify actionable solutions. We hope that our engagement will help further the partnership between Sustainable Newton and the Center. and was accepted. 
SH: One of the biggest challenges in our project was understanding the level of complexity in the recycling operation in Newton County. Additionally, given the wide scope of the project, it was difficult at first to identify a specific focus.?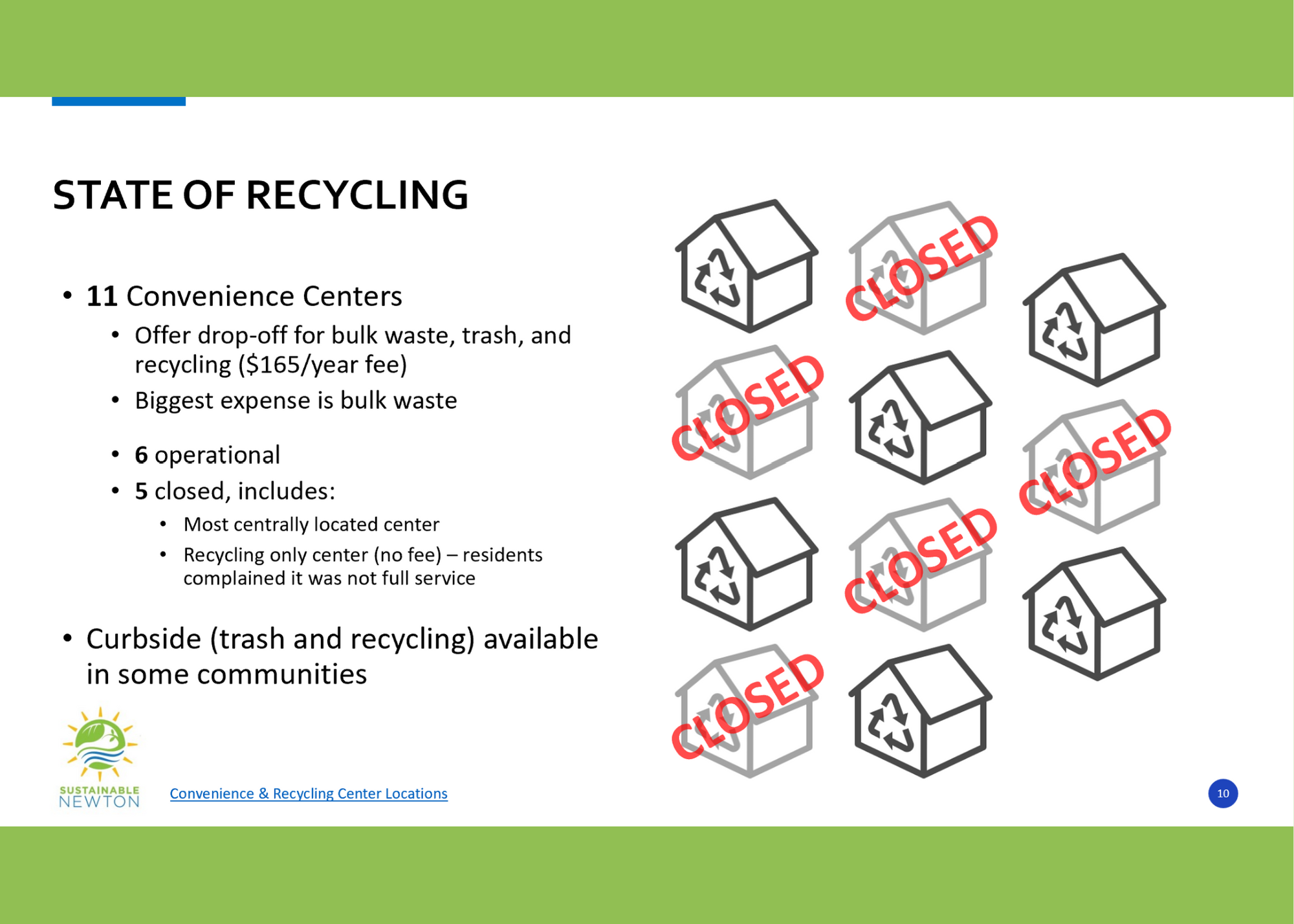 A slide from the Champions' deliverable presents the state of recycling in the area.
KA: We had two deliverables. First, we compiled our research into a digestible, transferable format that could be passed along to other students who engage with Sustainable Newton going forward. We hope future students can build upon our work! Second, we prepared a survey to be distributed to Newton County residents that will deepen Sustainable Newton's understanding of residents' barriers to recycling and willingness to pay for recycling services.  
SH: For me, the big takeaway is that recycling in local communities is complex. It can be difficult and cost prohibitive. The project made me grateful that the Center is building partnerships with organizations like Sustainable Newton to provide them with resources and contacts that can help them create sustainable communities.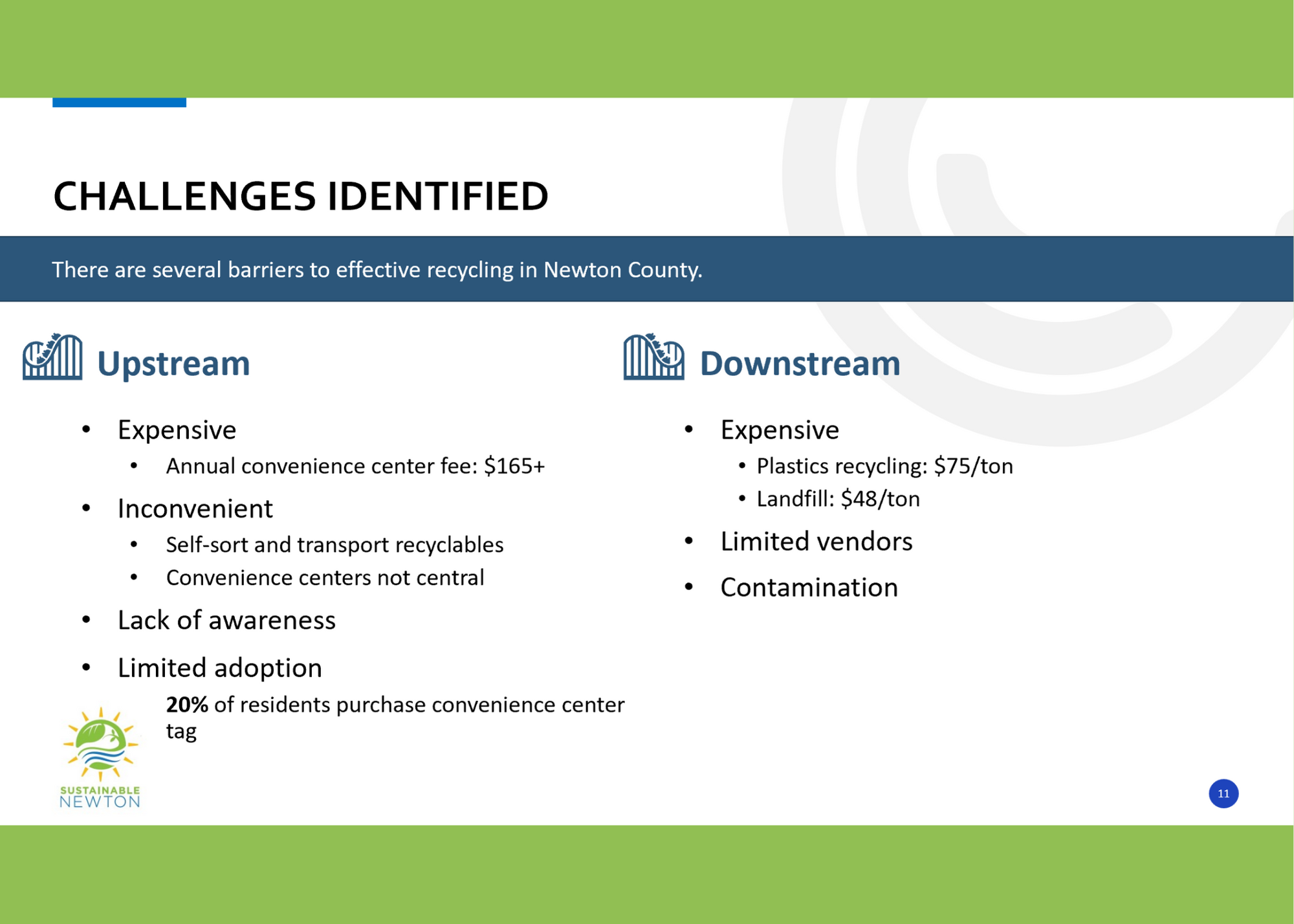 A slide presents barriers to effective recycling in Newton County.
KA: We also gained the skill of working in an ambiguous environment. This project took us in a lot of different directions and, early on, there were no clear outcomes or solutions. The project challenged our creativity, critical thinking, and problem solving skills.   
SH: I hope other students will consider stepping up to be Sustainability Champions. The Center provides a wealth of expertise and resources to those with a passion for ESG. Aside from the material covered in our class and some volunteer experience at the local level, my knowledge base was very minimal. The Sustainability Champions program offers a rich opportunity to build upon the academic framework. The practical experience can complement the lessons that are learned in the classroom.  
KA: If you're interested in a project, go for it! Just make sure you've considered your time commitments and other constraints. The project with Sustainable Newton helped me build and leverage networks within the metro Atlanta sustainability community and motivated me to drive a more sustainable future for all. As more and more companies integrate ESG characteristics into their overall strategy, it's important to broaden one's knowledge base in this area. 
SH: I agree! Applying our classroom learning to a real-world setting was challenging but rewarding.  
About Our Guest Writers:
Kate Allan is an Executive MBA student at Scheller College. Her professional experience is in management and technology consulting. Kate is a volunteer climate lobbyist with the Citizens Climate Lobby and a Sustainability Ambassador through the Atlanta Mayor's Office of Resilience. In her free time, she enjoys traveling and spending time outside hiking or scuba diving.
Seth Hildebrand is an Executive MBA student at Scheller College. He has 15+ years in professional services and management consulting. He currently serves as the vice president of client solutions for a Chicago-based technology startup. Seth resides in Charlotte, North Carolina, with his wife Katie and their two young children. He is active in his children's schools and in his local nonprofit community.