Dave Williams (BS MGT '89), senior vice president of public policy at the Metro Atlanta Chamber, is a self-described "serial starter." His team has helped to promote many policies related to issues such as transportation, water supply, and air quality that have improved Atlanta's quality of life and infrastructure. One of the keys to his success? Williams is the first to admit that embracing failure—from academic probation in his first year at Georgia Tech (ahem) to working for a dying company—can lay the foundation for more wins down the road. In this latest installment in our series of profiles on sustainability leaders among Georgia Tech alumni, David Eady, the Center's industry engagement manager senior, speaks with Williams, who also serves as a member of the Center's Advisory Board. Williams shares his career trajectory, the benefits of a broad education in management, and his unexpected but fulfilling turn towards civic leadership.  

On November 11, 2021, David Eady interviewed Dave Williams.
David Eady: Thanks so much for sharing your time, Dave.  
Dave Williams: My pleasure! 
DE: Can you start by telling us about your early life? 
DW: I was born in 1966, in Selma, Alabama. My dad was a USAF flight instructor, stationed at Craig AFB, now long gone. In 1973, he got hired as a pilot by Delta Air Lines, which brought our family to Atlanta. I attended Stone Mountain Christian School, where I played all the team sports, but loved baseball the best. I was in the school choir and National Honor Society...and was actually salutatorian of my class! Curiously, I had no interest in student government whatsoever at the time. 
DE: What drew you to Georgia Tech? 
DW: I've always been a bit of a contrarian, so the fact that nearly all my friends were rabid fans of the larger state university caused me to resist that. I had good grades and did well on the SAT, so I applied for early admission at the end of my sophomore year and even offered to start in the summer. I tried to make myself as attractive as possible—and was accepted. 
DE: What did you study?  
DW: I started as an electrical engineering co-op student. I earned a stellar 0.7 GPA in my first quarter and went right to academic probation. I realized after my second co-op work quarter that engineering was just not my thing, so I got on the M-train, and it was one of the best decisions of my life. My official degree is Bachelor of Science in Management, which was conferred by the College of Management [known today as Scheller College of Business]. I also got a certificate in economics. It could not have been a better education for what I ended up doing, which was being an entrepreneur. I call myself a "serial starter of things." I'm not very good at finishing things, but I'm pretty good at getting things going. 
DE: Was anyone particularly influential? 
DW: Gene Greissman, who taught a management special topics class on entrepreneurship and was an executive-in-residence at The Coca-Cola Company, brought in very successful CEOs as guest lecturers. That was the first time I was in the room with CEOs. Interacting with those leaders was really impactful. Also, Fred Allvine, a marketing professor, made a real impression on me. We weren't learning from someone who knew the textbook, but by someone who literally wrote the textbook. The value of talking to people like that was not lost on me.  
DE: Are there any specific skills you appreciated gaining? 
DW: The "mile wide, inch deep" approach could not have worked out better. I was a solopreneur, running my own marketing company for about ten years. Marketing and accounting were the two things I leaned on most. By the way, my team routinely makes fun of me for insisting that they do everything in Excel: agendas, speeches, meeting minutes, candidate evaluations… I learned VisiCalc on my Apple II Plus in high school, and from then on, I've been a spreadsheet fanatic. 
DE: I'm an Excel fan myself. 
DW: When I interview candidates, I always ask, "What's your favorite function in Excel?" And you can tell who the real users are, and who's not. I get a lot of blank stares, but then someone says, "Oh, I love the pivot table!" [Laughs.] 
DE: Mine is the fill function to make a series. 
DW: Well, David, if you're ever looking for a job, you're going to be a strong candidate if I'm interviewing you. [Laughs.] 
DE: Can you back up and tell us about your early work experiences? 
DW: In the co-op program, I worked for the engineering firm Rosser White Hobbs Davidson McClellan & Kelly. Even though I wasn't cut out for that career, I worked on some cool projects—like illuminating the iconic architectural feature on top of Concourse V [the Queen Building] at Perimeter Center. Another opportunity came about when Mike Finn, Georgia Tech's sports information director at the time, told me the Atlanta Chamber of Commerce was looking for an intern for the Atlanta Sports Council. I applied and got hired for my senior year. I worked for one week in the Chamber's building, and then our entire seven-person team was loaned to the bid committee that was working to win the 1996 Olympic Games. 
DE: What an opportunity! 
DW: Yes! I started the job in 1989, and on September 19, 1990, Atlanta was awarded the Centennial Olympic Games. I still have a handwritten org chart. Literally, the last person on the page is "D. Williams." I cherish that paper. I consider that part of me being a serial starter. I played a small role in helping Atlanta win the Olympic Games, and obviously that's a large part of Atlanta's global identity. After I graduated, I worked for Hickok's Sporting Goods for a couple years, including managing the store across the street from The Varsity. The retail side of the company went bankrupt, but it was one of the best business educations ever. It gave me the rare opportunity to see what happens when things go really sideways in an organization. 
DE: What was next? 
DW: I started my own custom merchandise company. Many of my customers at Hickok's were Atlanta corporate brands, so I just kept serving them through Tiger Sports. I wound up getting acquired by a sports marketing company, Advantage International, now Octagon. For the next decade, I worked with global brands that sponsored major sports events, including five Olympic Games. 
DE: How did you pivot to your current role at the Metro Atlanta Chamber? 
DW: In 1996, when my wife and I moved to Suwanee, I got involved in rezoning at the city level, which worked out by the way. Within a year, I got elected to the City Council for a four-year term. I was 31, and it was my first introduction to governance policy. That was probably my first meaningful interaction with sustainability. I began to have an appreciation for water supply, air quality, environmental issues, transportation policy... I didn't run for re-election but did serve on the Atlanta Regional Commission Board for six years. (Mind you, this was all in my spare time.) Then in 2007, I ran for mayor of the City of Suwanee and won. In the last year of my four-year term, the Metro Atlanta Chamber reached out to me and asked if I'd be interested in a position as vice president of transportation on their public policy team. Post-Olympics, Atlanta had developed serious traffic congestion that was impacting our air quality. So, in 2011, I joined the Chamber. My role and responsibilities have changed significantly every 18 to 24 months, which keeps things fresh. Currently, I serve as senior vice president on our public policy team.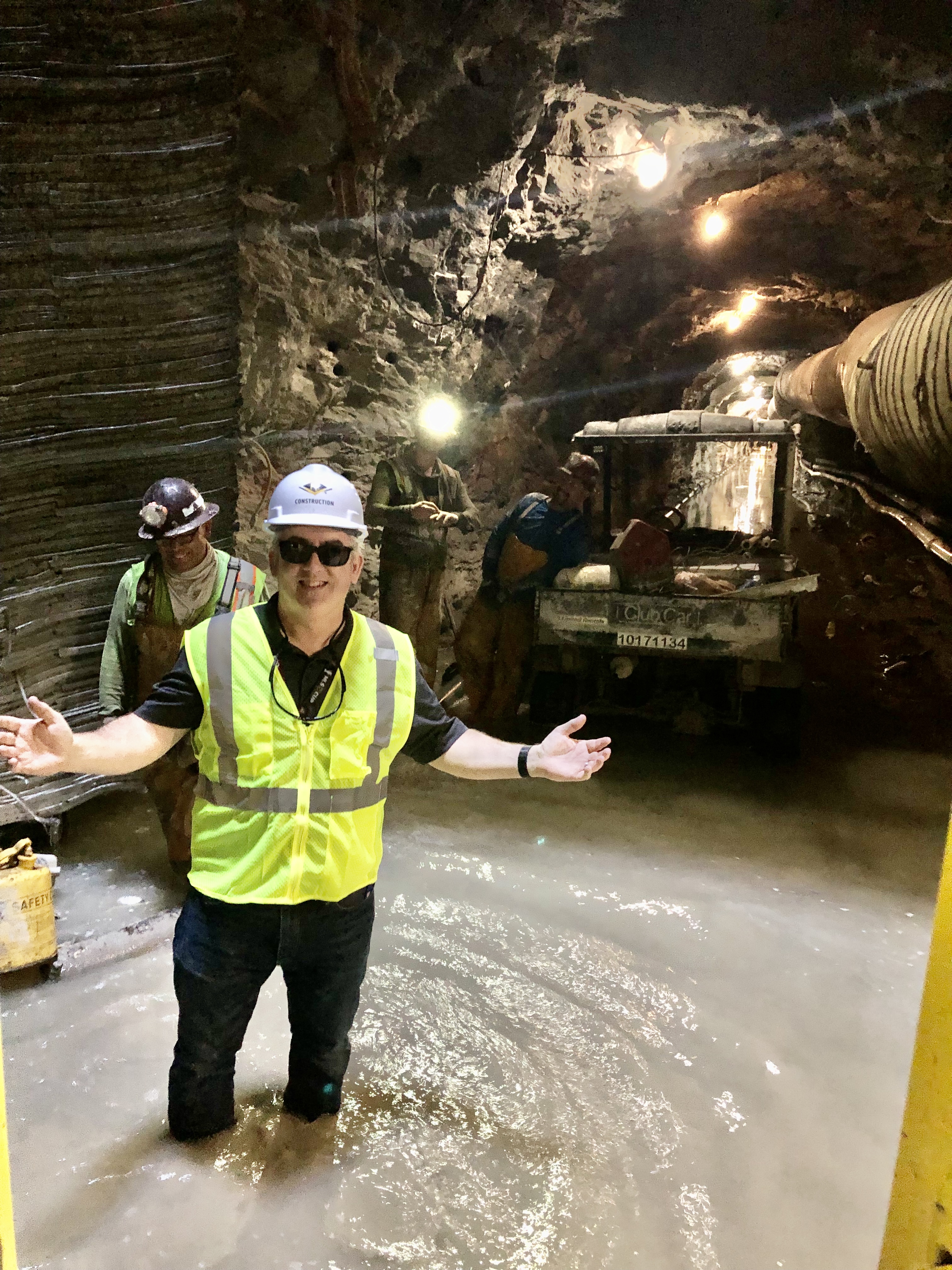 Dave Williams stands at the bottom of a 350-feet deep, 30-foot diameter shaft at Atlanta's Clayton Water Reclamation Center.
DE: What gets you most excited about your current role?  
DW: I have a severe bias for action, which can be good and bad. There's an awful lot of innovation at the Metro Atlanta Chamber. We don't follow a road map; we're the map makers. A lot of the challenges that we try to address have never happened before. This year, we celebrated the 20th anniversary of the Metropolitan North Georgia Water Planning District, which was an outgrowth of a vision the Chamber undertook to deal with water supply challenges in the late 1990s and early 2000s. It's been an amazing success. We had air quality issues that the Chamber, again, led on in the early 2000s, and that birthed another key organization, the Clean Air Campaign/Georgia Commute Options. Atlanta now routinely meets the EPA's air quality standards. It's the innovation and creativity required to address regional challenges that I find most satisfying about what we do. 
DE: What are you most proud of? 
DW: I'm actually most proud of a failure. I'm a big fan of Tom Peters and believe you have to be able to tolerate more failures if you're going to experience more success. What happened is...leading up to the Olympics, Atlanta had made incredible investments in intelligent transportation systems and infrastructure, such as expanding MARTA. But after that, we sort of pulled off to the side of the road and took a nap, while our peer regions stayed with it. In the early 2000s, our CEO leaders soon realized we were falling behind. Metro Atlanta was the third fastest growing region in the country, yet Georgia was 49th in per capita transportation investment. In the late 2000s, we worked for four years at the State Capitol to increase investment in transportation infrastructure. The best we could get was a referendum allowing citizens to vote to tax themselves. Georgia was divided into 12 districts to vote on a 10-year, one-penny sales tax referendum. On July 31, 2012, voters in metro Atlanta spoke loudly: "No." We'd spent over $10 million on the campaign and lost almost 2-to-1. 
DE: What success came out of that? 
DW: That loss became a foundation for work that led to one of the most significant transportation funding measures in the country—the Transportation Funding Act of 2015 (TFA2015). When we were unable to persuade metro Atlanta on the penny sales tax, it demonstrated to the General Assembly that this was not an issue that could be deferred to voters. No tweaks were going to get us to "yes." Had we not made the strong attempt we did in 2012—and failed so spectacularly—we (and there were many partners in this effort with us) couldn't have convinced the General Assembly that they needed to lead with courage on this issue. People would scoff at us, saying, "There's no way that you'll be able to accomplish that [passing TFA2015]." But we did—we doubled the amount of state revenue raised every year for transportation investment, from $1 billion to $2 billion. And TFA2015 became a model many other states copied. It was a game changer for Georgia.  
DE: I recently heard, "You only fail if you quit." 
DW: I'm writing that down! 
DE: Anything else you'd like to highlight? 
DW: Something else I'm very proud of is our Chamber's Atlanta E3 Awards, our environmental and sustainability awards program. We've been through eight years of it and have recognized over 40 companies and individuals who are demonstrating incredible commitment to sustainability. I think Atlanta doesn't get its due when people think about regions that are sustainability leaders. Our ability to tell those stories is important to raise our profile. 
DE: Any advice for current students who are passionate about making a difference in the world?  
DW: Even if people don't choose sustainability as their primary career field, it's important to incorporate some of that knowledge base into finance, risk management, engineering, architecture...whatever! Having a part of the educational pie be a sustainability lens is really important. That's the way I look at what I do. Sustainability is not my primary proficiency, but I know enough to know that it's a key driver of success for our companies, our region, our state, and the world.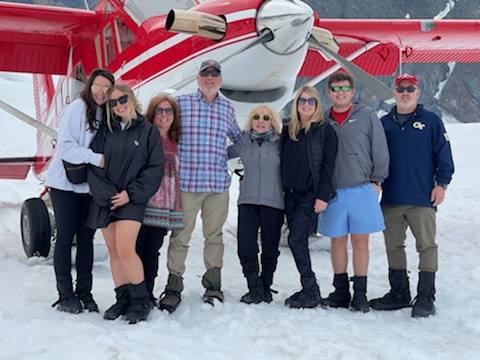 On a trip to Alaska last summer, Dave Williams and his family visited Ruth Glacier in Denali National Park.
As told to Jennifer Holley Lux