Alumna Profile on Nell Fry (Mgt '10)
When everywhere you look is an uphill climb, it takes a person with skill, confidence, and optimism to get down to the business of problem solving. Luckily, Nell Fry (Mgt '10), has those required characteristics in spades. The sustainability space has been impacted positively by her can-do spirit and passion for learning, which has taken her from advocating for equitable campus dining options for vegans to helping multibillion-dollar corporations move towards a zero waste future. Nell currently works as a consultant in Sustainability and Net Zero Transitions at Accenture Strategy. On July 27, 2022, David Eady, the Ray C. Anderson Center for Sustainable Business's industry engagement manager, spoke with Nell to discover how her passion for sustainability developed, the importance of creating a network in a challenging space, why dynamic learning is key to any role, and why her senior superlative ("biggest tree hugger") was an ironic predictor of her life's path.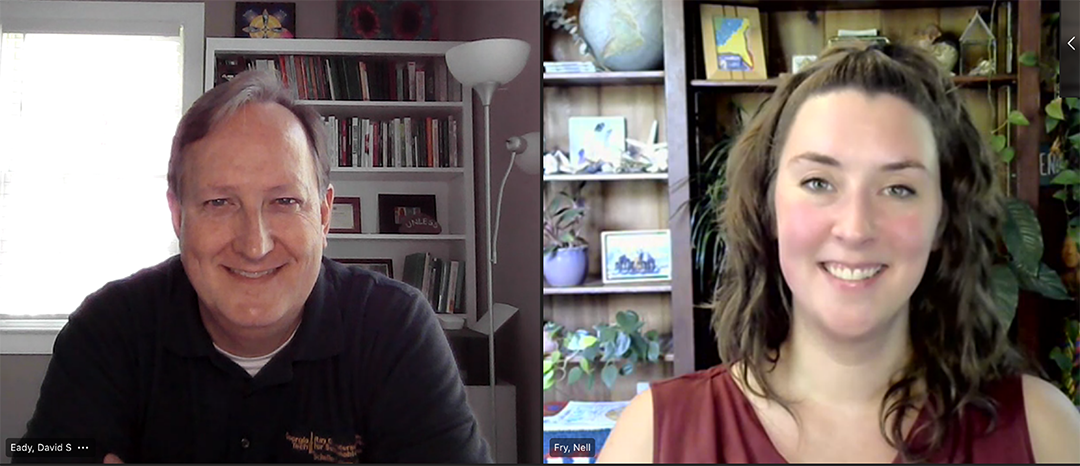 David Eady: Thanks so much for speaking with me today. I thought we'd start off talking about your early life. 
Nell Fry: Sure! I grew up in Duluth, Georgia. I was homeschooled through the eighth grade. That year, I had a volleyball game at a boarding school and got obsessed with the idea of attending one. I discovered Rabun Gap in North Georgia and was pretty single-minded in working with the administration. I ended up getting financial aid and a partial scholarship and went there from freshman year through senior year. 
DE: What activities were you involved in? 
NF: In high school, I helped to start the honor council and was part of the circus program (that's my "fun fact"!). Oh, and I got "biggest tree hugger" as my senior superlative. I actually didn't enjoy nature at the time, so I showed up for the yearbook photo wearing high heels and carrying an ax [laughs]. 
DE: If you didn't like nature, how did you get that superlative? 
NF: Everyone in the class got named something. I think I defied categorization. I got one vote for every other superlative and two votes on "tree hugger" I guess [laughs].

DE: Was the residential learning experience everything you hoped it would be? 
NF: Boarding school was a very stark contrast to homeschooling. The first year, I didn't know how to socialize. A friend pulled me aside during the first few weeks of freshman year and said, "You sit down at tables and don't talk. It's weirding people out. You've gotta talk." I figured out teenagers after the first year or so. I also really loved the structure and being booked from 7 a.m. until 9 p.m. every day. And I loved being around my peers. Most of my best friends to this day are from high school. 
DE: Why did you come to Georgia Tech for undergrad? 
NE: It was the best "free" college I could get into! Because of the HOPE Scholarship, I was privileged enough to graduate pretty much debt free. 
DE: What did you study? 
NF: I started out in biology but ended up in what was then the School of Management. I also got a minor in pre-law and a certificate in entrepreneurship. 
DE: How did you come to be interested in sustainability? 
NF: One of my main entrances was through food. Throughout most of college, I was vegan. I made that choice mostly due to the environmental impact of animal products. One of my best friends from high school was vegan and very socially and environmentally minded. I visited her one summer when she was studying abroad at Findhorn Ecovillage in Scotland. I got interested in the way people there lived. When I came back from Scotland, I struggled to find my place at Georgia Tech. Then, in my sophomore year, I joined Students Organizing for Sustainability (which is still active on campus) and got heavily involved. I was president in my junior year. Our group did activities such as conducting energy audits of buildings, holding sustainable fashion shows with thrifted clothing, and helping to create the campus garden and the campus sustainable dining committee. I worked with Sodexo on implementing sustainability best practices in the dining facilities such as composting, offering more plant based options, and purchasing local food.
DE: Is there a particular success you're most proud of? 
NF: Supporting the creation of the community garden. My peer, Liam Rattray, who spearheaded the project, sadly got hit by a car just after graduation. The garden, which is still managed by Students Organizing for Sustainability, speaks to his legacy. 
DE: How would you describe your career trajectory? 
NF: I graduated in 2010, right after the recession started, so there weren't a lot of jobs. A lot of my peers went to graduate school, but I didn't know how I could afford that. Georgia Tech Dining Services – Sodexo said they'd hire me for $10 an hour to manage all the stuff I had cajoled them into starting as a student, like composting and the farmers' market. I did that for a year and a half. A few of my projects included working with purchasers to buy more local and organic produce and collaborations with the facilities management team to significantly reduce the energy use in Brittain Dining Hall. That position led to me joining Sodexo's utility expense management team. We used data that we collected from client utility bills to help them reduce energy usage and track greenhouse gas emissions. I also helped to develop a consulting tool that had modules on how to implement different sustainability programs and initiatives. Those modules are still used by Sodexo! 
DE: So, you leveraged what you did in school to get into Sodexo, and then broadened your experience by going into energy management? How did you find that next role? 
NF: The way I got each consecutive job was by networking. I'd leverage projects I had done into a new job. Following the energy management role at Sodexo, I went to EY, where I quickly learned about greenhouse gas reporting, sustainability assurance, materiality assessments, and much more. However, I was working a ton of hours and audit was not my strength. I ended up returning to Sodexo where I worked, initially, on the implementation of circular economy principles. I became a subject matter expert on food loss and waste, joined industry groups, and did a lot of public speaking. The role grew to include hunger efforts around food recovery, plant-based eating, plastics and packaging, as well as support and consulting on reporting. It was an operational, change management role, focused on taking a global commitment, forming a target around it, and figuring out how to measure and take action against that target. I focused on driving business accountability for achieving the goals, so the commitment would be owned by the business, not the sustainability team. My focus was to embed projects and programs into the business so they would be successful.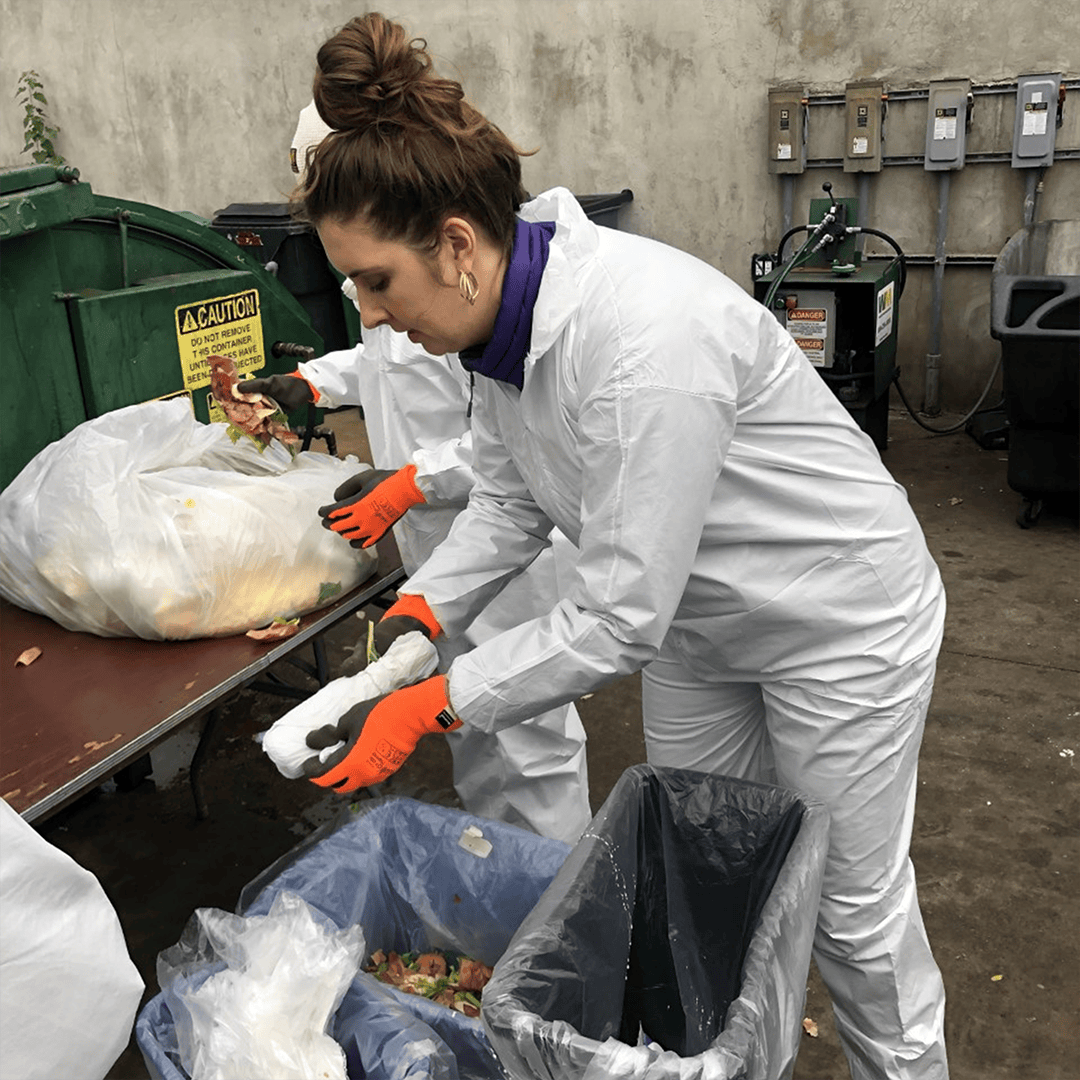 DE: As I understand it, you've had another change recently. 
NF: This year, I decided it was time to try something different. In late July, I joined Accenture in its Sustainability Services practice under the Net Zero Transitions group. I'm on the consulting side, helping companies reach a net zero future. While net zero work is primarily focused on greenhouse gasses, you can't reach net zero without addressing everything. 
DE: We're pleased to have Accenture as a member of the Drawdown Georgia Business Compact [an initiative of the Center]! So, have any individuals or organizations been really helpful throughout your career? 
NF: I've been fortunate to have some terrific mentors. I was also on the Generation Green Young Professionals Board for a number of years. That was helpful in terms of developing connections and finding new jobs. Also, I spend a lot of time peer networking. Sustainability is a hard space to work in. It changes rapidly and is fairly competitive, complex, and multidisciplinary. You have to be collaborative and well networked to make this space work for you and create change. 
DE: What are some of the challenges you've faced as a change agent in companies that may or may not have sustainability as part of their culture? 
NF: At Accenture just this week, we've been talking about a client who wants us to create business cases for sustainability from a few different perspectives or use cases. Clients are struggling to integrate sustainability into how they do business across their different functions. They think if they tell the right story . . . if they're convincing enough . . . sustainability will get integrated into the business. But that's just not the case. When you ask somebody to add something to their job, to start thinking really differently about how they do their work, to learn something new that's pretty complicated, and to overhaul how they manage and incentivize their team . . . that's a lot to ask. People don't like change. They want to come to work, do their job, and go home. And rightfully so! But as sustainability professionals, we are asking them to find better ways to do their work that drive different key performance indicators than those to which they've historically been held accountable. It requires a monumental lift in terms of change management. 
DE: We're inundated with negative information. Where have you personally found hope as you move through your career?

NF: Early in your career, it's easy. You've got hope coming out of your ears. As you get further along, it's harder. I think I get hope from the people I work with. Sustainability professionals are pretty amazing folks. On average, I'd say they are incredibly intelligent, kind, people-oriented, and curious. I see people in my peer network getting great results . . . but it takes time. You have to accept that change is not going to happen overnight. Huge companies are big ships to turn. We need time and the involvement of a lot of people to create a shift. Another really encouraging change I am seeing is that big companies are feeling the risk from climate change and are ready to make big investments and take substantive action. We are really hitting a tipping point. 
DE: What advice would you give students who are interested in sustainability? 
NF: Figure out where your innate skills are. Follow things that make you happy. If you don't do what you love or do things that don't come naturally to you, you'll never be the best at what you're doing. If you're working at something you're good at, you're going to succeed. We need to have people working in their strengths to create change. 
DE: What are some of the core competencies needed for sustainability professionals? 
NF: Being resilient, flexible, adaptable, and good at problem solving are important. A lot of the things you're going to do may not have been done before. There often won't be a template to follow. Also, organizational and project management skills are essential because you're going to have to work with a lot of stakeholders and a multidisciplinary team in all likelihood. Finally, having confidence helps. One of my mantras is: Why not me? 
DE: And when you're not focused on your sustainability work, what other things do you do? 
NF: I have four pets (two dogs and two cats) and about 70 houseplants. I take hand building pottery classes at Callanwolde. I love being outside – canoeing, hiking, and walking my dogs. Also, in the past year, I've incorporated mindfulness. Meditation and body awareness have been really transformative for me. Other things? Hanging out with my husband, being pregnant . . . [laughs]. 
DE: Congrats! That's exciting news about your next phase of life. Thanks so much for talking to us today, Nell. 
NF: It's been a pleasure.
As told to Jennifer Holley Lux