Steven Murchison (MBA 2019) was recently selected as Poets & Quants' "2019 Best and Brightest MBAs" for 2019. Murchison, recently awarded the Dean's Award for the Full-time MBA Student Excellence Award at the 2019 Honor's Day ceremony, is a second-year student in the Full-time MBA program. Hailing from Edmonton, Canada, he received his B.S. in Environmental and Conservation Science, as a Land Reclamation Major at the University of Alberta. Prior to joining Scheller, he worked for eight years as an environmental consultant at Paragon Soil and Environmental Consulting in Edmonton, Canada.
Murchison says he chose Scheller College of Business primarily for the sustainable business curriculum, the presence of the Ray C. Anderson Center for Sustainable Business, the class size, and the depth and breadth of the Jones MBA Career Center. "One of my primary objectives for pursuing my MBA was to understand how business can be sustainable and used to address social and environmental issues," says Murchison.
As an international student, Murchison found the advice given by the Career Center to be extremely helpful and helped land an internship at Georgia-Pacific Professional, which later led to a full-time offer as a Category Manager.
An overachiever, Murchison worked on two practicums; at Chick-fil-A for the Sustainable Business Practicum and Community Farmers Markets for Pro Bono Consulting. For Chick-fil-A, he helped work on a business plan that looked at electric vehicle charging infrastructure, and at Community Farmers Market, a local non-profit, he developed deliverables to help them increase their operating budget, analyze their online marketing activities, and develop a relational database to manage their donors, grants, and vendors better.
He has also participated in case competitions and attended the final round of the Renewable Energy Case Competition at the Ross School of Business in Ann Arbor, Michigan, and the Net Impact Case Competition in Phoenix, Arizona. 
Murchison has also held numerous leadership roles in his two years at Scheller including being named "Male Ambassador of the Year" and serving as a Graduate Research Assistant and Teaching Assistant for Beril Toktay, Faculty Director of the Ray C. Anderson Center for Sustainable Business.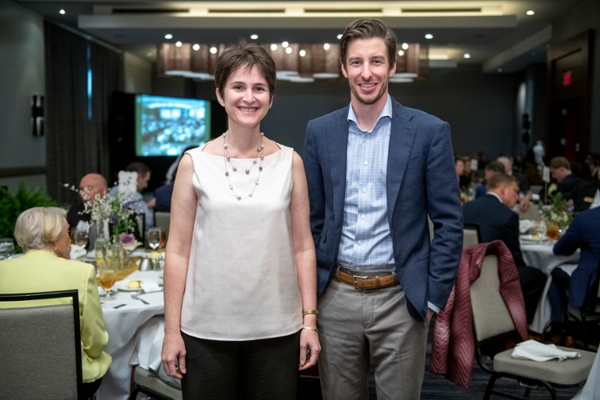 He aligns with Sustainable Business practices because, in his words, "I think it is very important to have a robust understanding of sustainability issues that companies are facing today. I believe companies that proactively address these issues will find they have a competitive advantage over those that take a more reactive approach.
As for his stint at Scheller, he says that the "emphasis on technology is even apparent in classes that are not technology-focused since every functional area of business is being disrupted to some extent by the proliferation and advancement of technology."
A fun fact about him is that he participated in the 2011 Tour d'Afrique, the world's longest bicycle race at the time, where he covered 7,500 miles from Cairo, Egypt to Cape Town, South Africa – and even won a stage of the race – "the day we rode into Malawi from Mbeye, Tanzania!"
The P&Q "Best and Brightest MBAs" list annually celebrates a small number of students from scores of entries who have made a lasting impact on their business schools. In the selection process, P&Q reviewed input from students and considered academic performance, extracurricular achievements, professional potential, and personal stories.