The Ray C. Anderson Center for Sustainable Business at Georgia Tech Scheller College of Business ("Center") hosted the 2018 Early-Career Sustainable Operations Workshop, now in its fourth year, from March 2-4. The three members of the Program Committee, Center-affiliated faculty Basak Kalkanci, Morvarid Rahmani, and Necati Tereyagoglu, scheduled academic presentations by early-career scholars and insightful talks by industry speakers. The event, known for its high-level exchange of ideas between early-career and senior academics and opportunities for grounding research in practice, served over 50 registrants from universities across the United States.
In-depth discussions of articles-in-progress formed the heart of the conference, with critique sessions falling under headings such as Supply Chain Transparency and Environmental Compliance. Organizing Committee Member and Center-affiliated faculty Atalay Atasu said, "If you're early in your career, useful resources include collaborators and direct guidance on your research. This network facilitates access to such resources." He continued, "It's all about being positive and offering developmental feedback. This mode of feedback is essential to the success of this workshop."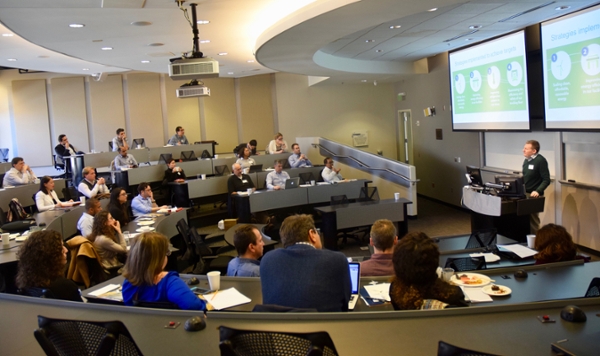 Industry talks signaled areas ripe for research in regard to challenges and opportunities in the field. Organizing Committee Member and Center Faculty Director Beril Toktay remarked, "The Center works to create connections between external organizations and faculty to foster high-impact research. We serve the operations management community in this capacity through the workshop." A plenary talk by John Federovitch, Senior Director of Renewable Energy and Efficiency at Walmart, highlighted diverse areas of growth within the Fortune 1 company. He and his team focus on origination and procurement for a rich portfolio that includes renewable energy, energy storage, electric vehicle infrastructure, energy efficiency, recycling efforts, and waste solutions.
In the renewable energy area (to which 2016-17 Scheller Sustainability Fellow Mark Jacobson is contributing research), Federovitch explained that the long-term goal is to compile a portfolio of transactions and projects to help Walmart reach 100% of renewable energy—while simultaneously delivering on the "Every Day Low Prices" promise to customers. He said stores can operate for less by lowering the price they pay for electricity with renewable energy and battery storage solutions; by using less energy with high-efficiency lighting, refrigeration, and building systems; and by optimizing their recycling value with zero-waste programs for fresh items and non-food materials.
One of the biggest challenges his team faces is finding a suitable approach to renewable energy that takes into account organizational constraints. Solar panels, while excellent for the environment, pose a logistical problem for the chain of 5,000-plus stores. Walmart has found that larger, off-site, utility projects, such as wind farms, while potentially more complex, offer better economics at scale. One of the "cooler" things in his team's purview is the development of fast-charging stations for electric vehicles, which, he said with a grin, "create another great reason for customers to shop our stores."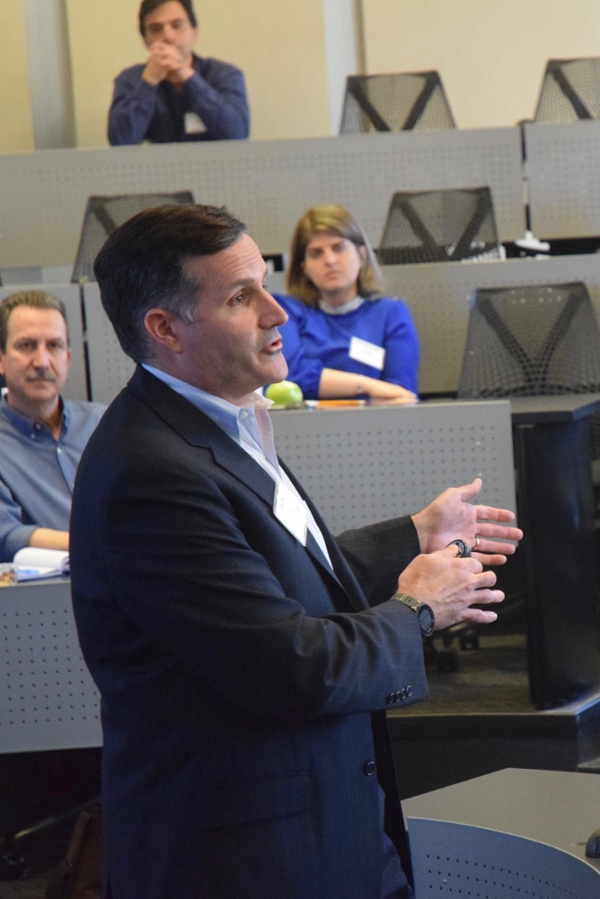 A second industry talk stemmed from circular economy research conducted by Atasu and collaborators Vishal Agrawal and Sezer Ulku with external organization DLL, a global vendor finance company. Rob Herb (Vice President, Global Asset Manager, Healthcare and Clean Technology) and Michael Rinaldi (Sustainability Officer) described how DLL encourages new, sustainable business models that marry profitability with environmental and social benefits. The company provides life cycle asset management solutions to a portfolio of diverse industries including healthcare equipment, office technology, construction, agriculture, and transportation.
The talk showcased how operations management research is critical for the viability of a circular economy. Atasu, Agrawal, and Ulku's joint research with DLL revealed companies that benefited from a circular economy often shared a simple business model that combined leasing, refurbishing, and modular design. This business model allowed companies such as Philips Healthcare, JLG, and Technogym to unlock value from used goods and expand their markets to price-sensitive customers. The talk also emphasized the importance of having the original equipment manufacturer involved in circular economy initiatives.
Atasu and Toktay originally started the network with two goals in mind—to create opportunities for early-career collaboration and to boost chapter contributions for a book Atasu had been invited to edit, Environmentally Responsible Supply Chains. The conference model has been refined over the years, with one of the most important developments being that papers by early-career faculty are matched with a senior-faculty discussant. Participants routinely praise the conference for helping them improve the scope of their research, the quality of their papers, and the depth of their network of academic and industry collaborators.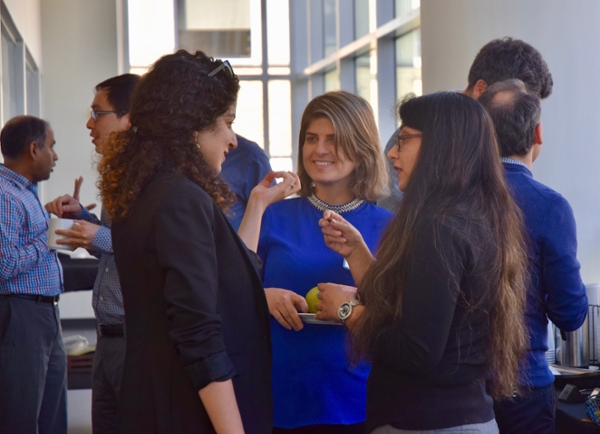 Scheller College hosts the conference every third year. In interim years, the Center provides financial support to other universities that serve as hosts thus helping build a network of contributing universities to foster core research in sustainable operations. Additional hosts have included the Darden School of Business at the University of Virginia (with support from McDonough School of Business at Georgetown University) and Poole College of Management at North Carolina State University. The 2019 conference will be held at the School of Business at the University of San Diego (with support from Paul Merage School of Business at University of California, Irvine, and the School of Business at University of California, Riverside).
When in the early stages of their careers, both Atasu and Toktay benefited from participation in the Closed Loop Supply Chain Workshop series. Toktay says, "We're happy that we have formed a network that helps encourage and foster early-career faculty with a broad focus across sustainable operations and supply chain management."
Photo credit: Jenny Choi