During a recent panel discussion on sustainability at Georgia Tech Scheller College of Business, Novelis President and CEO Phil Martens recalled an alarming conversation he had with a climatologist a decade ago. They had discussed the repercussions if society didn't reduce carbon emissions, ranging from the melting of polar ice caps and jet-stream shifts to the contamination of the air, soil, and water.
Since then, Martens has led Novelis, a leading manufacturer of rolled aluminum products, to achieve aggressive recycling goals. He was among a number of thought leaders on the environment who converged at Scheller on May 1 to discuss "The Sustainability Advantage: The Art and Science of Creating Sustainable Value ."       
Organized by Scheller's Center for Business Strategies for Sustainability (CBSS), the event's panel discussion also included: John Brock, chairman and CEO of Coca-Cola European Partners; Mike Duke, retired president and CEO of Walmart; Tom Murray, vice president (corporate partnerships), Environmental Defense Fund; Beril Toktay, a Scheller professor of operations management and faculty director of CBSS; and Heather McTeer Toney, regional administrator, EPA Region 4.
Grassroots Demand
Novelis' Phil Martens believes that society will increasingly demand sustainable solutions at the grassroots level. "It's not going to be the corporations. It's not going to be the government. It's going to the people demanding, out of fear, that we better do something."
He said that on a recent visit to Beijing, China, he learned that some of the top-selling products are air filtration units needed for the population to cope with high levels of air pollution. Martens also cited recent findings that the pollution from Beijing is reaching San Francisco. "We have to treat this as a global issue," he said.
Martens' commended Walmart's Mike Duke for taking a leading role in sustainability over the last decade, as the company has pushed its suppliers for more environmentally friendly products, such as concentrated laundry detergent. During the panel, Duke was asked how he and his predecessor, Lee Scott, went about convincing board members, shareholders, and employees of the value of sustainability.
"That was the easiest job of convincing anyone I've ever had on any topic," Duke said. He noted that Walmart's leadership realized that the "consumer of the future would really be focused on sustainability as part of their purchasing decisions concerning the products they buy and the companies they do business with."
Duke added, "Our own people really wanted us to be engaged in sustainability."
Coca-Cola's John Brock said that "sustainability is now the number-two driver of employee engagement," behind only the vision and leadership of the company. "I think you all know the close correlation between employee engagement and performance," he said. "If you want to have employees who are engaged, sustainability is the glue that holds it together."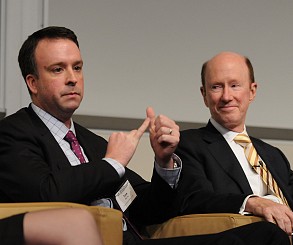 The Right Thing
Brock recalled a time nine years ago when one board member expressed doubt about Coke's plans to become more sustainable. "I said 'I've got to tell you that I think (my gut feeling is) that most things you do in the area of water stewardship, energy conversation, climate change reduction, and recycling improvements are going to pay for themselves.'"
While noting that reaping returns through sustainability projects can sometimes prove challenging, Brock said, "When you put a bunch of smart people together in a room, even if they don't quite know all the answers, they'll come up with creative ways to drive sustainability so that it works."
The Environmental Defense Fund's Tom Murray said he's pleased to see the growth of corporate sustainability, pointing to Walmart's effort to remove 20 million metric tons of greenhouse gas from the supply chain. "They made the commitment first, then figured out how to do it."
The EPA's Heather McTeer Toney said she is excited about increasing collaboration around sustainability. "We must have partnerships among our industries, among our communities, and governments. We all have to come together in order to understand how to best make sustainability work. In essence, sustainability is really about longevity."
She added: "The last time I checked, the newest planet they found that might have life on it was a couple of million light-years away, so I don't think we're going to get there very quickly. This is the only home we've got, and we've got to be doggish about protecting it."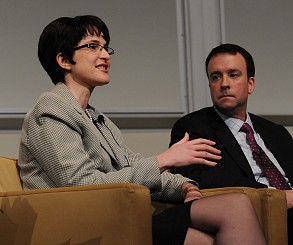 Environmental Literacy
Scheller College's Beril Toktay, the holder of the Brady Family Chair, cited examples of Georgia Tech's research into the business benefits of sustainability. She said that it's important that all educational institutions emphasize developing their students' "environmental literacy" and understanding that what they do in their jobs and as personal citizens are not separate when it comes to the environment.
Panel discussion moderator Howard Connell, managing director of CBSS, said the event was organized to provide a forum for "how we can collectively use the power of business, technology, and innovation to create a sustainable future. Our vision is of one that has both a thriving economy and thriving ecosystem supported."
"Business, technology, and innovation will be critical pieces to solving some of the greatest challenges of our generation," he said. "But these solutions will require collaboration and partnerships that are multi-disciplinary and across sectors."
The event, which filled LeCraw Auditorium to capacity, included opening remarks by Georgia Tech President G.P. "Bud" Peterson, Scheller College Dean Steve Salbu, and representatives of the Ray C. Anderson Foundation (which enabled creation of CBSS through a grant in early 2013). A reception followed the event.