Four teams of graduate students presented their analytic insights at the Business Analytics Spring Showcase. Home Depot, a member of the Business Analytic Center's Executive Council, sponsored the entire semester-long practicum and provided the real-world data challenge for the students to analyze.
"We were very impressed with the attention to detail and modeling approaches the students deployed for this project," said Allen Lo, Strategic Analytics Manager at Home Depot, leader of Home Depot's practicum efforts and MBA-BA Georgia Tech alum. "They had about 3 months to understand the scope, dive into big data, propose modeling solutions, and solve complex problems. Their presentations gave us many interesting ideas that we may consider in this and future clustering challenges we face at Home Depot. Great job to all the Spring Practicum students!"
The students were given a wide repository of store demographic and performance data to analyze, with the ultimate goal of developing a more advanced, precise and scalable clustering approach. Each team was given a different set of metrics and challenges for their analysis.
 
Flexibility and Perseverance
Due to the COVID-19 shutdown, the teams worked virtually, communicating from their homes in various states, countries, and time zones.
"The universe threw the students a curve ball and they knocked it out of the park," said BAC Managing Director and Analytics Professor Keith Werle. "We couldn't do the showcase as a competition this year due to impacts of the shutdown, however it would have been really hard to pick a winner as all of the teams did such a fantastic job."
The virtual showcase gave student teams the opportunity to interact with Home Depot executives and Georgia Tech faculty and receive feedback on their ideas and insights. Each team developed a narrated, video powerpoint for their presentation. The 35 judges and participants from Home Depot then watched the presentations online and submitted questions in writing. The final Q & A was held live via Webex with all students, several Georgia Tech faculty members, and the judges and participants from Home Depot joining in from their individual homes.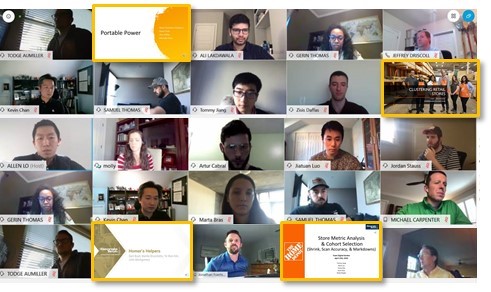 "It was such a pleasure to work with the students," said Kimi Gala, a data scientist at Home Depot who helped coordinate the practicum project and a Georgia Tech MSA alum. "The quality of their presentations was amazing. All of the teams did great work."
The students continued to chat with Home Depot executives at the conclusion of the showcase.

"I appreciate Home Depot for sponsoring this practicum," said Sam Boyd, an MBA student at Scheller. "Running into roadblocks, then having to think your way out gave us valuable, real-world experience,"

"I think I learned more in this class than any other," added MSA Student Mark Luo.

The 2020 Showcase will definitely be one to remember.

"Kudos to the students for their flexibility and ingenuity," said Werle. "And special thanks to Home Depot. Their participation and hard work made this showcase a huge success."