On Halloween night, more than 50 students attended a Business Analytics Alumni Panel. Presented by Scheller's Business Analytics Club, the panel featured three alumni currently working at some of Atlanta's industry leaders in business analytics. The alumni panelists from Delta Air Lines, Mailchimp and The Home Depot revealed what it's like to work in the real world of business analytics—and the tools and skills it takes to succeed.
"We were thrilled to welcome back recent alumni to share insights about their experiences in business analytics," said Business Analytics Club President June Sloan. "Because the field encompasses a wide range of roles, we wanted to host a discussion that would provide real-world context regarding careers in business analytics. Each panelist provided a unique point of view as well as practical advice for how to succeed in the field. We are grateful to have hosted such an engaging event!"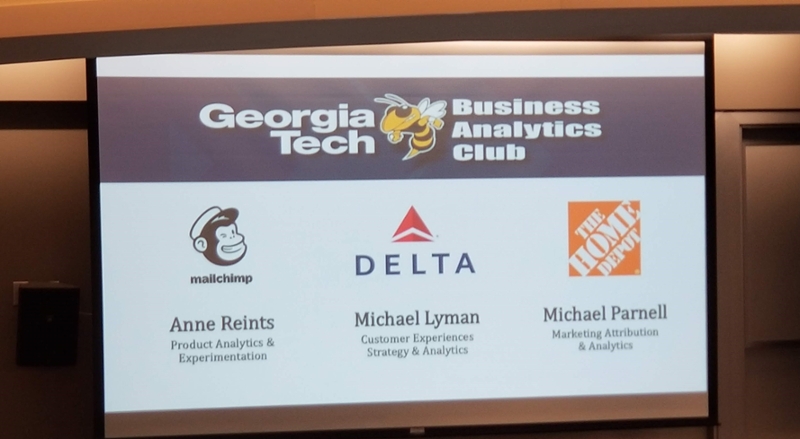 The alumni speakers included:
Anne Reints, Senior Manager, Product Analytics & Experimentation at Mailchimp, a 2017 graduate of the Georgia Tech MS in Analytics program; 
Michael Lyman, Manager, Reservations Customer Experience Strategy & Analytics at Delta Air Lines, a 2015 Scheller graduate; and
Michael Parnell, Manager, Marketing Attribution & Analytics at The Home Depot, a 2009 Scheller graduate.
The moderated discussion included personal stories from the alumni panel about creating and finding opportunities for business analytics success. The panel took questions from the audience to end the program.
"I appreciated being able to bring together alumni from both Scheller's MBA program and Georgia Tech's MS in Analytics program to talk about their experiences working with analytics at leading companies in a variety of industries in Atlanta," said Anna Riehle, VP-MSA of the Business Analytics Club. "We were quite pleased with the turnout, which included good showings from both MBA and MS in Analytics students. As an audience member, I especially enjoyed hearing from Anne about her transition from music major to analytics manager."
"The mission of the Business Analytics Club is to develop a stronger understanding of analytics practice, going beyond what is taught in the classroom," summed up Keith Werle, Managing Director of the Georgia Tech Business Analytics Center. "This event exemplified that mission, giving current students a look at current business analytics applications from Tech graduates working in the field. Kudos to BA Club leaders June Sloan, President; Anne Riehle, VP-MSA; and Justin Haffad, VP-Evening MBA for their fantastic work pulling this valuable event together."