The Business Analytics Club recently presented a virtual Business Analytics Alumni panel featuring three recent graduates. The alumni spoke virtually from Chicago and Atlanta and candidly discussed how Georgia Tech helped prepare them for the workforce and what to do once you land your dream job.
Business Analytics Club Vice President Justin Haffad moderated the event, which attracted more than 40 online viewers. Alumni speakers included: Marta Gaia Bras, Data & Analytics, Senior Consultant, EY, (GT MBA/MSA '20); June Sloan, Strategy & Operations, Consultant, Slalom, (GT MBA '20); and Rachel Wiseley, Data & Analytics, Consultant, Slalom, (GT MBA/MSA '18).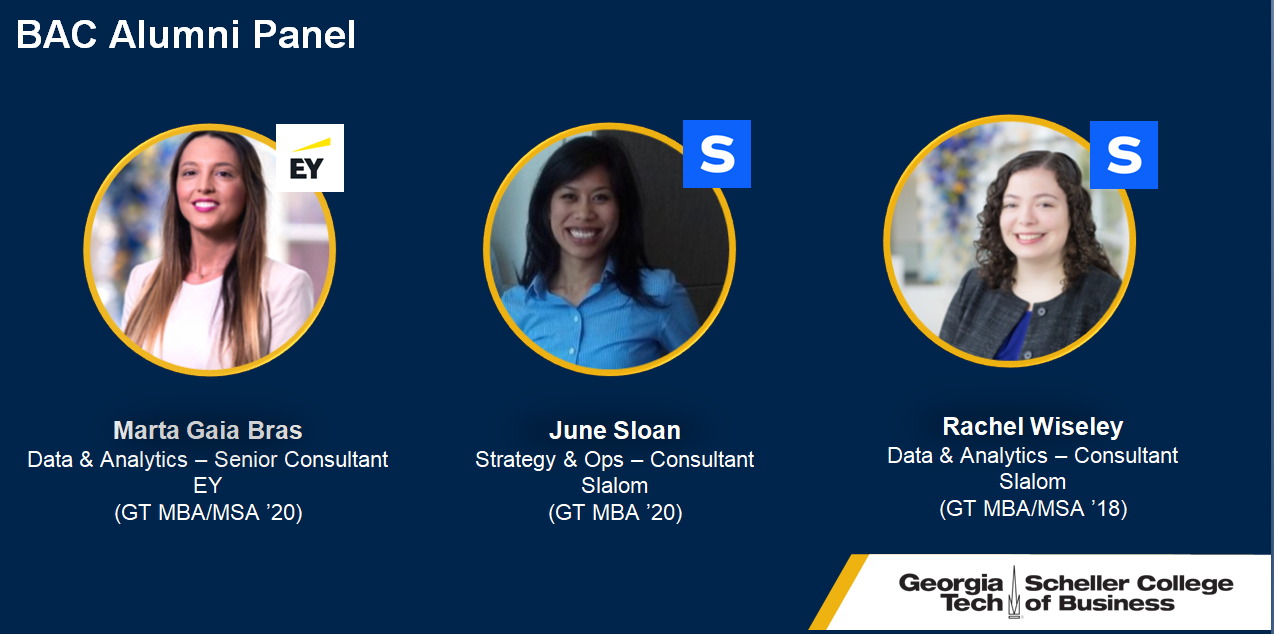 "We were excited to host recent alumni to share their experiences and advice in business analytics," said Business Analytics Club President Himanshu Gupta. "A career in business analytics helps students create impact not only for the big businesses but also for the community around them. In this session, panelists talked about their passion for business analytics, their journey so far, and provided valuable advice to our MBA and MSA students on how to succeed in the field. We're happy to have hosted an engaging event and we hope to organize many such events in the future. "
Some of the specific advice from the panelists included:
Find an internship aligned with your future career goals. When interviewing, use examples from your internship to show you know how to solve problems using data."

Marta Gaia Bras

"Take advantage of your time at Georgia Tech. Don't be afraid to take the challenging, technical classes."

June Sloan

"Getting a job is just the beginning. When you start at a company, get plugged in with clubs, activities and mentors."

Rachel Wiseley
"It was great to have these talented former students give back to our current students; their insights about making the most of their time at Georgia Tech and their job search strategies were particularly valuable," said Keith Werle, managing director of the Business Analytics Center. "Kudos to BA Club leaders Himanshu Gupta, president; Anne Riehle, vp-MSA; and Justin Haffad, vp-Evening MBA for their fantastic work putting together this useful program."
The panel took questions from the audience to end the program.