After skipping a year due to Covid, the Business Analytics Center welcomed approximately 100 students and alumni to its third Career Fair on Friday, October 1, 2021. Held in-person at The Historic Academy of Medicine, students enjoyed a productive afternoon networking with representatives from some of the nation's leaders in business analytics.
"I loved meeting so many amazing candidates with impressive resumes," said Maya Pichkhadze, an equipment optimization analyst at International Paper. "This afternoon was a great opportunity for students—and employers as well."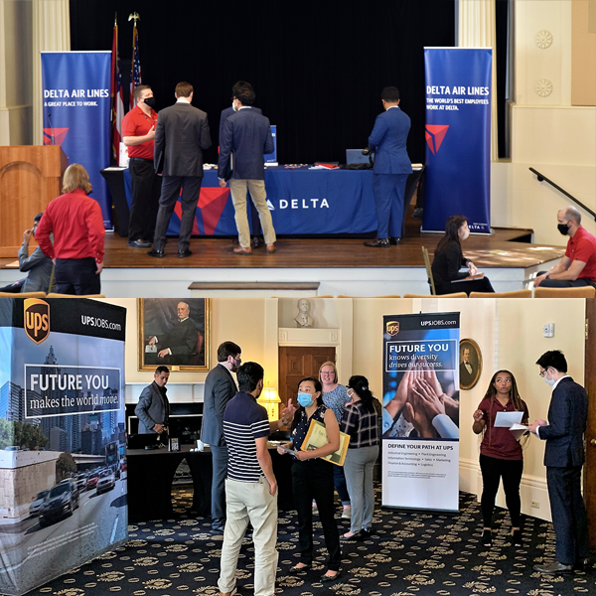 More than 50 representatives from 14 companies attended the event including AT&T, NCR, TK Elevator, UPS, AGCO, Chick-fil-A, Credigy, Delta Air Lines, GE Power, Inspire Brands, International Paper, Slalom, Variant/U.S. Xpress, and Veritiv.
"The level of student intelligence, talent, and experience at this Career Fair is off the charts," said Nicholas Garcia, Director of Treasury Technology at UPS. "This was an extremely valuable afternoon for us."
For the first time, undergraduate students with an interest in business analytics joined the MBA, MSA, and Dual Degree students for the afternoon of recruiting. Students cited the size of the Career Fair as a big advantage.
"I loved the variety of companies, the number of people to talk to, not having to wait in line, and being able to have an in-depth conversation," said Dual Degree MBA/MSA student Shruthi Gottumukkala. "I think I made some valuable contacts today."
Other students appreciated the specialized nature of the event.
"I enjoyed the opportunity to talk one-on-one with some of the big names in analytics who are actively looking for analytics practitioners," said MSA student Manny Jonson. "The roles they have are specific and they know exactly what kind of toolset is needed to succeed in that role. It was also a bonus to actually speak to the individuals practicing analytics every day in addition to the representatives from human resources." 
Many of the companies stayed beyond the end of the Career Fair to continue speaking to students.
"I was impressed with the research the students did on Credigy and the other companies present," said Sam Straker, an associate in analytics at Credigy. "It was great to meet so many students with diverse backgrounds, impressive internships, and strong intellectual curiosity." 
The Business Analytics Center is already planning next year's Career Fair. "A core tenet of our mission is to connect our amazing Executive Council members and other top tech companies with Georgia Tech's talented business analytics students," said Keith Werle, managing director of the Business Analytics Center. "We are beyond proud to host this annual Career Fair to introduce great companies and pioneers in business analytics to tomorrow's analytics leaders."