The Business Analytics Center at Scheller College of Business held its second annual Business Analytics Career Fair & Internship Expo at Georgia Tech's Historic Academy of Medicine on Friday, October 4th, 2019.
"A truly great career fair," said Michael Carpenter, Director of Decision Analytics at The Home Depot. "As always, very impressed by the exceptional talent at GA Tech, and even more impressed with the great mix of business knowledge with strong analytics capabilities across the students.  The unique, intimate setting of this career fair really helped us and the students connect and have great dialog.  And, having an event like this early in the year, helps greatly in creating that initial connection with students and streamline the job and internship placement process for us and the students.  We have always seen events like this as a great forum to continue to strengthen our great partnership with GA Tech."
More than 100 graduate and undergraduate business analytics students and alumni attended to connect with representatives from some of the nation's leaders in business analytics.
The number of companies attending the Career Fair tripled in size from the inaugural fair in 2018. Companies attending this year included The Coca-Cola Company, The Home Depot, UPS, AT&T, NCR, Delta Air Lines, Accenture, Anthem, Axis Group, Blue Cross/Blue Shield, IBM, John Deere, International Paper and Slalom.
"Coca-Cola prioritizes a growth mindset in order to drive innovation across our portfolio. We are looking for students with a passion for interpreting data who are curious and willing to challenge the status quo," said Kate Bill, a 2014 Scheller graduate and Senior Analyst at Coke. "Data underlies all of our decision-making, and we have found that Georgia Tech does a fantastic job preparing students to dive into this work."
The afternoon kicked off with a casual lunch where graduating students could network with executives in a casual setting. The Career Fair began right after lunch, with opportunities for students and recruiters to discuss job opportunities.
 "It was easy to navigate and approach people," said MBA Student Nhi Nguyen. "I think I made a lot of meaningful connections with companies I am very interested in."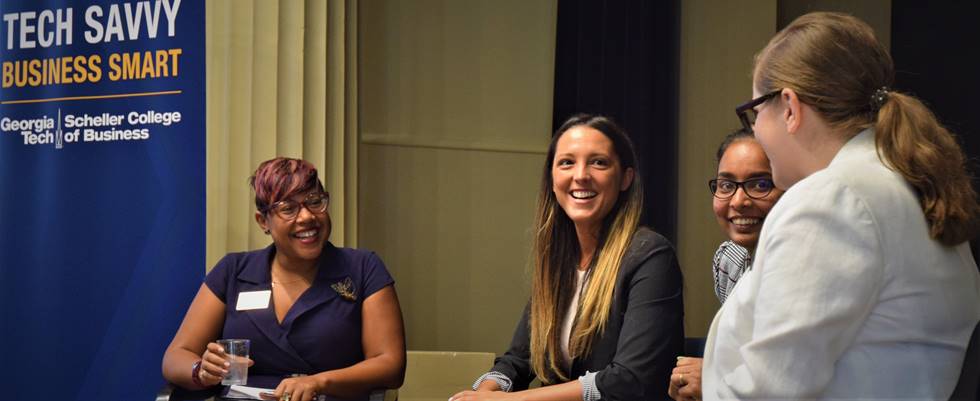 After lunch, an Analytics Internship Panel led by Georgia Tech MBA Career Coach and Corporate Relations Manager Lauren Porter attracted students interested in internship opportunities. Second-year MBA students Marta Gaia Brás, Jasmine Au Howard and Manasa Sree talked about their intern experiences, including how they obtained their internship, what they liked most, what their biggest challenges were, and the best advice they could give to new internship seekers.
 "Have a good story to tell about why you want an analytics internship (at that company)," said Marta Gaia Bras.
"Once you have the internship, be focused on the job you're doing, but also be open to new paths," summed up Jasmine Howard. "Strike a balance between learning and listening. You may be surprised by what you enjoy."
After the Intern Panel, the first years joined their more senior counterparts at the Career Fair to network with executives, analytics teams and their leaders.
"It was a super-useful afternoon," said Tongyang Yang, a PhD candidate in Economics. "I really enjoyed the opportunity to attend a Career Fair specifically targeted to business analytics and connect with companies strong in data analytics."
"We'll certainly be back next year," said Keith Werle, managing director of the Business Analytics Center. "It's an honor to bring together the talented students at Scheller with our amazing Executive Council companies and other industry leaders in business analytics."