Intelligent. Determined. Engaged. Committed. These are just a few words to describe a Georgia Tech student. When accepted into Tech, you join an elite class of learners dedicated to excellence.
Thomas Buckley, MBA, '21, and Ben Perkins, MBA '19, are two Georgia Tech Scheller College of Business alumni who rightfully fit this description. They're not only Scheller College graduates but also veterans who served in the U.S. Navy and returned to Georgia Tech to teach Navy ROTC (Reserves Officers' Training Corps) courses to Tech undergrads.
Georgia Tech offers three ROTC programs: Army, Navy, and Air Force. The Institute provides students interested in an armed services career with the opportunity to choose ROTC and learn leadership and management skills while participating in the physical requirements of the program. They may also pursue a minor in Naval Studies. Cadets selected for the advanced program become commissioned officers who work in various career fields, from commanding infantry platoons to working on nuclear reactors.
From Nuclear Submarine Officer to MBA Grad
Thomas Buckley graduated with an undergraduate degree in Quantitative Economics from the United States Naval Academy and a master's in Engineering/Industrial Management from Old Dominion University before obtaining his MBA at Scheller College. His family ties to the Navy run deep.
"My grandfather, Joseph Buckley, served in the Korean War. My brother, Martin Buckley, went through the Navy ROTC program at Notre Dame and currently serves as a Naval Flight Officer based in Whidbey Island, Washington. My youngest brother, John Paul, is a sophomore at Vanderbilt University and is pursuing Navy ROTC," said Buckley.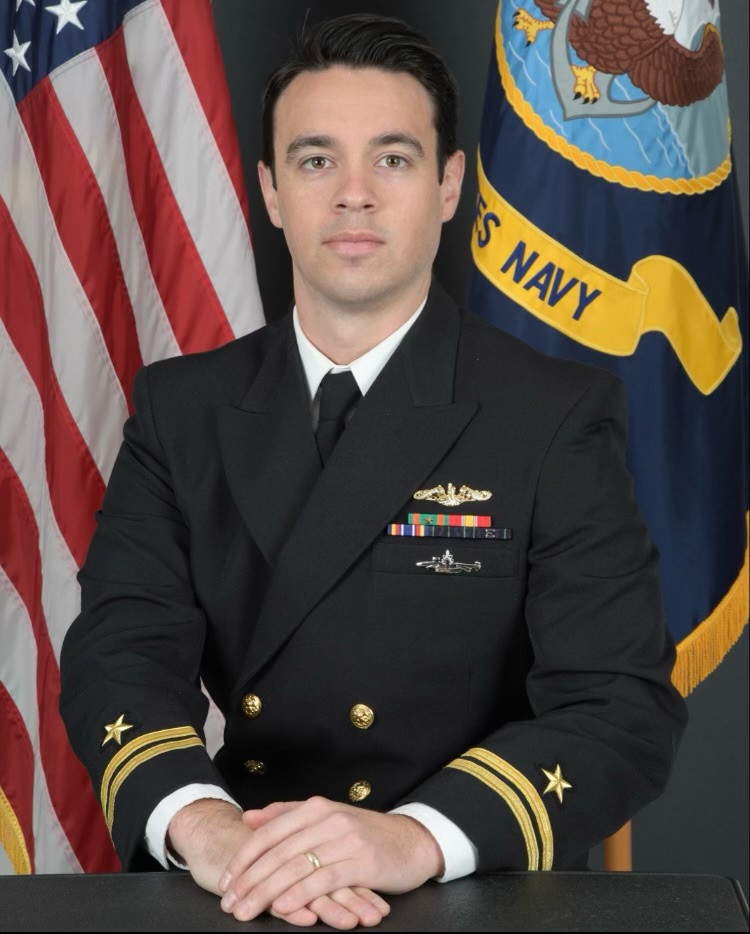 While Buckley considered joining the ROTC program as an undergraduate, he enrolled in the U.S. Naval Academy instead, graduating in 2015.  
"I considered ROTC as an option but ultimately chose the Naval Academy. However, as part of my service, I was an instructor at the Navy ROTC unit at Georgia Tech from 2019 to 2021. I taught Naval Science courses every semester and was the advisor for the first-year class and students interested in a career in the Navy's nuclear program," he said.
Buckley pursued his naval training as a nuclear submarine officer in the U.S. Navy in 2015. Receiving this rank is grueling, requiring numerous interviews, training, and class work. Once accepted, he took on multiple responsibilities as an officer.
"On an administrative level, I was responsible for a group of enlisted sailors who ran all the machinery onboard the submarine. This meant ensuring the machinery operated properly while at sea and received the requisite maintenance while in port," he said. "On an operational level, I was the supervisor of the propulsion plant for about a year and also drove the submarine for about two years. This included giving course, speed, and depth orders to those driving the sub, coordinating with the sonar and navigational teams on safely maneuvering the submarine, and ensuring our tactical and operational objectives were met."
Buckley worked in this capacity for six years and then pursued an MBA at Scheller. He joined the Evening MBA program because it fit his life and goals after his military career.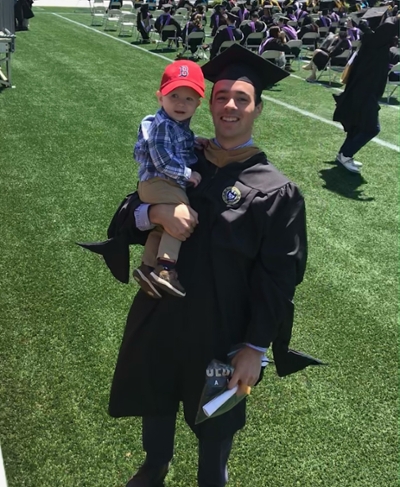 "I was attracted to Scheller's flexible degree opportunities, the location in the heart of Atlanta, the unique offering of technology amidst a typical business school course load, the tradition and history, and the career services office. Most importantly, the students and faculty seemed to have an entrepreneurial and creative mindset, which was important for me leaving a very disciplined lifestyle in the military," he noted. Buckley cites Hubert L. Harris Early Career Professor and assistant professor of Finance, Daniel Weagely, as an influence.
Buckley is currently a fixed-income analyst and trader at Chartwell Investment Partners and lives in Wyncote, PA, with his wife and three children.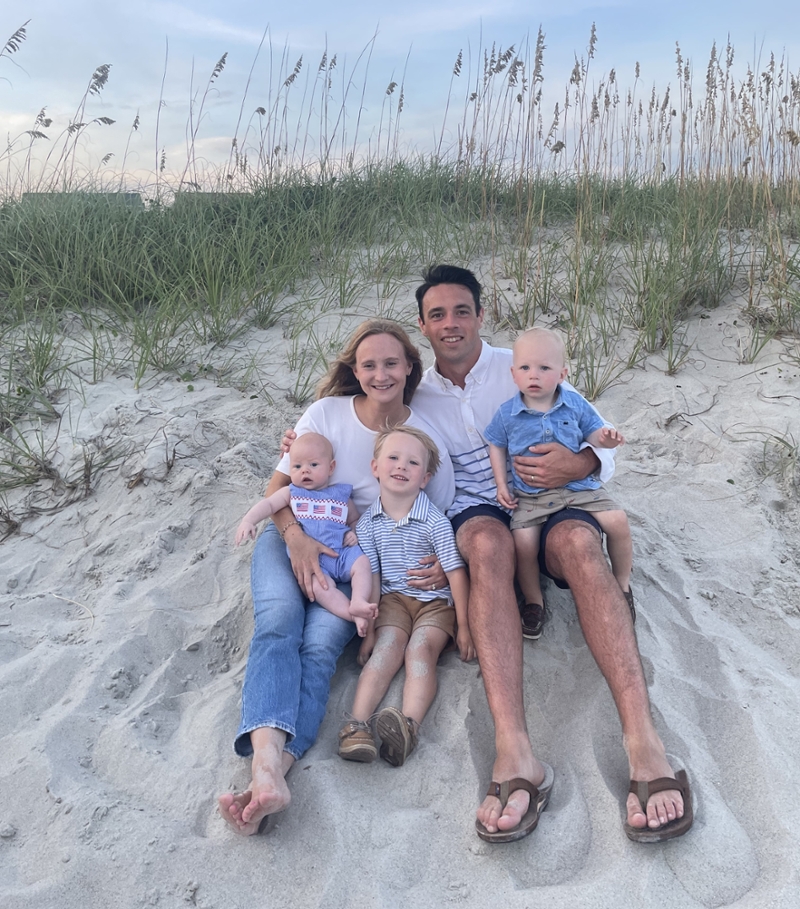 Buckley said transitioning from a military career into civilian life was challenging, but his academic choices helped.
"My undergraduate education helped me become an effective leader in the military, and I pursued graduate-level studies to assist in my transition from the military and further develop me as a leader and professional in the corporate world," he said.
The Yellow Jacket Connection Runs Deep
Ben Perkins, from Yorktown, Virginia, is a "Triple" Jacket with an undergraduate degree in Mechanical Engineering and two master's degrees in Analytics and Business Administration from Georgia Tech. He was a four-year national scholarship recipient during his undergraduate years and a student in the Navy ROTC program at Tech. One could say Perkins bleeds white and gold.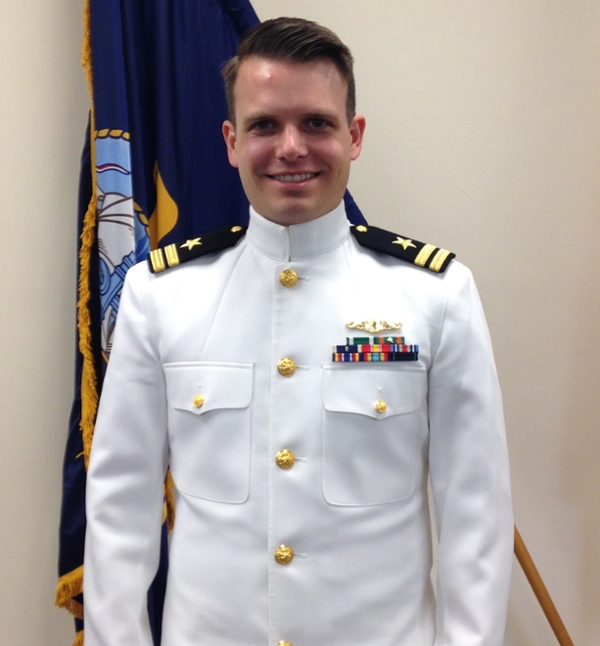 "Having a scholarship allowed me to come to Georgia Tech as an out-of-state student, which would not have been an option otherwise. I was very interested in becoming a naval officer from a young age. After looking into the different commissioning options, the Navy ROTC program allowed me the opportunity to meet my goal while earning a degree from a top-ranked university," he said.
After graduating from Tech with his undergraduate degree, Perkins began his naval career, advancing from submarine officer training to division officer and staff submarine warfare officer. He cited several experiences from those years as the most interesting in his career.
"I was a division officer on the fast attack submarine USS Virginia for three years. That experience was the most challenging and rewarding of my Navy career. During the three years I was aboard, the ship completed an extensive overhaul, which effectively required major shipboard systems to be taken apart and put back together again," he said. "It was amazing to learn how these incredibly complex machines are constructed and maintained. Taking the ship back out to sea and getting to experience some of the missions that the ship and crew were created to do was incredibly rewarding."
Perkins, on far left.
For students interested in a military career, Perkins highly recommends joining the ROTC program.
"The program provides a great opportunity to balance a normal college experience with added military training and structure," he said.
Perkins returned to his alma mater in 2015 as an assistant professor of Naval Science in the ROTC program, where he taught first-year courses and naval engineering. Some of his additional duties included helping students transition out of college and meeting with incoming students during their campus visits and university admissions.
"During my time as a student in the Navy ROTC program, I had an instructor who was a Georgia Tech alumnus. I appreciated his passion for the university and his ability to empathize with what the students were going through. When the opportunity to return to campus as an instructor came up, I jumped at the chance. It was a great honor to be able to pass on many of the things that I had learned as a submarine officer in the fleet to the next generation of junior officers," said Perkins.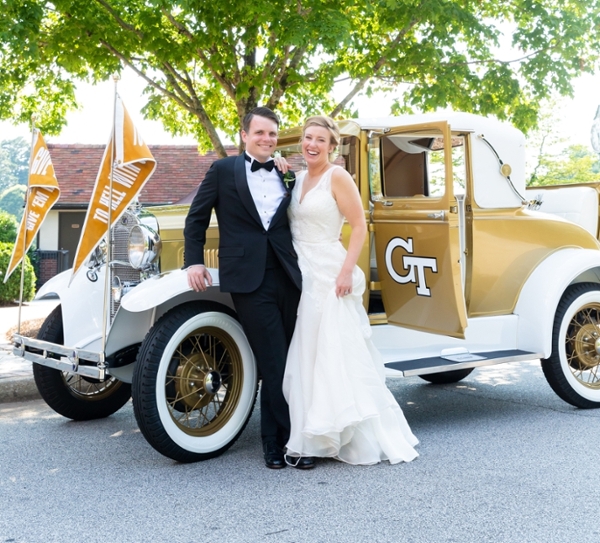 Perkins is currently a schedule analytics manager in Atlanta. He started working with the company as an intern at Scheller. His responsibilities include managing a team of analysts who develop improvements to the airline's future flight schedules to create better on-time performance.
He credits the Jones Career MBA Center as a big help in landing his position with Delta. 
"The Jones MBA Career Center team was extremely helpful in preparing me for job interviews and putting me in a position to land my great job at Delta," he recounts.
One of the pivotal moments of his days as an MBA student was meeting his future wife, Maggy Deiters. Not only were they classmates, but both interned at Delta. They were married in 2020 with the Ramblin' Reck in attendance. They recently welcomed a third member to their family.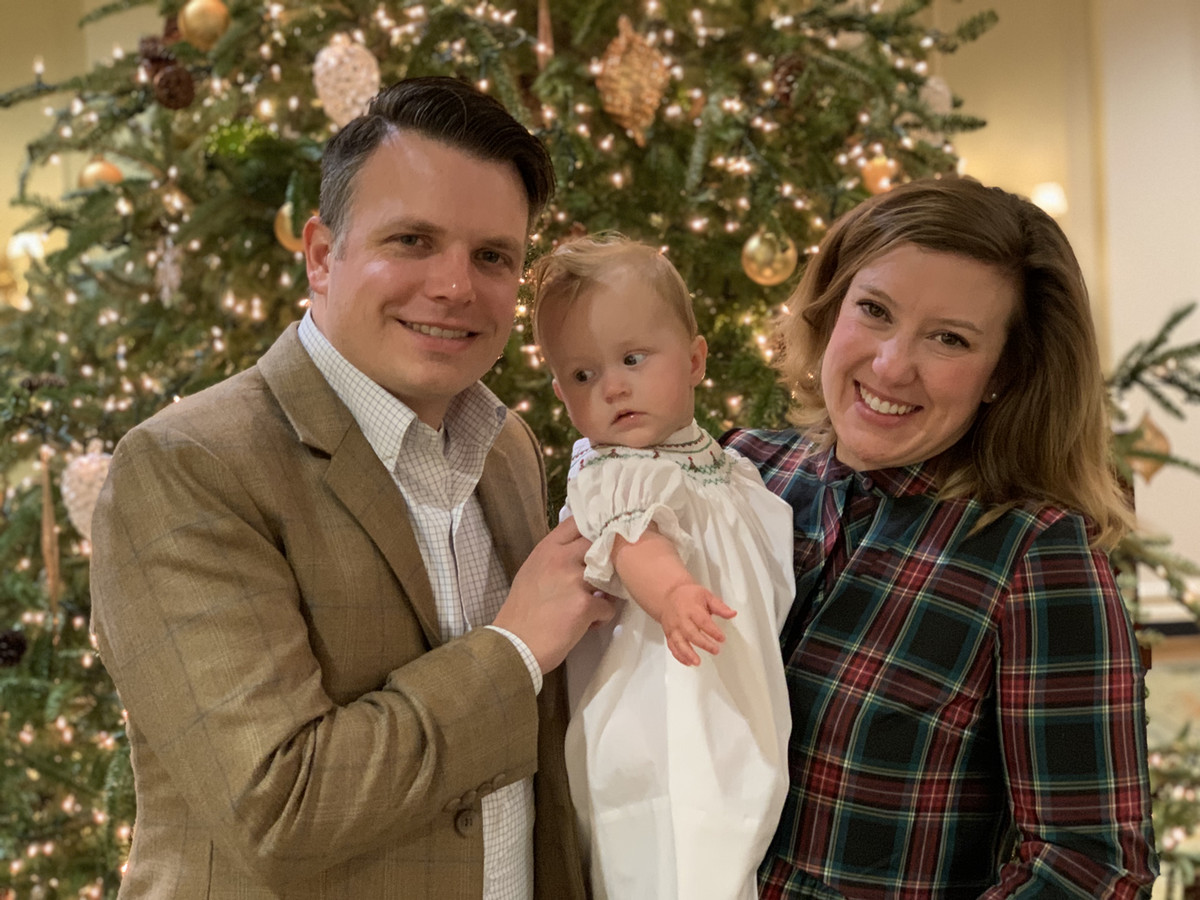 Buckley and Perkins are just two of the many Tech grads who have had distinguished careers in the military before becoming instructors for the Georgia Tech ROTC program. Their service has helped many students prepare for military duty – and they also snagged an MBA from Scheller along the way, paving the way for success in the newest parts of their career journey.
Learn More: Value of an MBA for Veterans